"I want to carry on running for as long as I can," is the defiant message of 70-year-old cancer sufferer Paul Jackson, who completed the Great Manchester Run on Sunday.
Paul was among around 35,000 runners who hit the city centre streets to take part in Europe's biggest 10K event which has been staged in the city annually since 2003.
In January 2015 Paul was told by doctors that he had incurable prostate cancer following a PSA blood test used to detect signs of an enlarged prostate.
As a result he was put on hormone therapy, which includes an injection every 12 weeks, alongside medication to keep the cancer under control.
Despite often feeling fatigued 16 months on, Paul is still going strong and completed his fourth Great Manchester Run with a time of 66 minutes and 50 seconds – three minutes quicker than he had targeted.
The illness has not deterred the father-of-three from his love of running and getting the most out of his later years although he recalls those frightening days at the beginning of last year when he was first diagnosed.
"It was absolutely devastating," he explained.
"You think you're going to die within months – it's frightening.
"Some friends suggested that I had a PSA test. I had no symptoms or anything but I asked the doctor to give me a PSA test which for someone my age should be around four and my first reading was 235.
"I went for further tests and was told it was incurable. They weren't able to operate or put me through radiotherapy but could just give me medication which I've now been on for the past 16 months.
"Everything seems to be under control at the moment other than the fact it gives me a lot of fatigue. It's slowed me down so much.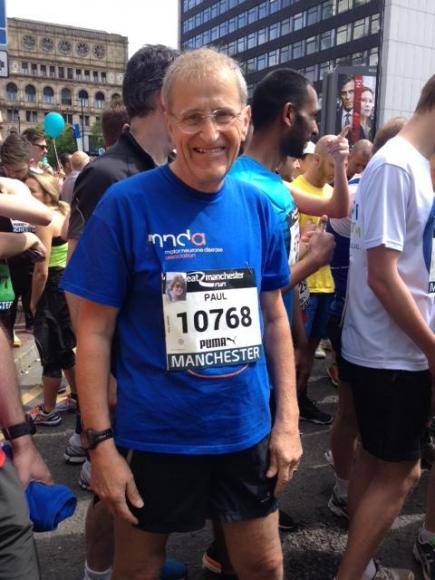 SLOWED DOWN: Despite prostate cancer affecting his running pace, Paul Jackson still completed his fourth Great Manchester Run on Sunday in under 67 minutes
"At first it's all just brand new and the word 'cancer' frightens you to death. But the more you read about it and the more time goes on you just get back to living and you've got to keep going.
"My running has really helped me with that although it's getting harder and harder. I'm no longer running the races for the times but to simply get round."
Despite 40,000 men in the UK being diagnosed with prostate cancer each year and 11,000 dying from the disease, the form of cancer is still something which most men do not feel comfortable talking about.
A report from charity Prostate Cancer UK last month revealed that 92% of men are unsure of the gland's role with nearly one in five unaware that they even have a prostate.
Compared to the parallel with breast cancer in women, Paul admits more men need to take care of their health and be tested for prostate cancer on a regular basis.
"I think it's terrible that men are not screened annually as women are for breast cancer," he added.
"I think it is very important for all men certainly from 50 up but even earlier to insist on a PSA test from their GP. They have a right to a test.
"The earlier any Prostate Cancer is found the more options one has for a cure. If you catch it early then you've got a chance of curing it but leave it too long and it'll spread out.
"Generally men won't talk much about it but if you bump into somebody who also has it then you've got a common interest and you do talk about it. It's not something that someone would usually raise in a conversation though.
"The Prostate Cancer UK website is excellent and a lot of communication goes on through that. You can talk to nurses for advice so it's an excellent system."
Since retiring as a sales and application engineering manager seven years ago, running has become an integral part of Paul's life.
He has completed seven half marathons including the Great North Run and nine 10K runs – setting a personal best of 51 minutes and 52 seconds in Manchester three years ago.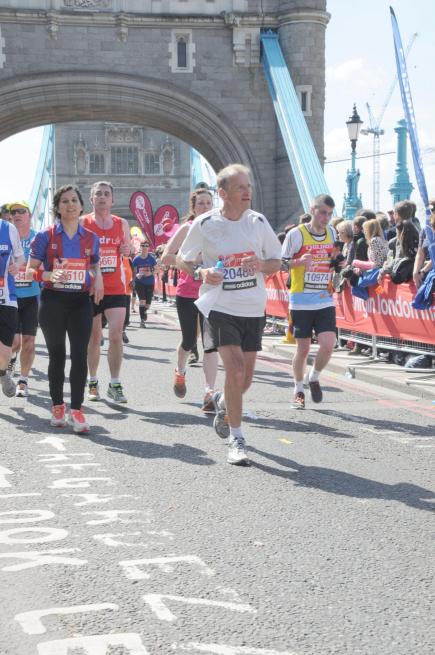 RUNNING MAN: Paul in the 2013 London Marathon,  a few years after the exercise bug bit him
Paul also fulfilled his ambition of running the London Marathon in 2013 and hopes he can keep on running for as long as possible.
"I had done some running when I worked but nothing serious in terms of competitions," he said.
"The first race I did was the Great Manchester 10K when I was 64 and did it in 57 minutes. It's a great run with a fantastic atmosphere – the crowds are fantastic.
"Before I was diagnosed I was getting better and better at running and fulfilled my ambition to do the London Marathon. It took me a while but I got round.
"It was the hardest thing I've ever done in my life. You can't stop because everybody's cheering you on but I ultimately had to and sit on walls in some places because it's so tough. It was an absolutely fantastic experience, the sights and running over Tower Bridge was absolutely amazing.
"I just want to do a couple more runs of about 10k and I feel that I'm getting back to a bit of fitness. I want to carry on running for as long as I can."
Having run previously for Prostate Cancer UK and various other charities, Paul ran on Sunday on behalf of the Motor Neurone Disease Association following the death of his sister-in-law Julie Daniels from the disease last month at the age of 59.
Julie had been diagnosed with MND nine months previously and Paul reflects about how rapidly her health deteriorated and the importance of donating to the cause.
"It's such a horrible disease and she is in a better place now," added Paul.
"She ended up being unable to speak, she couldn't move, she couldn't do anything. You could see it in her eyes that it was absolute torture.
"She made a donation to me before the run and I was hoping that she would be able to come along and watch me doing the run for her but she died early sadly.
"I had a photo of her pinned on my shirt to keep me going. I was also heartened by the MNDA team cheering near Old Trafford which really cheered me on as did many of the crowd.
"I'm sure I'll be there again next year."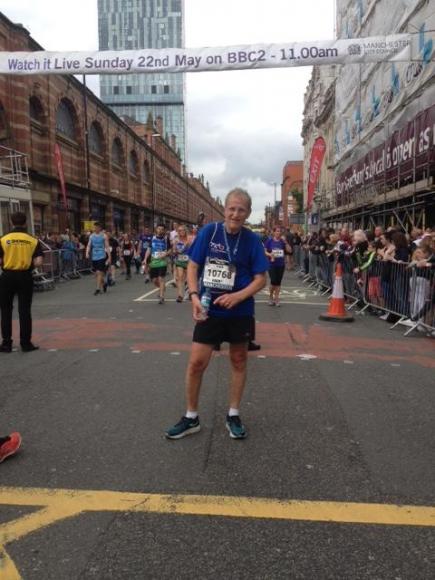 SMILES FOR MILES: Ever cheerful, Paul vowed to be back next year for another crack at Europe's largest 10k
To donate to Paul in aid of MNDA visit www.justgiving.com/paul-jackson62