Manchester Christie patients are brushing off cancer by painting – and their masterpieces are now on show at a Guernsey hospital.
The canvas paintings are being hung in the main corridor of The Princess Elizabeth Hospital, as part of the Beyond the Big C exhibition.
The Manchester hospital's artist in residence Pat Mountford took the artwork to Guernsey, when she was invited to the hospital, to help launch an art group for chemotherapy patients.
"Our budding artists were thrilled to have their work showcased in Guernsey," said Pat.
"There was such a buzz in the art room leading up to the exhibition, when they found out what was happening.
"Our artists were delighted to know that their work at The Christie in Manchester is now inspiring people elsewhere."
The Christie, which is a specialist hospital, mainly concerned with the treatment of cancer and associated diseases, runs its art classes in an attempt take patients' minds of their treatment.
"Painting can be a means of escape for many people," said Pat.
"Often you will get patients coming in who are feeling very low, they may have lost friends, lost their job and the art room is a safe space where they can feel that sense of control that they may have lost since being diagnosed with cancer."
Patient Madeline Reid was amongst many who had their paintings displayed and was keen to express her delight.
"I was blown over when Pat told me she was taking two of my paintings to Guernsey to display," she said. 
"It's the first time anything I've done has been exhibited.
"I had never done any art before coming to The Christie last November to be treated for my breast cancer."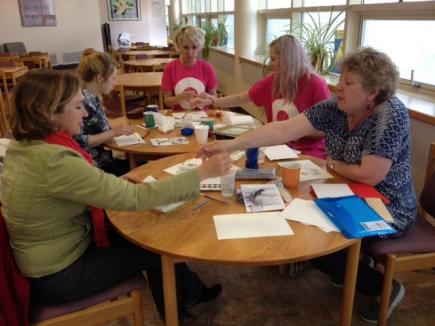 PAINT POWER: The Christie's resident artist Pat Mountford (r) leads the art project
Hundreds of patients use The Christie's art service every year and Pat has been running several drop-in sessions a week, which Madeline insists has had a really positive effect on patients.
"When I started I was terrified and felt my work was no good, but working with Pat helped to build my confidence as an artist and in other parts of my life too," said Madeline.
"I love the arts classes now and really look forward to them.
"Pat and the rest of the group are so friendly and welcoming."
A former patient at The Christie, Lottie Barnes, who invited Pat to The Princess Elizabeth Hospital added: "Pat really inspired me when I was having my cancer treatment at The Christie.
"My confidence was dented and doing the art classes took my mind off things and helped me regain my confidence.
"Pat showed how effective art can be for hospital patients. Overall I got great care from The Christie."
Lottie has now helped to bring The Christie's Arts in Health Programme at The Princess Elizabeth Hospital to support chemotherapy patients in the hospital's Bulstrode Unit.
Meanwhile, The Christie, which already has one of the largest radiotherapy departments in the world, is already developing its centre.
One of many developments includes an integrated £12million young oncology unit and haematology and transplant unit, which will open this spring.
Also, a new £28.5 million Manchester Cancer Research Centre (MCRC), which is a partnership between The Christie, The University of Manchester and Cancer Research UK, will begin operations this year.