A Rochdale councillor has attacked critics of Simon Danczuk, telling them to 'move to North Korea', after the outspoken MP was criticised for repeatedly speaking out against new Labour leader Jeremy Corbyn.
During a spat on Twitter Cllr John Blundell, who represents Smallbridge and Firgrove, accused members of the public who suggested Danczuk should be less vocal in his criticism, of failing to understand democracy.
He told them to 'move to North Korea' as they would be 'happier there'.
North Korea's dictatorship under Kim Jong-Un is renowned for its human rights abuses and repression, and Cllr Blundell's language highlights growing anger from right-wingers within the Labour Party, following Corbyn's election as its leader.
Cllr Blundell has defended the tweets and said that any notion of him actually wanting people to move to North Korea was 'ridiculous'.
He said: "The point I was making was, if you read the full tweets, was that in democracy you have to be able to criticise your leader, that's a big part of democracy.
"And you don't want to live in that type of system, then the only other country I could think of was North Korea.
"I was making a point, I wasn't actually telling them to move to North Korea, that would be ridiculous."
Despite making a number of high-profile criticisms of Corbyn during the leadership contest, Danczuk last week stressed the importance of 'unity' with the party under its new leader.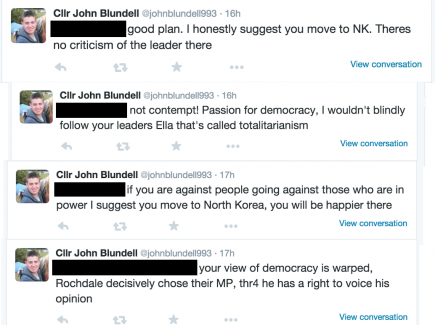 SPAT: Cllr Blundell made a number of remarks to critics of Mr Danczuk.
"After the long slog of the leadership contest, I am looking forward to a fresh start for the Labour Party," Danczuk said.
"We now have the chance to move on from the General Election defeat we suffered in May.
"There has been a heated debate on all sides during the last three months but now is the time for unity and to focus on opposing this Tory Government.
"I am encouraged by some of the Shadow Cabinet appointments and I hope this is an early sign that Jeremy Corbyn is serious about broadening his appeal to more moderate voters.
"That is what we need to do if Labour is going to win in 2020.
"Tough times are ahead, but I look forward to working with the new frontbench team to make sure hardworking families in Rochdale are well represented by Labour in Parliament."
However, Dankzuk has continued to anger Labour Party members, by sharing criticisms of Corbyn on social media and suggesting, in an article written for the Mail On Sunday, that a number of MPs were considering deserting the party.
His attitude towards Corbyn has led to accusations of disloyalty, with 3,500 people having signed a petition calling for Labour to 'offload' the Rochdale MP.
But Danczuk claims the petition demonstrates supporters of Labour's leader are planning a 'purge of moderates in the party.'
Cllr Blundell said that he did not subscribe to Danczuk's views but did defend his right to make them public.
He added: "If Simon Dankzuk wants to criticise the party then I think he should be allowed to do so, it's a big part of democracy, you need to be able to hold those in power accountable.
"I don't prescribe to everything that Simon says, but if he believes it then I believe he should be allowed to say it.
"I don't think any big disputes in public are good, but at the same time we can't stop Simon from voicing his opinions if he thinks the party is going in the wrong direction.
"None of this is good, when it happens all over the public, it doesn't make the party look good."
Main image courtesy of the Home Office, via YouTube, with thanks.