Sound Control's general manager says despite the venue's December demolition it's not the end – reassuring fans that the spirit of Manchester's favourite indie nightclub will continue.
Sound Control has confirmed that it will close on Dec 16, exactly eight years after opening as a live venue in what used to be a music shop with the same name.
Since its transformation into a nightclub in 2009, the three-storey, 500-capacity nightspot has hosted a wide range of live music and club nights.
It was discovered in June that developers planned to bulldoze the popular music venue and night club in order to make way for a new 35-storey tower of student apartments.
Following the announcement of its definite closure on Twitter this week, bitter comments have been made on Facebook while an online petition has been created on Change.org in an attempt to keep the venue open.
The petition was started by Ria Rennock from Preston, who believes such venues are essential when it comes to promoting local musicians.
There are currently over 1,200 signatures out of the 1,500 that are required but even if this was reached, many believe it is very unlikely that it will make an impact at this point as the demolition date has already been set.
As well as boosting growing bands and artists, many praise Sound Control for its size, which people claim to make the gigs feel personal and special.
Tom, 16, from St Helens, told MM outside: "Seeing Baby Strange at Sound Control was one of my most memorable gigs. It was so unconventional and small but that's what made it feel much more intimate."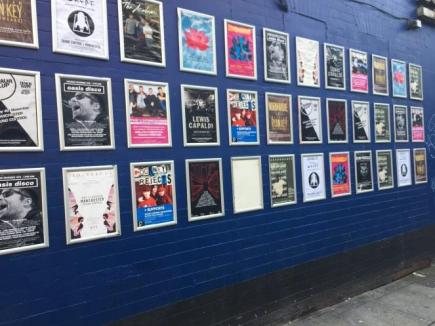 WALL OF FAME: Sound Control boasts a proud history 
General manager Jason was in an upbeat mood about the legacy of the venue.
"This (the building) is just a space, whereas Sound Control is a mentality. It's the musicians, the staff and everyone who comes down.
"No matter where we go, we'll always be Sound Control."
Jason added that the management are already well into looking for new buildings to relocate the business and even though they want to maintain the intimacy of Sound Control gigs, he said that they are looking for somewhere bigger as "bands are growing all the time."
Events manager Ben Taylor Tweeted about the past eight years and listed some of the bands that have graced the Sound Control stage.
These bands include the 1975, Blossoms, Two Door Cinema Club, London Grammar, Tame Impala, The Front Bottoms and many more.
Ben added: "The hugest of thanks to everyone that have worked, played supported, danced, drank, sang with us. Made some amazing friends for life."
After 8 years, @SoundControlmcr as we know it, is coming to and end… pic.twitter.com/3M7g15DZvS

— Ben Taylor (@mrbentaylor) October 20, 2017
Ben ended the tweet by saying that the final chance to party at Sound Control will be Saturday Dec. 16 when an Oasis Disco will take place.
A variety of other Manchester music will be played, including the likes of the Charlatans, Stone Roses and The Verve.
For more information and to buy tickets head to: http://www.soundcontrolmanchester.co.uk/events/oasis-disco/
Image courtesy of Delights via Twitter, with thanks.