As Britain dreams of a white Christmas, rather than the wet one we have in store, a Manchester Metropolitan University expert is warning that poorer areas are often the most affected by flooding.
The country is facing its wettest winter in 30 years as yellow flood warnings are issued for the South East of England but what does this mean for Greater Manchester?
MMU's Dr Paul O'Hare, a lecturer in Geography and Development, has heard 'anecdotal evidence' that poorer areas take longer to recover from flooding and were more likely to remain affected which leads to further economic decline.
He also explained that the psychological impact of flooding is huge. He said: "People don't feel safe in their own homes and they will worry whenever they hear heavy rain."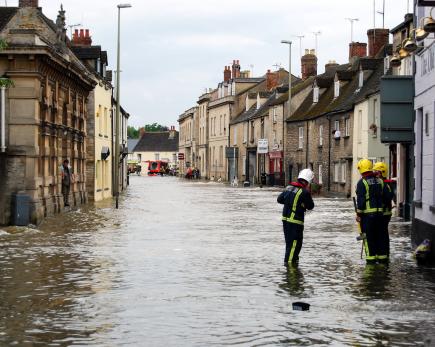 DEVASTATION: Oxfordshire was greatly affected by floods last year (dachalan, with thanks)
This theory is backed up by a recent report by the Warrington Environment Agency.
The report said: "Salford, Rochdale and parts of the Rossendale Valley have been most affected by past fluvial flood events.
"In many of the areas at risk, socially vulnerable groups can be found who might find it difficult to recover from a major flooding incident."
The report went on to outline areas that would be most seriously affected from regional flooding.
It added: "Radcliffe, Ramsbottom, Rochdale and Salford have areas where there is significant flood risk to people as either the depth of flooding or the velocity of the water is enough to pose a serious hazard in a significant flood event."
Below is the amount of properties at risk from flooding in the Greater Manchester area, as provided by the Environment Agency.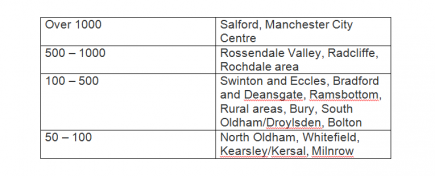 The Met Office has forecast above average rainfall across the UK through to January.
Sewer flooding was also a risk in areas of Rawtenstall, Rochdale, Littleborough, Bolton and Oldham.
The report noted that this is because 'much of Manchester is still drained by old combined sewers designed to cope with foul water and road runoff which flood by backing up when river levels are high'.
Dr O'Hare said: "The threat of flooding is substantial, and is only likely to be exacerbated in the coming years."
Luckily, he is working with a dedicated team from both the University of Manchester and Manchester Met that are undertaking extensive research into flood management in the UK.
Dr Iain White formerly of the University of Manchester worked on a guide – alongside colleagues Dr O'Hare, Dr Angela Connelly and Nigel Lawson (University of Manchester) and Stephen Garvin (Building Research Establishment) – called Six Steps to Flood Resilience on how to use flood prevention technologies.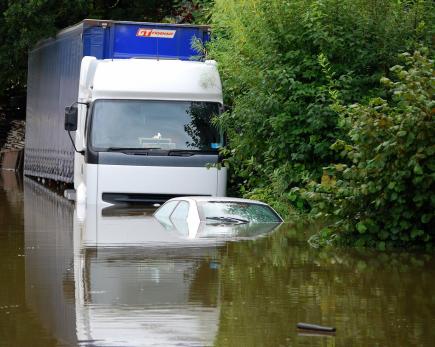 GLOBAL WARMING: 27% of Britons believe we are to blame for the extreme weather (dachalan, with thanks)
Dr White explained what kind of technology can help communities combat flooding.
He said: "Flood doors, flood guards and perimeter barriers are becoming a crucial tool to counter flooding caused by intense rainfall, however not enough people or organisations are aware of these technologies and how to use them."
He explained that they could be used in areas lacking resources due to funding cuts or economic deprivation.
"They can be used in addition to large scale defences, or where defences are unaffordable," he added.
Dr Angela Connelly said: "We hope this guidance achieves the longer term goal of improving the route to market for innovative technology in order to help make buildings more resilient to future flooding."
Dr O'Hare explained that the two types of flooding that areas of Manchester are most prone to are surface flooding and river flooding.
He added: "I want to emphasise that we can only become resilient to flooding, we can never fully protect ourselves from it."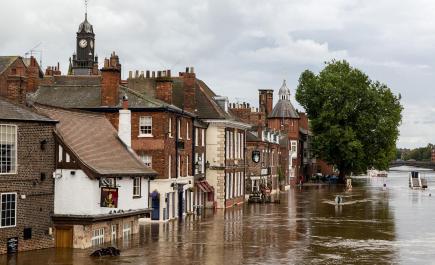 SURFACE FLOODING: In urban areas water cannot absorb into the ground so builds up (alh1, what thanks)
Surface water flooding is common in urban areas like Manchester when rainwater is not able to drain away through drainage channels or absorb into the ground and remains on the ground surface.
An interactive flood resource website has been launched for the North West of England funded by the North West Regional Flooding and Coastal Committee.
The website was developed by Sefton Council and the Southport Eco Centre, along with government support from the Environment Agency.
Councillor Derek Antrobus, Chair of the North West Regional Flooding and Coastal Committee explained why they created the site.
He said: "Our climate is changing and the North West is likely to get wetter over the next few decades. It is important that we not only invest in managing future flood risk, but also make sure that communities and future generations have the knowledge and understanding to tackle the more severe threats of the future."
He hopes that the resource will teach people how to manage their flood risk in an engaging way.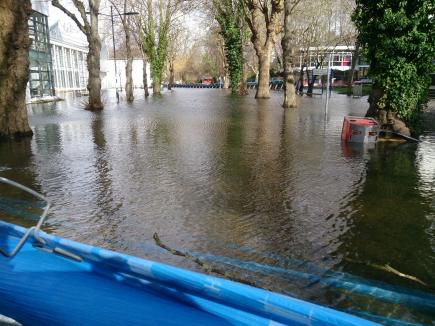 SERIOUS PROBLEM: Roughly one in six houses in UK are at risk of flooding (bez_uk, with thanks)
"This online tool means that everyone has at their fingertips a resource to develop a good understanding of how floods happen and how we can all protect ourselves from future flooding through insightful and engaging activities," he added. 
Flooding has become a serious problem in the UK and approximately one in six properties across the country are at risk.
It can often be six months before people can return to their homes after floods and it can cost around £20,000 to ensure their home is habitable.
The Association of British Insurers estimated the cost of the UK's insurance bill for storm and flood damage over Christmas 2013 at around £426million.
These winter floods confirmed to 27% of the population that climate change has been caused by people, according to a poll by the Energy and Climate Intelligence Unit (ECIU).
A recent briefing from the Met Office and the Centre for Ecology and Hydrology said:
"In terms of the storms and floods of winter 2013/2014, it is not possible, yet, to give a definitive answer on whether climate change has been a contributor or not."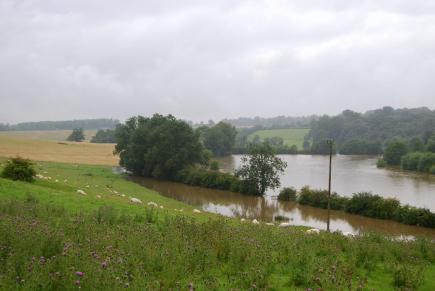 BURST BANKS: Flooding affects farmland and livestock as well as housing (dachalan, with thanks)
The Met Office are currently using new technology to find evidence of the link between climate change and flooding.
This follows the news that the sea level of the English Channel has risen by about 12cm in the last 100 years.
Since 1886 The Environment Agency has a record of more than 255 reported flood events in Greater Manchester.
For flood warnings and information about flooding in the North West and the UK, you can take a look at the North West Flood Ready website, Six Steps to Flood Resilience, Environment Agency's live flood map or National Flood Forum.
Main image courtesy of Dachalan, with thanks.