Stephenson's Rocket has come home to Manchester after being away from the city for 180 years.
The Museum of Science and Industry hosts the iconic steam train, where it is proudly exhibited in the New Warehouse, its original terminus and the oldest in the world.
Children are encouraged to follow the 'Rocket Family Trail' around the museum, with excitement about the locomotive picking up a head of steam, coinciding with visitor numbers rising by 6%.
Sally MacDonald, Director of the Museum of Science and Industry, said: "The arrival of Stephenson's Rocket in Manchester for the first time in 180 years is a momentous occasion.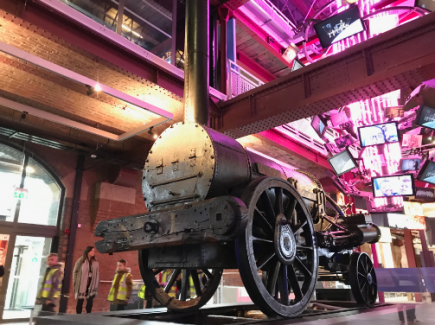 "This is a once-in-a-lifetime opportunity to see this iconic symbol of the Industrial Revolution in the city where it sparked 'railway mania'."
Rocket was designed by Robert Stephenson and built in 1829 to compete in the Rainhill Trials, the winner of which won the right to run on the Manchester to Liverpool Railway, the first intercity passenger line and first all steam-powered railway.
Despite killing a Liverpool MP during its opening ceremony, Rocket operated the Manchester to Liverpool route for four years and remained in service until it was donated to the London Science Museum in 1862.
It remained at the Science Museum for 150 years until it went on tour in June, appearing first in Newcastle and now in Manchester.
Rocket's loan expires on April 28, when it heads on to the National Railway Museum in York.