Statistics show a quarter of adults in England feel lonely and organisations across the region are working to tackle this issue.
Data from the ONS taken from 11th – 15th November shows that 26% of people feel lonely often, always or some of the time.
The results were taken from a sample of 4,400 people with the most affected age group being 16-29 year olds.
The ONS have also reported that 70% of adults in England reported that they were worried about the effect of coronavirus on their life.
Dawn Snape, Assistant Director of Sustainability and inequalities Division, ONS, said: "Lonely people were more likely than others to be struggling to find things to help them cope and were also less likely to feel they had support networks to fall back on."
The numbers come just as parts of England were announced that they would be placed in a further lockdown with Tier 3 restrictions being imposed from Wednesday, December 2.
These restrictions ban all household mixing and a continued closure of hospitality venues.
There have been a number of initiatives set up across Greater Manchester to help tackle loneliness, particularly through the pandemic.
Counsellor Bev Craig, Manchester's Executive Member for Adult Health and Wellbeing, said: "We need people to know that there is help, advice and support available.
"Help is available – please ask for it."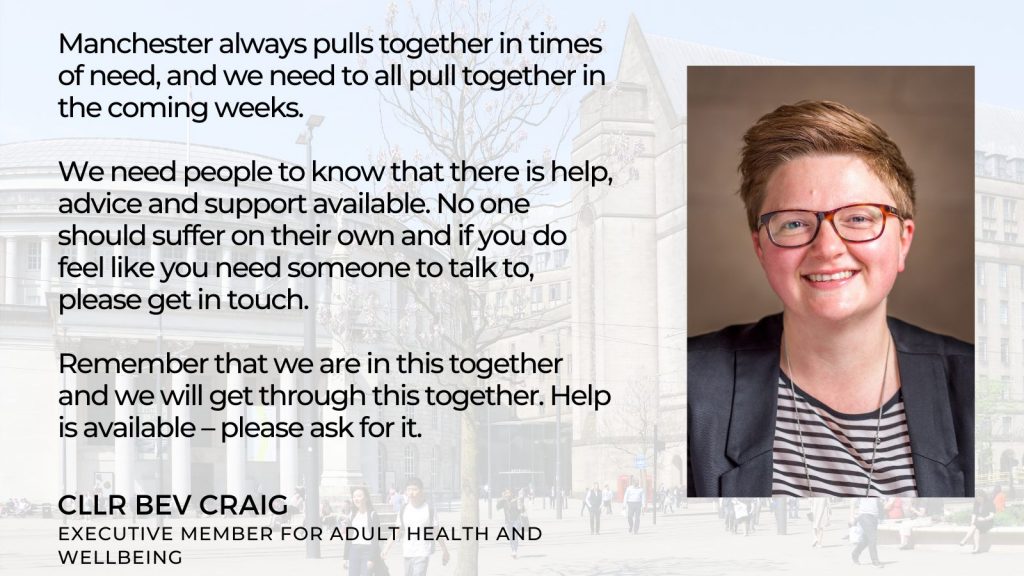 Charity Manchester Cares has began to renew efforts to bring people across the city together by encouraging people ages 18-35 and 65+ to come together through phone calls, video chats and post.
They aim to create lifelong relationships between residents in Greater Manchester through Virtual Social Clubs which involve quizzes, yoga and discussion groups.
They also offer tech support for those who need it to ensure everyone can be included in the activities.
SHOUT messaging service is run by volunteers and trained clinical supervisors and offers free, confidential advice to people in Greater Manchester via text.
In March, Great Manchester Council set up the COVID-19 Community Response Hub, where vulnerable people and those having to isolate with no support network could get help.
They can help with food and medication deliveries, accessing services online and will connect you to local groups if you are feeling lonely.
According to Manchester City Council's website, they have taken over 25,000 calls and made over 100,000 deliveries since March across the region.
Since April 2020, over 1000 people have accessed the free online service SilverCloud, which offers self-help mental support programmes. Around 90% of users said they found SilverCloud's resources useful.
Dr Sandeep Ranote, Medical Executive Lead for Mental Health, Greater Manchester Health and Social Care Partnership, said: "The number of people who have used these services, along with the feedback we've received, illustrate just how vital digital support is."
ONS figures show that around 1 in 10 adults have said it is hard to follow the current lockdown measures, largely due to the impact on well-being (69%) and the strain on relationships with family and friends (53%).
Earlier this year, the Government set up the Loneliness Covid-19 Grant Fund which pledged to fund national organisations that help tackle loneliness throughout the pandemic and hand out grants of up to £1 million.
The We Love MCR Charity reported that £965,000 has been warded to local groups and charities and over 50,000 people across Manchester have been supported by the grants as of November 17.
There are lots of free resources on the Government's Let's Talk Loneliness website.