New figures show there has been a 320% increase in reported drone incidents across the country endangering lives onboard passenger planes and also the crews of military jets flying or manoeuvring in UK airspace.
Manchester Airport has been one of the worst effected airports accounting for 22 of the most serious incidents reported in the past three years
Figures collected by the Civil Aviation Authority (CAA) – revealed in a Freedom of Information request – show a sharp increase during the past three years that has seen passenger planes and military aircraft involved in ever increasing 'Airprox' incidents — drones being the leading cause.
An Airprox is a situation in which, in the opinion of the pilot or the air traffic control tower, that the distance between an aircraft as well as its relative positions and speed have been, such that the safety of the aircraft involved may have been compromised.
One of the more worrying occurrences contained in the report was a near miss involving a drone and one of the world's largest passenger airliners, the Airbus A380, capable of carrying up to 853 passengers. This incident happened during take-off from Heathrow airport. 
These incidents are reported when either an air traffic control tower or the pilot of an aircraft believes that the near miss posed a serious risk to life or the aircraft's safety.
The UK Airprox Board (UKAB) is the UK's independent board, made up of leading industry experts, responsible for investigating and reporting the circumstances, causes, and risk of collision for all Airprox (Air Proximities) occurring in UK airspace. 
The reports released have shown that most of these incidents have involved drones flying  too close aircraft during take-off or landing — when an aircraft is at its most vulnerable.
During 2015 there were 40 drone related incidents, and by November 2018 that figure had risen to 128 incidents — all of which have posed a major risk to aircraft at some of the UK's busiest airports.
The figures obtained from UKAB include 'Airprox' occurrences between aircraft and drones, model aircraft, balloons and unknown objects.
In one of the most recent close-calls reported, was a situation where the pilot of a B747 passenger plane was descending just below 5,000ft when the pilot encountered a 'dark red/magenta coloured drone, the size of a dustbin lid.' That Flew directly overhead the cockpit.
The British Airline Pilots' Association (BALPA) has responded, Brian Strutton, BALPA General Secretary, said: "We wrote to the Secretary of State on 20 April 2017 calling for swift Government action to tackle this potentially life-threatening risk and the independent report fully justifies this.
"Pilots have been warning about the rise in the number of cases of drones being flown irresponsibly close to aircraft and airports for some time.  
"We are pleased the Department for Transport and Military Aviation Authority partnered with this BALPA on this testing and we are reassured that the matter is being taken seriously in the corridors of power.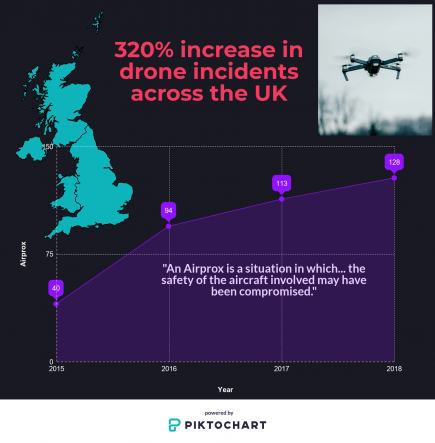 "We will wait to see the details, but we are encouraged that the Government has taken onboard calls for a registration and licensing scheme for drones and drone users. This will help ensure users understand and follow safety rules, and help the police trace drones if needed.
"We hope that urgent Government action will now follow to control this proven threat before there is a disaster and lives are lost."
The concern is the height that some of these drones can fly. For a little over £500 you can buy a drone that has an operating altitude of 19,685 feet (6000 metres).
It is already a criminal offence in the UK to endanger any aircraft by flying drones too close to aircraft, and can see you sentenced up to five years in prison. This seems to be having little effect.
BALPA is calling for:
Compulsory registration of drones and drone users, to improve traceability, and promote adherence to existing regulations.
Mandatory geo-fencing around airports to reduce conflict with aircraft.
Investment in technology to allow air traffic controllers to "see" drones when a conflict with a manned aircraft is possible.
Resourcing the police and the CAA to enforce the law and ensure safe skies.
High-profile prosecutions to highlight the problem and make people aware that flying drones dangerously could lead to five years in prison. 
Immediate introduction of air traffic control procedures to reduce aircraft speeds to safe levels when a drone is reported as a possible threat.
The findings have seen a worrying rise in 'Category A' reported incidents occurring during the past five years. A 'Category A' incident is deemed as the highest risk to an aircraft — 'aircraft proximity in which serious risk of collision has existed.'
Now that Gatwick Airport is back fully operational, Brian Strutton, BALPA General Secretary, said: "It is up to the relevant authorities to decide whether it is safe to re-open Gatwick given that the rogue drone is still around and may be expected to fly again.
"BALPA is not aware that any special advice has been given to pilots operating into or out of Gatwick, so we have this morning ensured that all our UK pilots have BALPA's advice on what to do if they see a drone while flying.
"BALPA remains extremely concerned at the risk of a drone collision. It is possible that the rogue drones may go undetected around the perimeter or could obstruct the flight paths outside the immediate detection zone. 
"Given this continuing threat we have this morning issued our advice to pilots about steps to be taken if a drone is sighted."
Tests have been carried out to determine what impact a drone could pose to a passenger plane during a mid-air collision. The results saw a drone penetrate the windscreen of typical airliner windscreen.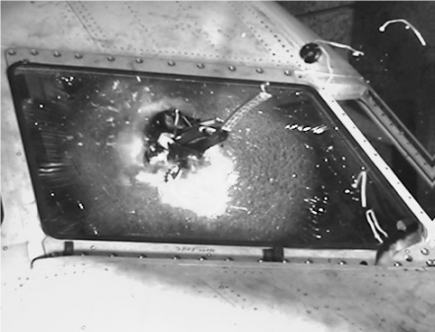 During those high speed tests using a 3.5 kilogram class fixed-wing drone, the impact proved to cause catastrophic failure of the aircrafts windscreen.
"This report clearly shows that readily available drones which can be flown by anyone can shatter or go straight through an aircraft windshield or shatter a helicopter rotor. And those impacts would have catastrophic consequences.
The project was joint-funded by BALPA, the Department for Transport and the Military Aviation Authority.