Video game brand MY.GAMES has announced a collaboration with mental health charity Safe In Our Hands following a study carried out in February this year.
This collaboration will provide more mental health resources for gamers and game developers worldwide,
The new initiative will see advertisements placed within MY.GAMES mobile titles to highlight the charity and the work they do towards making discussions of mental health more widespread, as well as giving gamers and developers access to more mental health resources.
Safe In Our World held a fundraising campaign called Safer Together during Mental Health Month in May, which saw various streamers raising money for the charity through game livestreams and ultimately raised £23,000.
Safe In Our World CEO Dr. Gina Jackson MBE said: "The main goal of Safe In Our World is to create and foster worldwide mental health awareness within the video game industry and beyond.
"We feel that partnerships like these will be a step towards achieving this goal for the people within our games communities."
MY.GAMES CMO Elena Grigoryan said: "We are glad to be supporting Safe In Our World's activities and the important work the charity is doing.
"We want to help in any way we can to contribute to strengthening the knowledge around the subject of mental health and work together to open a dialogue around these topics – creating a safe space for people to reach out."
In February this year, MY.GAMES along with the International Game Developers Association (IGDA) and Fair Play Alliance (FPA) conducted a survey across the United Kingdom, United States and parts of Europe with PC players of the games Revelation, Skyforge and Warface, as well as partner organisations.
This survey consisted of more than 21,000 participants aged 14 years and older who identified that they play video games on a weekly basis and asked them how aware they were about mental health, how often they had experiences with mental health, as well as self-evaluations before lockdown, months into lockdowns and more recently.
Speaking on the study, Ms. Grigoryan said: "The study of the psychological well-being of our audience, following the results of the pandemic, is an important step designed to draw attention to the topic of mental health."
Of those surveyed in the UK, 79% said they were aware what mental health was, the highest percentage across the countries polled with the US at 76% and Spain at 53%.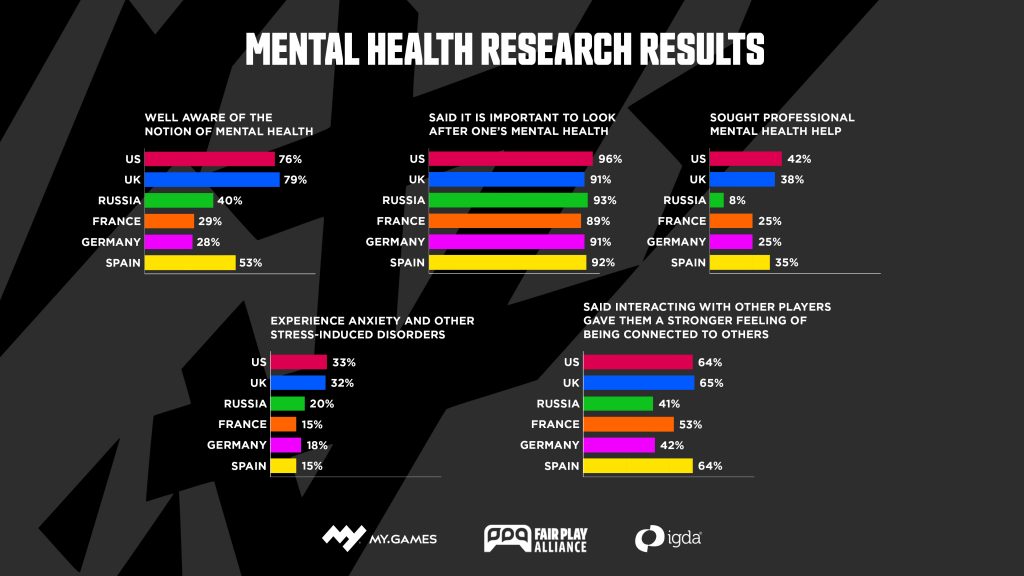 In their self-evaluations of mental health, 66% of gamers said they considered their mental health to be normal before the pandemic, deceasing to 57% during the first few months and then rising slightly to 59% as of late.
While 32% of the UK gamers said that they experience anxiety and other stress-induced disorders throughout a year, 38% have previously sought mental health help more than once in their lives and 64% have said that they would seek help when required.
A large majority of those polled (93%) said that they spend time playing online multiplayer games, with 84% openly communicating with others during play.
Along with this, 65% of the UK participants said that they had a strong feeling of being connected with others during lockdown because of these interactions.
FPA executive director Carlos Figueirdo said: "We're committed to supporting game developers and platforms in reducing disruptive behaviour and increasing players' wellbeing.
"Having spaces to connect is more important than ever during shelter-in-place."
While general online play was positive and encouraged a safe online space, one in ten of the participants (12%) noted that negative communications with some online players affecting their mental health, with 57% being insulted, 53% being trolled and 52% experiencing aggressive behaviour.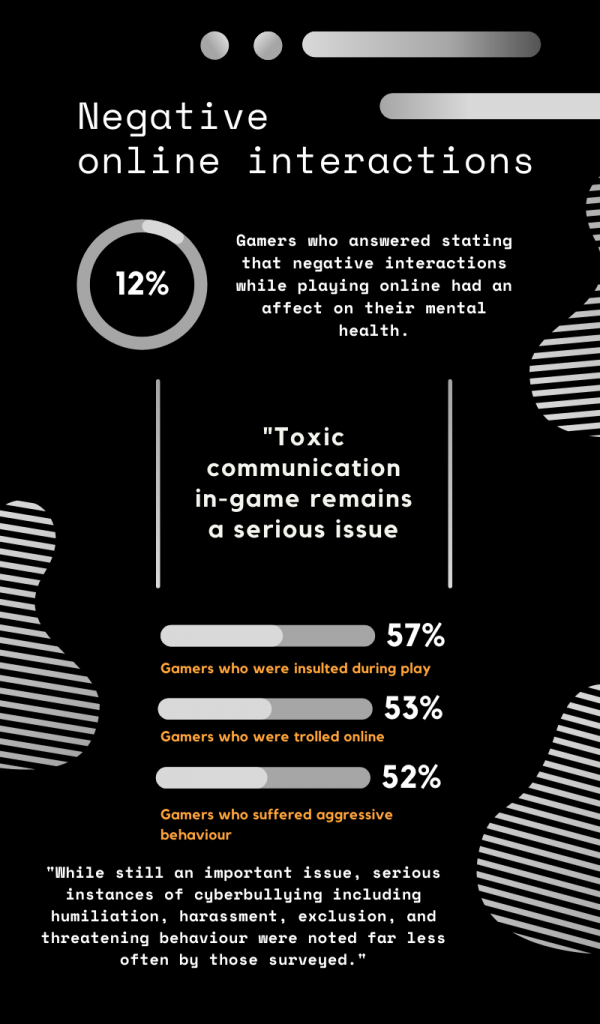 IGDA executive director Renee Gittins said: "Across the world, we have seen that multiplayer games have helped ease the pains of social isolation for those who enjoy video games.
"Video game developers must make note that toxicity in-game communities is still an issue for our industry.
"Moderation systems, positive culture cultivation, and exclusion of the worst offenders is necessary to allow everyone to enjoy gaming.
"Video games are an important tool for connecting with each other in these difficult times."
Main photo credit: Safe In Our World ©, MY.GAMES ©, Image Source: Renaissance PR