Stockport Road has been revealed as the worst street in Manchester for fly-tipping, having been reported in the top 3 of complaints for the fifth consecutive year.
During a five year period, the road has received the most complaints in the city about fly-tipping for three out of five years.
In total, Stockport Road has received 705 complaints about fly-tipping since 2016.
Following Stockport Road comes Clarendon Road, in Whalley Range, which has been featured for four out of the five years.
Whilst being in the top three between 2016-2018, Wilmslow Road – which includes the world famous Curry Mile – has seen a reduction in complaints and no longer finds itself in the table.
Recent years have seen a drop in fly-tipping activity, in comparison to 2016, which saw 679 complaints alone on just the top 3 streets in Manchester.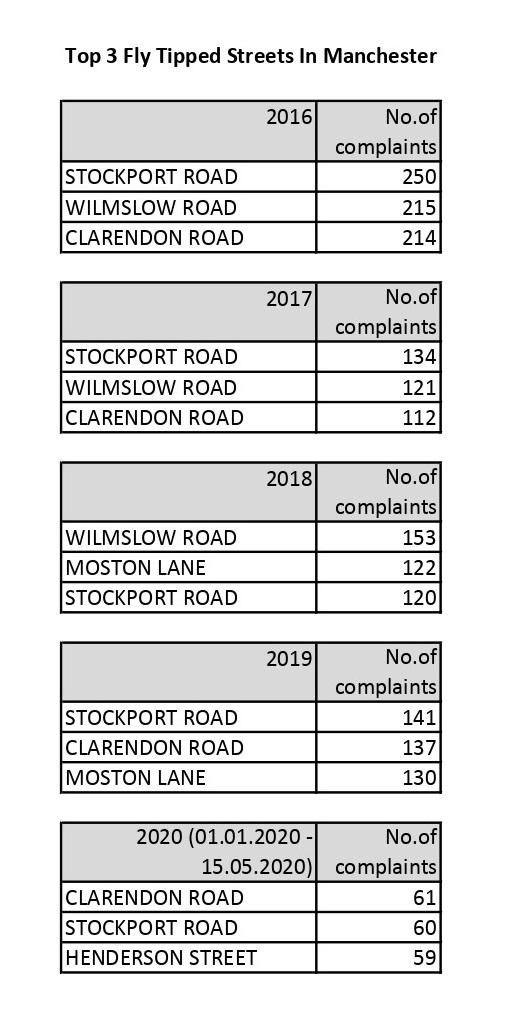 Manchester City Council's Executive Member for Neighbourhoods, Councillor Rabnawaz Akbar, has commented on the recent drop in figures but notes that there is still more work to be done, calling for heavy punishments for those found guilty of fly-tipping.
He said: "It's encouraging to note that the number of fly-tipping complaints received for Stockport Road decreased by almost fifty per cent between 2015 and 2019.
"Nevertheless, there is clearly more to do if we are going to eliminate the blight of fly-tipping for good and we're committed to continuing our efforts.
"We have a very strong fly-tipping enforcement arm and are constantly working hard to detect and punish the offenders, which is why we have a consistent track record when it comes to achieving regular prosecutions. 
"When the culprits face their day in court, we always push for the strongest possible penalty.
"It's worth noting that the A6 Stockport Road is an extremely long road, running all the way from Ardwick Green to the city's boundary with the borough of Stockport to the south, so it is perhaps unsurprising that it has featured prominently in this list."
Those wanting to make a complaint about fly-tipping in Manchester can fill out an online form here.