Rochdale MP Simon Danczuk is calling for the resignation of South Yorkshire police and crime commissioner Shaun Wright in the wake of Rotherham's child sexual exploitation scandal.
The police and council failed to prevent the 'appalling' abuse of 1,400 or more children between 1997 and 2013, according to a report by Professor Alexis Jay.
The horrific scale of abuse and its alleged suppression by officials is scarily reminiscent of events in Mr Danczuk's Rochdale constituency.
Cyril Smith, the town's former MP, abused young boys over the course of four decades, while in 2012 nine Asian men were sent to prison for up to 12 years each for their part in what has become known as the 'Rochdale grooming scandal'.
Outrage over the scale of abuse exposed in Rotherham has led for many to call for PCC Wright to resign – and Mr Danczuk is lending his voice to this campaign.
He said: "As I just said on Good Morning Britain, Shaun Wright, South Yorkshire Police Commissioner, should search his conscience and stand down immediately."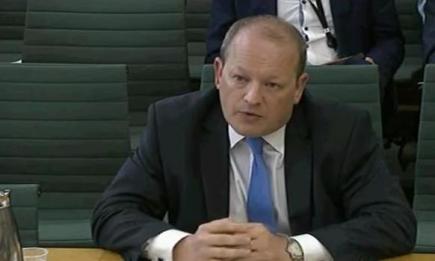 'SEARCH YOUR CONSCIENCE': Simon Danczuk MP calls for Shaun Wright to resign
This sentiment has been echoed through parliament by Ed Miliband and Theresa May, as well as many members of the public on social media.
Manchester resident Ben Crouch said: "I think Shaun Wright should face a criminal investigation along with few hundred others. Neglect and dereliction of duty of care is also abuse."
In spite of rising demand and the clear blame placed on authorities in the Jay inquiry, Mr Wright has refused to step down.
PCC Wright took up his post in 2005. Prior to this he was Rotherham council's cabinet member for children and young people's service.
The report detailed the nature of the abuse experienced by just a few of these children – all taken from official records, files and minutes.
Ms Jay explained: "They were raped by multiple perpetrators. They were trafficked to other towns and cities in the north of England. They were abducted, beaten and intimidated. There were examples of children being doused with petrol and threatened with being set alight.
"They were threatened with guns, made to witness brutally violent rapes and threatened they would be next if they told anyone. Girls as young as 11 were raped my large numbers of male perpetrators."
It is predicted one third of these victims were already known to child services on accounts of neglect or child protection.
"In most cases, especially in the early to days the evidence was disbelieved, supressed or ignored," Ms Jay added.
"Child victims were often blamed for what had happened to them while no action was taken against the perpetrators. It did not seem to occur to many of those involved that any kind of sexual activity with a child is a crime meriting investigation and prosecution."
Eerily reminiscent of Rochdale's own scandal, which ran so deep that Cyril Smith was never prosecuted despite several investigations into allegations of abuse.
His involvement in a paedophile ring inside Westminster was made public earlier this year in the explosive expose, Smile for the Camera, The Double Life of Cyril Smith, written by Mr Danczuk and his researcher Matt Baker.
Mr Danczuk told MM in April that he could not 'stand by and do nothing', particularly after meeting some of the victims of Smith's abuse.
He said: "Hearing their stories and how Smith's abuse, for a few minutes of  his own sexual gratification, affected them for the rest of their lives, was almost insistent upon me and Matt wanting to tell this story.
"The parallels that both these cases have with what has been happening in Rotherham are hugely disturbing, and suggest that nothing has been done to improve standards of child protection in this country for more than 40 years.
"Four decades later, the only thing that has changed is the gender of those being abused. Both in Rochdale and again in Rotherham, it has been poor, working-class girls, often from some of the towns' roughest housing estates, who have either not been believed by police, or whose testimony – the evidence that should, of course, have sent their abusers to prison – was deemed unreliable."
Main image courtesy of Sky News via YouTube, with thanks.
Inset image courtesy of Home Office via YouTube, with thanks