Manchester's ex-criminals, homeless, and addicts are to exhibit their learning after participation in a leadership programme, run by homeless charity Mustard Tree.
Having lived out a Class A drug addiction, homelessness, depression, and time in prison, Haydn Smith is now in a full-time work position.
The 53-year-old, from the Northern Quarter, was referred to Mustard Tree by Addiction Dependency Solutions (ADS).
In April 2015, he threw himself into the Manchester charity's way of doing things, taking part in their first-ever leadership programme.
Five participants, including Graham Hudson, Mr Smith, and Alistair Papworth, were involved in the pilot.
The culmination of the charity's Leadership Faculty will be marked by an exhibition at Virgin Money Lounge.
Each participant will display a series of photographs, which they will use to talk about their learning journeys.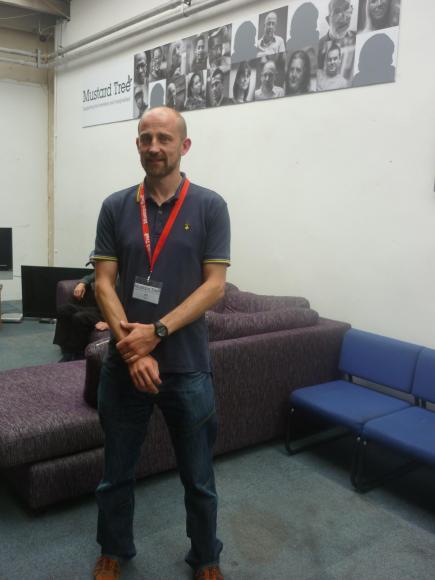 HELP ON HAND: Co-ordinator Jez Green hopes to remove barriers
Jez Green, Leadership Faculty Coordinator, said: "People are often judged by what they have – or haven't – achieved in the past.
"A five, 10 or 20-year gap on your CV, be it due to a prison sentence, or to being debilitated by a mental illness, often acts as an insurmountable barrier.
"One of our aims is to help people to overcome these issues."
Mr Smith initially helped out in the warehouse, office, kitchen, or wherever he was needed, but within eight months he was moved into a supervisor role and given more responsibility.
He said: "When I arrived at Mustard Tree, they said that they wouldn't point the finger at me, and wouldn't care what I'd done in the past. They were very much about the present and looking forward."
Now, based in the Ancoats warehouse, he is working as a van driver, a mentor, and a growing logistics expert.
Three of the five participants who previously took part in the charity's 40-week Freedom Project, are now employed, either by Mustard Tree, or its social enterprise, StandFirm, and developing their leadership skills.
In his role as a qualified coach, Mr Green focuses on cultivation, and believing in other people's potential.
He said: "This course is an opportunity to better oneself; to gain some skills that you might not otherwise have the opportunity to learn, to put them into practice through a group project, and to receive coaching. That is a potentially life-changing combination."
The leadership faculty was created for individuals who already demonstrate leadership and entrepreneurial ways.
The 16-week pilot programme combined group training with individual coaching sessions.
The programme was supported by Catherine Loftus, Deputy Director of the NHS North West Leadership Academy, who delivered course material on leadership and management development.
The team also included an experienced counsellor, political campaigner, professional coaches, and a high-profile retired business owner.
The aim of the Leadership Faculty is to further benefit participants in the future by becoming accredited.
The success of this programme perhaps shows that, despite the stigma that often surrounds ex-offenders or others who have been stigmatised, the potential remains for them to go on to contribute to society.
The learning of the five participants will be marked by a celebratory exhibition, giving them the opportunity to provide evidence of what they have been doing in a public setting.
Each participant will use three photographs to tell the story of their journey with the Leadership Faculty, from April until September, describing their experiences.
The exhibition at the Virgin Money Lounge, King's Street, will be open to the public for two weeks following the presentation on Thursday October 1.
The public is invited to attend between 2 and 5pm each day (4pm on Sundays).