Music collective All Hands on Deck will host a 12-hour DJ set to raise funds for Manchester's refugee and migrant charities.
Collective co-founder and DJ Abena will perform on Facebook live next month, to raise £1,500 for Safety4Sisters, African Rainbow Family, and Refugee and Asylum Participatory Action Research.
The money raised will help the organisations continue to support refugees and asylum seekers, and campaign for refugees' rights to reside safely in the UK.
The event on December 19 will run from 11.59am until 11.59pm and will be live streamed on Manchester community group Partisan's Facebook page.
Listeners can also enjoy Abena's live mix on Partisan's Mixcloud profile.
Abena is encouraging people to donate at her Gofundme page, where she has already raised more than £600 for the event.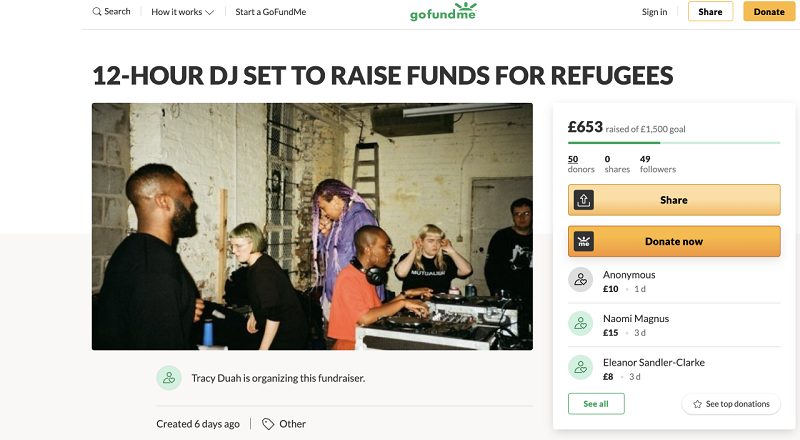 Inspired by DJ EZ's 24-hour DJ set in March for frontline workers, Abena hopes that her own marathon fundraiser will help refugees and asylum seekers through the pandemic.
Refugees, and migrants with residence permits that cannot access public funds, are ineligible for the government's covid-19 funding.
Abena said: "2020 has been a difficult year for all of us, but it has been particularly difficult for refugees and asylum seekers who often don't have access to public funds.
"These organisations have been working very hard to provide people with support, so I think we should all help them out a bit."
Abena is now preparing for her set so that it goes as smoothly as possible.
She said: "I'm really happy to be raising money for charity and do it with something I enjoy doing.
"But the thought for having to stand around for 12 and having bad knees as well is quite scary.
"I'm just looking for good shoes at the moment.
"And I'm making for playlists for certain hours, so I'm not going to start all guns blazing.
"I'm just going to ease people into it, and I'm curating music according to the time of day."
Supporters can also donate after the event, and there is no limit to the amount of money raised: "I'm aiming to raise £1500, but if I can raise more, that would be amazing!"
All Hands on Deck formed in 2018 to create an inclusive space for women and non-binary people to explore DJing.
The collective regularly runs 'open deck' parties, for people to try DJing in a non-judgmental space.
You can donate to All Hands on Deck's DJ fundraiser here.