Racially-motivated hate crimes across Greater Manchester spiked to the highest level in two years this summer.
Data obtained by MM from Greater Manchester Police shows 628 reported incidents in June, up from 433 one month earlier and peaking at 644 in August.
This was the highest total since July 2018 and such a drastic rise has not been seen since May 2017 – the aftermath of the Manchester Arena Bomb.
Bev Hughes, Deputy Mayor of Greater Manchester for Policing, Crime, Criminal Justice and Fire, said: "Over the summer, as some of the restrictions were eased, unfortunately reports of hate crime and race-related hate crime did increase.
"Hate crime in all its forms is unacceptable and working with our partners we recently launched our Greater Manchester-wide plan to tackle these types of crime."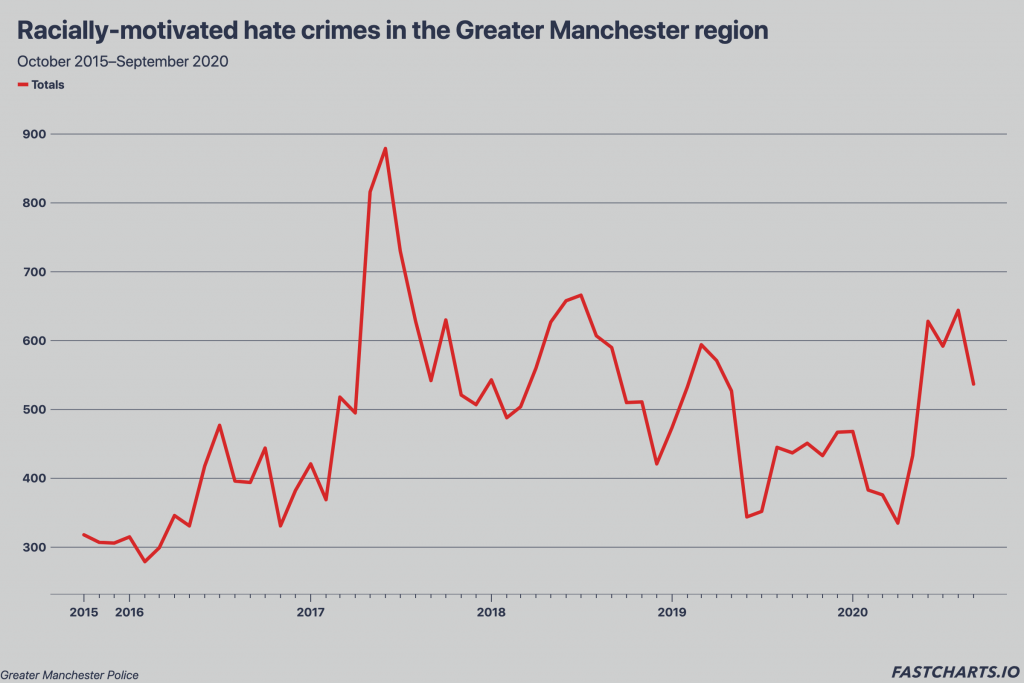 The biggest absolute increase was in the City of Manchester, with incidents jumping from 117 in May to 183 in June.
In that period, incidents more than doubled in Stockport (to 56), Trafford (to 38) and Bury (to 35).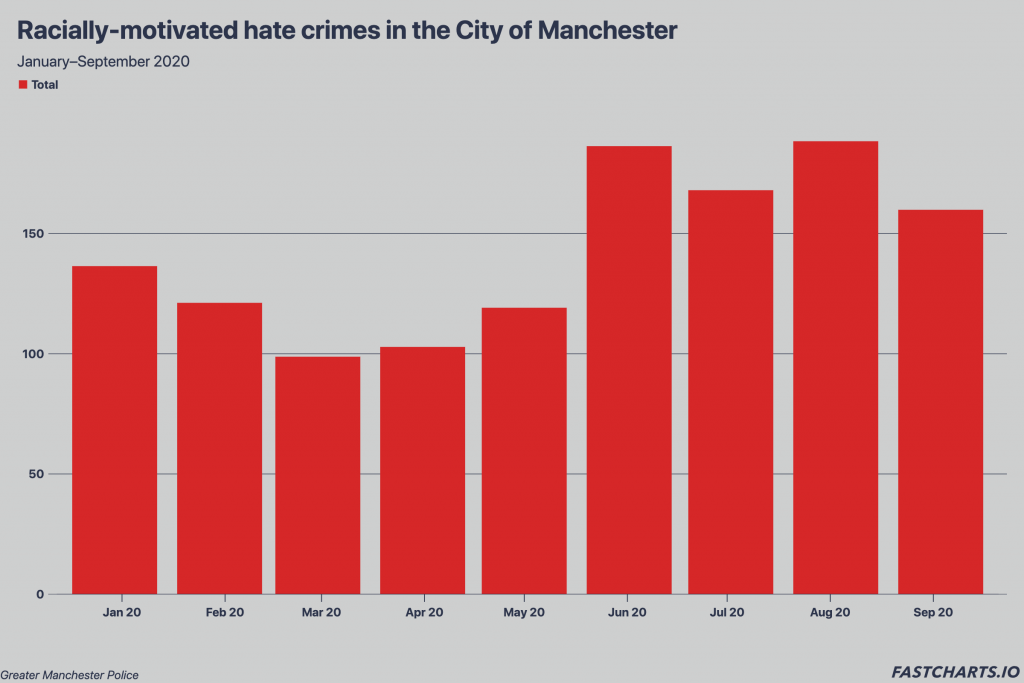 A Home Office report shows similar surges across the country this summer. They said this is probably related to anti-racism protests and far-right groups counter-demonstrations following the death of George Floyd in the US.
Nationwide, race-related hate crimes have increased by 67% in the past five years to over 76,000 in 2019/20.
There were an average of 485 monthly race-related hate crimes across Greater Manchester over the past five years, equivalent to one every 90 minutes.
Nahella Ashraf, co-chair of Greater Manchester Stand Up To Racism, thinks that the number of racially-motivated attacks is a lot higher, but they are not reported.
She said: "We were getting reports of the Chinese community feeling under attack and feeling like they had to keep their heads down.
"The Government need to make it very clear that Covid is not a result of an individual community.
"And actually the fact that we have disproportionate impacts on the black community is a direct result of the way that they [the Government] have handled it, not as a result of the community itself."
Deputy Mayor Hughes said: "Greater Manchester is a welcoming place and we are proud of the diverse communities that make up our city-region. Hate crime in all its forms will not be tolerated."
Greater Manchester Police were unable to comment.
Visit www.letsendhatecrime.com for information on how to report hate crime and access support.