A Stockport man who hoarded heaps of electrical goods and turned his garden into a 'scrap yard' has been slapped with a £750 fine.
Roy Harrison, of Kent Avenue, Cheadle Hulme, was handed the penalty after failing to comply with a council planning enforcement notice issued back in 2009.
After initially adhering to the warning, he finally gave in to his electrical urges and begun stock-piling a whole range of gadgets despite the council's request.
Councillor Patrick McAuley, Stockport council's executive member for economic development and regeneration, said: "Mr Harrison in effect decided to use his house as a scrap yard with no regard whatsoever for his neighbours, then compounded this by failing to comply with an enforcement notice served by the council."
"I welcome the strong message this conviction brings, as the Council will take action where people breach planning controls to protect neighbours and the environment."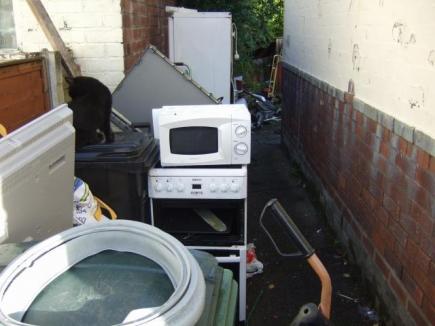 STOCKPORT STOCK-PILE: Some of Mr Harrison's hoard of white goods
Magistrates informed Mr Harrison, who pleaded guilty, that this was a serious offence committed with no regard for his neighbours.
Mr Harrison's unusual collection was displayed in both the rear and front gardens, complete with electrical parts and intact washing machines that he would dissemble in plain view.
Street image courtesy of Google Maps, with thanks.