Hospitals across Greater Manchester have raked in nearly £250,000 in car parking fines over the last three years, new data obtained by MM has revealed.
On top of the existing high car parking rates, visitors at the hospitals can receive fines for overstaying their ticket time or not paying for a ticket at all. 
Figures obtained from a Freedom of Information request show Greater Manchester hospital trusts have gained £248,060 since 2015 in fines, with the Central Manchester University Hospitals topping the list by collecting £91,018 in total. 
Since 2011, the Central Manchester University Hospital Trust which includes the Manchester Royal Infirmary, Royal Manchester Children's Hospital and Trafford Hospitals has collected £211,657.
The Stockport NHS Trust, which runs Stepping Hill Hospital, has collected £85,660 since 2015.
Terry Ford, 77, whose wife Alison spent the Christmas period in Stepping Hill, expressed his concern with car parking fines.
He said: "The prices for parking are already very steep and it's not like anyone wants to be here (in hospital). 
"We're already worried about my wife's illness and it is difficult to remember, on top of everything else going on, to go out and renew your car parking ticket.
"It doesn't sit well with me that they can charge you for hospital parking at all, never mind impose a fine."
The Christie and Tameside and Glossop Trust are the only hospitals in the region which do not issue car parking fines.
Liz McAnulty, Chair of the Patients Association, said: "With the current desperate state of the NHS's finances, in some ways it's hard to blame hospitals for trying to find money where they can.
"But this doesn't make the current situation OK. For patients, parking charges amount to an extra charge for being ill.
"These parking fines are worrying. Hospital appointments are often delayed or last longer than expected, so even if you pay for parking you could end up being fined if your ticket runs out. Visiting a hospital can be stressful enough without the added concern of whether you need to top up the parking."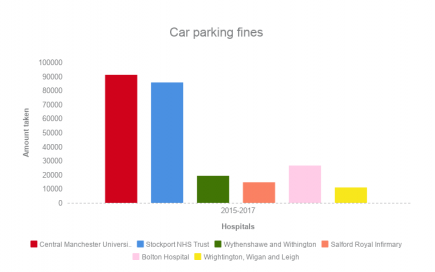 Central Manchester University Hospitals, which has now merged into Manchester University Hospitals, said there was a need to control parking at the six sites it runs.
A spokesman said: "Manchester University Hospitals is one of the largest hospital trusts in the country and is made up of nine hospitals across six different sites.
"Due to the complexity of our sites and services, car parking must be managed tightly to ensure the flow of vehicles, including emergency arrivals, and to ensure parking is available for patients and visitors. Car parking enforcement is undertaken by a private contractor.
"We receive a portion of this revenue which is rerouted back into our services."
These figures come just one month after Press Association revealed how NHS hospitals nationwide made a record £174m from charging patients, visitors and staff to park in 2016/17, which was up 6% from the previous year.
Data from 111 hospital trusts across England showed that as many as two-thirds are making more than £1m a year and more than half of trusts charge for disabled parking. 
When handing over their figures, Stepping Hill said: "We only started enforcing car parking fines in 2015/2016. We issue a ticket – if the person pays promptly the charge is £25; if they pay late the charge is £60."
The Pennine Acute Hospitals Trust did not disclose any information, stating the Trust issues parking charge notices rather than fines and all information relating to these is held by the parking enforcement provider. 
Wythenshawe and Withington Hospitals received £19,245 in fines, while Salford Royal Infirmary collected £14,640. 
Bolton Hospital received £26,540 and Wrightington, Wigan and Leigh Hospital Trust has gained £10,957 since 2016.