About 100 soldiers are tackling the Saddleworth Moor blaze, that is now being treated as arson.
Troops from the 4th Battalion, Royal regiment of Scotland were called in alongside 11 crews from Greater Manchester Fire and Rescue, as well as Greater Manchester Police to control the roads.
Two men have now been arrested over the fire, which has destroyed over 2000 hectares of Greater Manchester moorland.
Colonel Philip Harrison said "We've got a rotating shift of 30 soldiers providing support to the fire and rescue service for as long as they need it.
"It's not safe to put fires out when it goes dark, so they'll stand down at last light tonight and they'll be on the hill at 4:00 in the morning when it's light again."
Water is being pumped onto the fire, firefighters are beating the soil and even a helicopter has been deployed to carry water from nearby Dovestone Reservoir to drop it on the fire.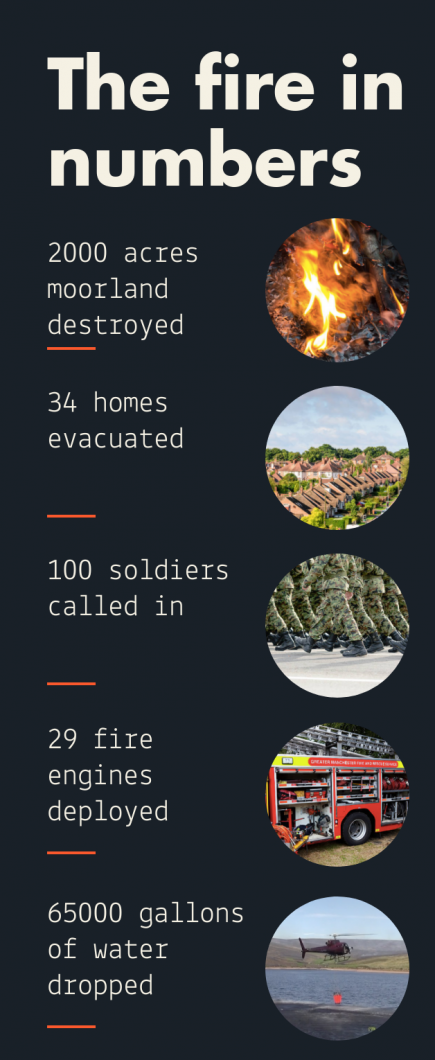 Also key to the effort is the Salvation Army, who have been coordinating the handing out of aid to those fighting the flames.
Tesco, local landowners and the general public are among those who have been donating food and water to those on the moor.
Divisional Emergency Coordinator for the Salvation Army Nigel Tansley said he is "working with some of the best men and women he has ever come across.
"The old adage is when something catches fire people run away from it, they run towards it.
"You've got to be special and believe you me, the guys up here, including the military, they're special people."
With fires also having broken out on Winter Hill, near Bolton, fire and rescue services are stretched and they are advising people not to make emergency calls unless they really need to.