New NHS data has shown the number of patients in the North West being referred for ADHD diagnoses has grown significantly.
Attention deficit hyperactivity disorder (ADHD) is a neurological condition that affects people's ability to concentrate, regulate energy levels and may cause people to act on impulse.
A series of Freedom of Information requests has shown that three North West ADHD diagnostic services – Stockport ASD-ADHD adult diagnostic service, Mersey Care NHS Foundation Trust and North West Boroughs Healthcare NHS Foundation Trust – have all seen a rise in referrals over the last three to five years.
The data shows there has been significant growth in the number of women being referred, as well as adults between the ages of 20 to 40.
According to the NHS website, most cases of ADHD are diagnosed between the ages of three and seven, but it can also go undetected until adulthood.
The ADHD Centre also states on its website that studies show that adult ADHD is more likely to go undiagnosed in women compared to men.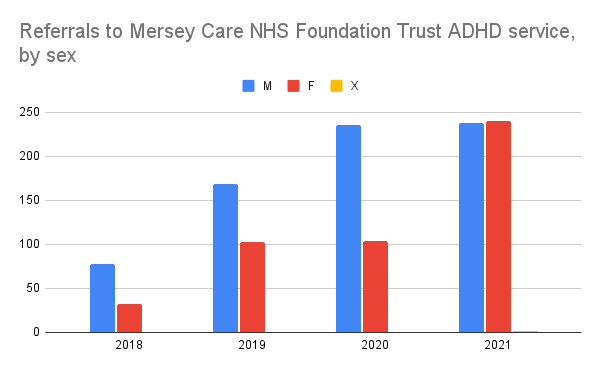 Psychotherapist and founder of ADHD service Stimuli Steven Shave, who was diagnosed with ADHD at age 40, said: "Men and women do present differently.
"There are many views out there that women tend to build more scaffolding around their symptoms, more safety behaviours and find more ways to disguise it.
"They tend to mask neurodiversity more than perhaps men do."
Mr Shave said that the Covid lockdown caused a lot of introspection in people, which may have led to the increased referral numbers.
He said: "I think it cast a light on attention, focus, our need for stimulation, how we get that dopamine seeking behaviours."
Alongside the increase in referrals, services have also seen an increase in waiting times between referral and final diagnosis. 
The average waiting time for Mersey Care NHS Trust is 15 months, and patients at Stockport ASD – ADHD service may have to wait up to five and a half years between referral and final assessment. 
The service has noted that, "unfortunately waiting times were significantly impacted during the pandemic."
When asked what people can do while they are waiting for their ADHD assessment, Mr Shave said: "I would always recommend that somebody starts reading, read as much as you can.
"At Stimuli, we recognise that it's extremely important to accept and to learn about your brain – with learning comes understanding, and with understanding comes acceptance."
The increase in adults seeking ADHD assessments and treatment has also led to the growth of an online ADHD community, including comics such as The ADHD Alien, popular Instagram accounts like The Mini ADHD Coach, and an entire subcommunity on TikTok.