Manchester's iconic cenotaph is receiving its finishing touches after relocating to another part of St Peter's Square.
The memorial was erected in 1924 to commemorate those who lost their lives in World War One.
And after being dismantled earlier this year it has moved from between the St Peter's Square Metrolink platform and Mosley Street to the opposite side of the square.
The landmark, which was designated a Grade II listed building in 1974, now sits opposite the Cooper Street entrance of the Town Hall.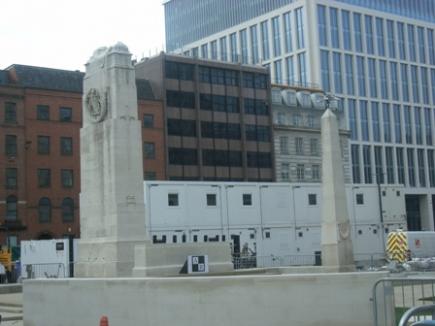 FINISHING TOUCHES: The cenotaph was first erected in 1924
The 90-year-old monument was moved to make way for the city centre's second tram line and had attracted opposition since the plans were approved in 2012.
However, veterans, church and heritage groups have supported the move with Manucians posting their views on social media.
1st time actually able to see the Cenotaph in its new home by Manchester Town Hall. If they keep the surroundings uncluttered, could be good

— Steven Heywood (@StevenHeywood) August 24, 2014
The new Manchester cenotaph almost finished #manchester pic.twitter.com/Id48R8RSF8

— Sam Mikkelsen (@SamMikkelsen) August 29, 2014
The memorial designed by Sir Edwin Lutyens and made from Portland stone has undergone cleaning and restoration work since being dismantled.
The finishing touches are being applied to the cenotaph and will be ready for the annual Sunday Remembrance service in the autumn.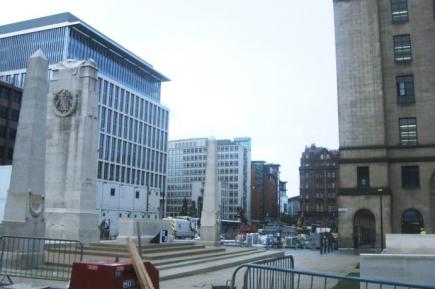 MEMORIAL MOVE: The Cenotaph in its new position
Images courtesy of Esther Jackson, with thanks