Pro-Palestine protesters gathered in their masses at Manchester's Piccadilly Gardens, hoping to bring more attention back to the humanitarian crisis inflicted by the Gaza conflict.
Blackburn's Drive For Justice, Manchester Palestine Action (MPA) and Palestine Solidarity Campaign organised the demonstration on Saturday evening – which they hope will put the spotlight back on the troubles Palestinians are facing.
Protesters are concerned the recent parliamentary sanctions, allowing UK air assaults against Islamic State targets in Iraq, will deviate the country's attention from the ongoing humanitarian issues in Palestine amidst the imposed ceasefire.
Asif Mahmud from Drive For Justice told MM: "The ceasefire is not enough, people are still dying, the occupation of the Palestinians is still ongoing.
"We've come together to raise awareness in Manchester and we're going to continue to fight for the people of Palestine until we get a peaceful and just resolution to the conflict."
Earlier this month, Manchester City Council stopped pro-Palestine group MPA from staging sleep-outs outside Israel-based cosmetic store Kedem, as the demonstrations supposedly compromised the public's health and safety.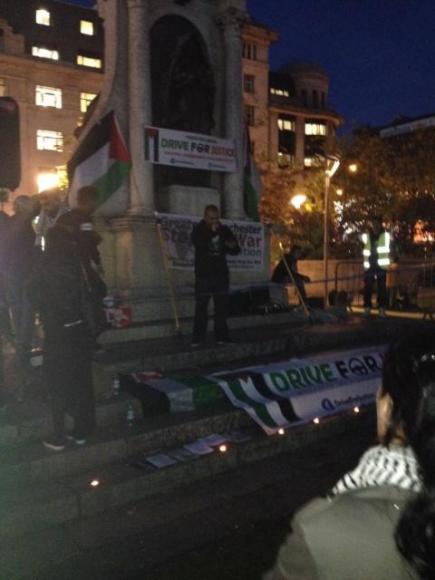 UNITED: Various Pro-Palestine groups came together for the protest
Despite this, Asif claimed that the city council had co-operated well with the protester's needs.
"We've really not encountered any problems, they've let us demonstrate our freedom to protest," he said.
"We applaud them for letting us continue our events despite what has happened in the past.
"Obviously since the cease fire, we still feel that it's not being exposed. The people of Palestine don't get their human rights, under occupation.
"We need to tell our government and the big corporations that they can no longer support the oppressive state of Israel."
Adie Mormech from MPA explained why it was important for the protests to continue during the ceasefire.
"We're continuing action against any companies complicit with the Israeli occupation because the occupation is still ongoing," he said.
"They announced that the Israeli authorities are taking another 1,000 acres that belongs to Palestine. The struggle is ongoing because the crimes are ongoing.
"This is a big gathering to say that we're not going to stop. Now because the bombs haven't dropped we need to make sure people know that there's still a reason to fight for the people of Palestine and exposing it here in the city centre is vital because it shows that everyone can get involved.
"The more we sit and watch the more chance there is for another 2,100 Palestinians to get killed by the bombings. It's time now to say boycott Israel until Palestinians get the same rights as they do. Until then, we'll continue to protest."
Main image courtesy of Facebook, with thanks