A two-metre-high 'scratch and sniff' art installation created by Manchester Metropolitan University students will be unveiled tomorrow as part of the MCR Student Takeover event.
Pattilyn Crozier and Marie Young are the masterminds who have designed the arresting piece which has been commissioned by the Heart of Manchester Business Improvement District (BID).
The interactive artwork will descend on King Street to kick off the event which will see thousands of students flood the city for the best in retail Manchester has to offer.
Interior design student, who is currently undertaking a Masters' degree at Manchester Metropolitan University, said: "The use of smells and senses in commercial retail design is increasing as a way to engage with consumers and I wanted this to be fundamental to the design.
"The bold design reflects the spirit and character of Manchester with blue representative of the cotton industry, silver the Manchester rain, yellow the Manchester bees, red the energy and warmth of the people.
"Bronze and gold stand for the strength and cultural wealth of the city and pink is just for fun!"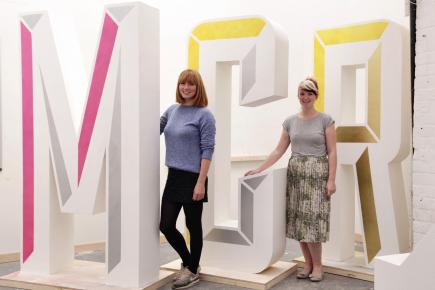 SMELL-O-VISION: Pattilyn's (l) art installation will be the event's centrepiece
Featuring honey, cotton and rain fragrances the piece brings together multiple colours and metallic finishes. The bold installation has been created to reflect Manchester and its diverse retail offerings.
Shops across the city centre are taking part in the MCR Student Takeover with 200 offering bargains to new and returning students in an exclusive one-night only evening of shopping events, big discounts, music and fashion.
The event is being extended across the city centre for the first time ever, following the success of Manchester Arndale's 'Big Student Night In' which has taken place over the last decade.
Retailers will be opening their doors at 4pm for the city's students and will keep them open until 9pm (8pm in Manchester Arndale).
All shops will provide discounts of up to 30% with valid student ID/NUS cards with brands like adidas, Accessorize, Cath Kidston, Diesel, DKNY, Fopp, French Connection, H&M, Gap, Jack Wills, Paperchase, Urban Outfitters, Selfridges and Harvey Nichol all onboard.
As well as Manchester Arndale's 'Big Student Night In', there will also be a live catwalk and fashion showcase at St Anne's Square for Love Fashion:Manchester and two exciting street arenas on Market Street and New Cathedral Street with DJs, food and drink.
Simon Binns, Heart of Manchester BID Manager, said: "The MCR Student Takeover is an opportunity to showcase Manchester city centre's retail offer to the region's 100,000-strong student population.
"Alongside hundreds of stores opening their doors late and offering exclusive discounts, we've got a full line-up of experiential activity taking place across the city centre and we're confident Pattilyn's installation on King Street will be a big attraction on the night."