Greater Manchester Fire and Rescue Service have urged the public to avoid hosting their own bonfire celebrations as the city's fire-fighters prepare for a four day strike over the Halloween weekend.
The strike, which comes as a result of the Fire Brigade Union's dispute with government over pensions, will see Manchester fire-fighters refuse to work over one of the emergency service's busiest periods of the year.
Beginning at 6pm on Friday October 31 and ending at 6pm on Tuesday November 4, it narrowly avoids Bonfire Night but does cover the Halloween weekend, one of the most dangerous few days for fire-related emergencies.
Greater Manchester Fire and Rescue Service are urging the public to avoid hosting their own celebrations and opt for an organised event instead.
Head of Prevention at GMFRS, Area Manager Wayne Shields, said: "We will have enough fire engines available to keep our communities safe during industrial action.
"The strike falls over the weekend before Bonfire Night and we expect lots of people across Greater Manchester will be planning to celebrate at home.
"If you're planning to have a bonfire or a fireworks display at home please think about either postponing it until Bonfire Night or better still, go to an organised event."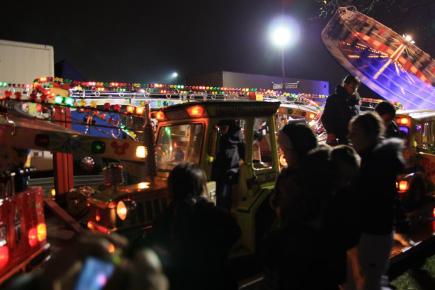 STAY SAFE: Officials are urging Mancunians to head out to publicly-organised celebrations instead, such as the annual event at Platt Fields Park (© Sherry Lin with thanks)
The strike is taking place in response to the government's proposals whereby fire-fighters are expected to work until they are 60 instead of 55, pay more into their pensions and ultimately get less in retirement.
The rigorous fitness requirements of the fire service means many fire-fighters will be unable to work until this age and therefore risk losing half of their pension.
Due to the high numbers of incidents occurring around this time of year, the Fire Brigades Union are hoping their strike will spark the much needed attention to help combat what they believe is unfair treatment by the government.  
Despite the disruption to the fire services' regular schedule and crew, alternative arrangements have been made to ensure the public's safety throughout the weekend. 
Chair of Greater Manchester Fire and Rescue Authority, Councillor David Acton, added: "The run up to Bonfire Night is undoubtedly one of our busiest times.
"The strike will affect everyone and while our contingency plans remain in place it should be remembered that there will be less fire engines on our streets operated by people that are not as highly trained or experienced as our normal crew.
"For these reasons please don't do anything that might put yourself, your friends or your family at risk. Go to an organised bonfire – it's the safest thing."
Mr Shields ended with: "We would like to wish everyone a safe and happy Halloween and Bonfire Night, but please take extra care whilst fire-fighters are taking industrial action."
For more practical advice on how to stay safe this weekend visit www.manchesterfire.gov.uk.
Anyone who is searching for an event can check organised bonfires and firework displays in their area using the interactive map on www.safe4autumn.com.
Top image courtesy of John Gannon, with thanks