A Salford school experienced some pre-Christmas Joy after a morning of long Division… as Mancunian music marvel Peter Hook returned to his old grammar school yesterday.
The bassist and co-founder of Joy Division and New Order visited Buile Hill Academy in Pendleton, to inspire pupils and discuss his remarkable career in the music business.
Greeted by a welcome poster with artwork providing a nod to the esteemed New Order album, Movement, a hero's welcome was in place for Hook.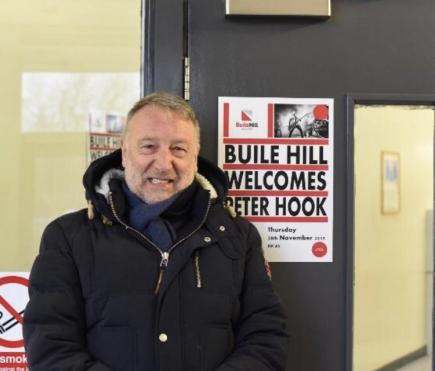 A HERO'S WELCOME:  Peter Hook is met by a poster inspired by New Order's album Movement
A pioneer of Manchester's beloved Haçienda, Peter was keen to encourage the next generation of musicians – even playing a few chords on the guitar whilst chatting to students.
During his talk, he told pupils: "I messed around in school – but it was a lot different than it is today.
"After being told that I would amount to nothing, to return as a successful musician after forty years in the game, just shows that you should never be discouraged. 
"Now I drive a Ferrari!"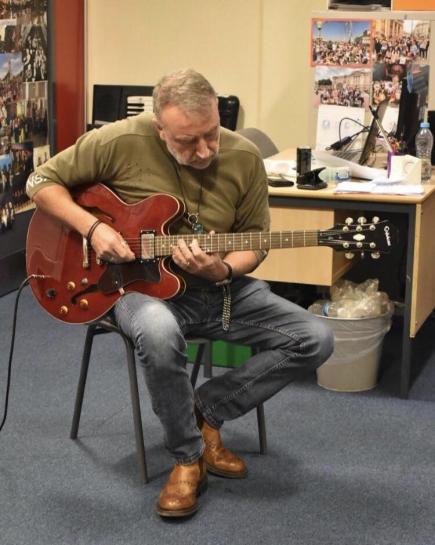 STRIKING A CHORD: Showing off his musical talents to the pupils
After a good measure of motivation, 'Hooky' took a trip down memory lane discussing the formation of two of Britain's biggest rock bands and the interesting origin of their names.
Borrowing the title of the sexual slavery wing of a Nazi concentration camp from the 1955 novel House of Dolls, Joy Division was born, shaping the music industry for years to come. 
Despite both band's successes throughout the 80s, with Blue Monday becoming the best-selling 12-inch single of all time, Hook insists the best music is from the 60s – before confessing he doesn't really enjoy contemporary music. 
Anna Simmons, Head of Music, expressed her gratitude to the rock'n'roll idol for gracing the halls to encourage their students, saying: "It was so motivational and inspiring for the students to see someone who lived in Salford and attended this school to achieve such great things.
"It was incredible to hear about his time at Buile Hill all those years ago and how this helped to shape him and the music he wrote.
"I'm not sure the pupils were ready to hear about rehearsing in a room with damp and rats in the early days, they were expecting it to be Ferrari's and fabulousness from the beginning!
"His visit will have inspired so many of our pupils to keep working hard and stay focused on their dreams just like he did."
"He is proud to say he's come from Salford, as are we!"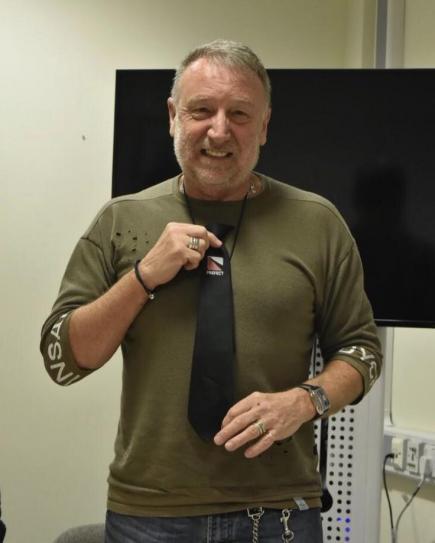 The Mayor of Salford, Paul Dennett, also expressed his delight over the visit, tweeting: "Great to have @peterhook visiting @BuileHAcademy to meet students & staff & share his learning and experience(s) after 40 years in the music industry #SpiritOfSalford."
Among the list of other famed alumni to have attended Salford Grammar School, Peter Hook's return is an especially poignant one, as he remains the down-to-earth Salford lad who helped changed the face of music with his unstoppable melodic basslines.
Over 40 years on from the start of his career, Hooky now fronts 'Peter Hook and The Light', playing bass alongside his son Jack Bates, often performing Joy Division and New Order classics.
Hopefully, the inspiring visit is enough to combat the students Blue Monday feeling after the weekend!