Men outnumber women more than five to one on The University of Manchester's School of Computer Science undergraduate course.
Out of 704 enrolled undergraduate students at the school, 597 were male and just 107 were female, a Freedom of Information request submitted by MM has revealed.
The gender gap was not just prominent amongst undergraduates – at every level in both staff and student departments, other than administration and technical, the number of men far outweighs the number of women.
And while there is only one female reader in the school, 22 women are situated in administration as opposed to nine men.
Daniel Yates, a teacher for Code First Girls, a group which offers girls free coding lessons, believes that women are too often pigeon-holed.
Claire Dodd, the co-founder of CodeUp Manchester, a group that teaches adults coding for free, believes that this is a problem that extends beyond just the academic realm.
Although she recognises that there are other factors at play, Claire predominately attributes the low female numbers to a lack of confidence.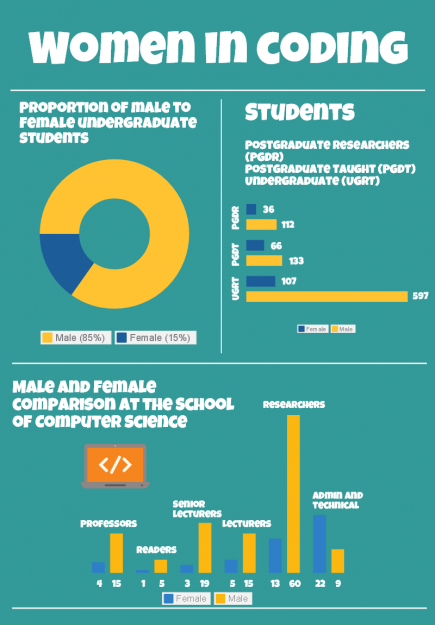 She said: "In general, I think you find that men are more confident of the unknown.
"Guys have more confidence, in basically bullshitting.
"Women don't have that confidence to just turn up [to tech events].
"And obviously with the lack of women in tech, it's much less likely that you're going to know someone at the event."
Claire claims that the average number of women employed in tech is 'about 12%'.
She is part of a number of Manchester based initiatives that are attempting to persuade women to start coding and participating in the tech sphere.
He told MM: "One of the major causes of the gender divide is that women are seen as suitable for a particular type of job, like admin.
"There's always been that discrimination. It started quite a long time ago and it's still an issue today."
Charlotte Fereday, programme manager at Code First Girls, has suggested that the gender divide in tech is linked to schooling.
She said: "It seems to be quite closely related to early years and early education.
"I've had this conversation many times with people saying they wanted to do maths and were interested in coding but they also wanted to do, say, history and then they were forced to do one or another.
"It seems to be very early years that decisions are made without them even knowing."
With regards to the lack of women in senior positions at the university, Charlotte also notes that young girls need to see women in high positions in order to have something to aspire to. 
Speaking to MM, Professor Jim Miles, head of the School of Computer Science, made similar suggestions regarding earlier education in response to the figures.
He said: "We are not complacent about the gender imbalance and the position of women within our discipline nationally and are working hard at various levels to try to improve the situation.
"We believe the problem of gender imbalance starts in secondary schools when there is a drop in the number of girls taking the subject.
"To that end we have built a programme of activity, with more than 60 of our computer science students registered for training to go out to secondary schools to help them develop the new GCSE and A Level computer science syllabus.
"And spread the message that Computer Science is a discipline that is both attractive to women and in which women can succeed at the highest level."
Last June, The Chartered Institute for IT published their 'Women in IT Score Card', confirming that there is significantly less women in the IT industry.
But that the recorded level of pay for women in IT roles has been consistently below that of male IT specialists each year for the past decade.
Image courtesy of Ben Welsh, with thanks.