Moss Side's Hideaway Youth Project witnessed 'the first steps towards building unbreakable communities and families' at the Manchester stint of the UK's Ferguson Solidarity Tour last night.
The tour featured Black Lives Matter speakers and supporters and is a reaction to the riots in Ferguson, USA, over the decision not to prosecute police officer Darren Wilson, who shot dead unarmed, black teenager Michael Brown in August 2014.
Organisers, Defend the Right to Protest, are hoping to support those in Britain who have suffered injustice at the hands of the state and have already held meetings in Brixton, Tottenham, and Birmingham.
MM spoke to a youth worker at the Hideaway Project, Akemia Minott, who believes that protest campaigns like the one surrounding Ferguson have important lessons for other marginalised communities.
She said: "It was amazing hearing all about Black Lives Matter and Ferguson solidarity a lot of people were awoken by it and were quite passionate, I think this is the beginning of something.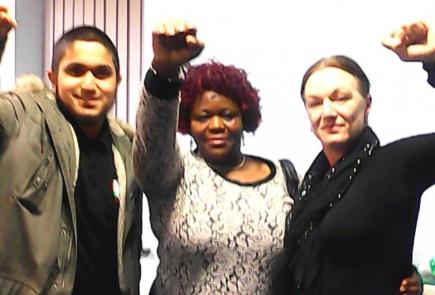 INSPIRATIONAL: Akemia said Caroline and Janet's 'tireless fight' has set an examply for young people
"It was extremely moving and a lot of the young people couldn't quite believe how emotional it was, they didn't quite realise this was what was happening in the UK, never mind the US."
"We've got to build strong communities and families so that nobody can break them. It's about shared experiences of people living in communities such as this. It ended up not just being about Moss Side, it was wider than that."
The solidarity tour has support from figures in America as well as notable campaigns for justice, such as the ones led by Caroline Duggan and Janet Adler.
Co-founder of Black Lives Matter Patrisse Cullors spoke at the event and described why the Michael Brown case in the US has relevance in Manchester and the country as a whole.
Patrisse said: "In the UK you have a black presence that is part of a colonial past and comprised of immigrants, in contrast to the blatant slave history in the US.
"But you still have systemic oppression, and state sanctioned violence plays a role in each of our contexts.
"We are in a historical moment where we can make great shifts inside and outside US borders to ensure that black lives matter around the world."
The Moss Side event impressed US organisers because of its communal feel as they continue on their nationwide tour.
Akemia, who has worked at the centre for more than 10 years, added: "There have been ten or twelve around the country but they said ours was the best one because we're a youth project.
"It was universities and political groups doing the other ones, we're very part of the community so we couldn't do it any other way.
"Caroline Duggan and Janet Alder tirelessly fight for their personal campaigns and their family members and they're just an inspiration to anybody that seems."
There is a feeling that more needs to be done to empower young people and the Hideaway youth centre is hoping political education can help with this.
"Young people grow up going through stop and search as though it's a regular thing. It's about educating people, giving them information on their rights," she said.
"We are trying to engage young people in the politics that affect them we've had young people challenging MPs and going to the Houses of Parliament."
People attended the talk from London, Nottingham and Liverpool with differing views and backgrounds, but worked together to try to address the problem of violence and prejudice by the police.
The message from the Moss Side meeting is one of global solidarity and continued action against the issues faced by young black people today.