A homelessness charity's CEO has stated that Manchester's lack of public toilets is not simply a dignity issue for rough sleepers, but crucially a drugs-related one.
Mustard Tree's Jo Walby emphasised the need for safe public spaces for those struggling with addiction – which it is understood disproportionately affects rough sleepers.
Amidst 2011's austerity pressures, Manchester City Council (MCC) slashed the number of toilets they funded from 19 to just the one on Lloyd Street by Albert Square.
The number of rough sleepers is thought to have increased from single digits in 2009 to more than 100 in 2019.
Ms. Walby said: "It would seem that if addiction is one of the main issues that we've got with people left on the streets, having a safe place where people could safely take drugs that isn't a toilet – it'd be good wouldn't it? It would provide some dignity.
"Other cities will have places where you can drink and take drugs in a safe space, and we don't do that – it's a legislation issue," she said.
Although there are public toilets at Lloyd Street, the Central Library, Manchester Art Gallery, and Piccadilly and Victoria stations, all but the stations and those on Lloyd Street shut by 8pm at the latest.
The station toilets are operated and staffed by Network Rail, while those on Lloyd Street, the sole MCC-funded facility, are monitored by security between 19:30-07:30.
"Am I saying it's ok for people to take drugs? No, because it's a public health issue," Ms. Walby said.
"But if people are going to take drugs," she went on, "we need to protect them and the local population – for example, by ensuring more needle exchanges in the city. There are far fewer than there used to be.
"Then you wouldn't have the associated trouble of having hundreds of addicts in one place, or not having enough places for people to safely do that," she finished.
The impact is tangible. Coupled with plummeting prices for Spice and heroin, Manchester's streets are becoming increasingly littered with needles, pills and spoons. Public defecation, a side-effect of these two drugs, is also getting more widespread.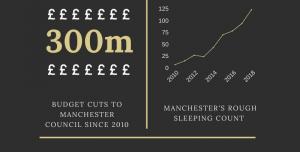 ROUGH STATISTICS: Sleeping on the street and public conveniences in Manchester
Deputy Leader of MCC Sue Murphy emphasised the council commissions services for rough sleepers where they can access toilets and washing facilities overnight.
"While those are not operated by the council we are their commissioners, therefore the responsibility does still rest with the council," she said.
She stressed the number of rough sleepers is difficult to estimate, as it "fluctuates throughout the year and residents at any number of the city centre day centres and shelters can vary from night to night."
She added: "Having the space to use a bathroom is a simple aspect of life which many of us take for granted.
"While it is physically important to be able to bathe, the importance of its impact on mental wellbeing cannot be overstated."
The council's outreach team works seven days a week to help rough sleepers access indoor support, collaborating with city centre charities such as Coffee4Craig and Centrepoint to provide crisis support.
This longer-term form of collaboration is more beneficial for rough sleepers, said Ms. Murphy.
"On top of somewhere to wash, they can access food, clothing, and other wrap-around support to help them move away from a life on the street.
"People who sleep rough can struggle with a host of complex needs, including addiction, mental health problems, and the after effects of family breakdown or abuse.
"We are committing to supporting people with these needs in accessing the best help that will allow them to take their lives forward," she finished.
There is a referral procedure to get people into overnight accommodation. If you or someone you know is or is at risk of becoming homeless, please find help at the Town Hall or refer to the council website.
Image courtesy of UoM Volunteering and Mustard Tree via Twitter, with thanks.