CCTV images show a man who stole more than £20,000 in Pound Sterling and foreign currency from a Sainsbury's Superstore armed only with a menacing hand-written note.
The bizarre armed robbery occurred on Saturday, 26, around 1.45pm, when a man went to the currency exchange counter near the front entrance to Sainsbury's on London Road, Hazel Grove.
He chatted to the assistant as he handed her notes to be changed into foreign currency.
Within these notes was a handwritten note which read: "Give me all the money from the [safe] or you will get hurt! I have a gun in my bag and I will use it!"
The cashier handed over approximately £17,000 in foreign currency, as well as £5,100 in Pound Sterling. The offender then ran off towards Peter Street.
Police have now released images of the man and the note he used to do it in order for anyone with information to come forward.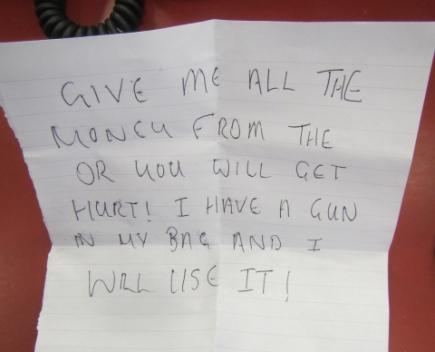 SHOW ME THE MONEY: Cashier handed over more than £20,000
Detective Constable Mark Healey, based at Hazel Grove Police Station, said: "We want people to be aware of this because he could try to offload or change the currency across Greater Manchester.
"We ask that if you recognise this offender from the images, please contact us as soon as possible on the numbers provided.
"Also, if anyone is offered large amounts of foreign currency in suspicious circumstances then please call the police."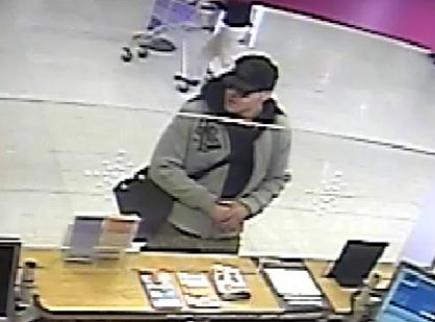 WANTED: Police want to speak to anyone who think they may know this man
 
The offender was described as white, in his mid-30s, 5ft 10in tall, with a medium build, ginger hair, wearing a black baseball cap, grey tracksuit top, sunglasses and carrying a black Adidas bag.
Anyone with information is asked to call police on 0161 8569779, 101 or Crimestoppers on 0800 555 111.