Salford Quays are set for an invasion from the Far East this Sunday in the annual Chinese Dragon Boat Festival.
The event returns for a third time in an elaborate celebration of Chinese culture as 27 teams from across the North West take part in the showpiece race.
Almost 50million people competed in Dragon Boat races globally last year and there is growing speculation that one of the world's fastest-growing sports may be considered as an addition to the Olympic repertoire.
The festival is a commemoration of Chinese culture, and alongside the traditional boat race will be a traditional Chinese Lion Dance, Chinese Shaolin Kung Fu demonstrations, folk dancing and even a Chinese choir.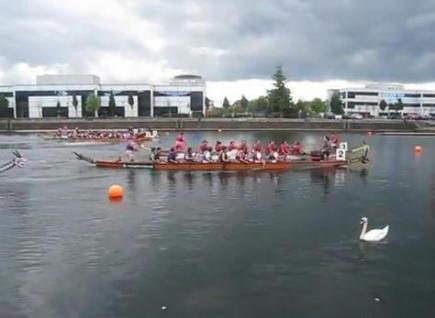 TIGHT FINISH: At the finish line of the 2010 Salford Quays race (© MOOAUK via Youtube with thanks)
The event organisers' Xinhua Chinese Association (XCA) Chairman Dr Yanzhong Xu – who is also the Managing Director of Manchester-firm Suman Education – said: "This is the third year we have organized the Chinese Dragon Boat Festival and each year it gets bigger and better.
"This year, even more teams have entered and we hope the event will be a wonderful day out for families and friends and an opportunity to experience fantastic Chinese culture and food."
Across Salford, bankers, lawyers, business men and women, students and university staff will paddle across the Quays to seize the crown as the winning team.
Each team is made up of 10 paddlers, a drummer and a steersman, who compete in three races each.
The Dragon Boat Festival, described as 'a riot of sound and colour', features boats beautifully decorated with colourful dragon heads, intricately-detailed tails and a drummer leading the competitors throughout the race with a persistent beat, to aid the synchronisation of their paddling.
The event will also showcase traditional Chinese food such as Zongzi – sticky rice dumplings and fried cake made of wheat flour, rice and sweet potato – and visitors are granted an opportunity to win a £300 cash prize in the Dragon Boat Photography competition.
There is also an additional £300 up for grabs in the Dragon Boat logo design competition.
XCA was established in Manchester 10 years ago to promote Chinese culture and to provide a unique opportunity for Chinese people to become more involved in mainstream social activities.
The Chinese Dragon Boat Festival will take place this Sunday June 1 from 11am-5pm at Dock 9, Huron Basin, Salford Quays, M50 3SQ.
For more information about the Dragon Boat Festival, and the photography and logo competitions, follow this link.
Image courtesy of Yan Hao via Youtube with thanks