Plans to install a statue of an iconic female figure in Manchester city centre have been passed as a Didsbury councillor pledged to get on his bike to raise £50,000 to build it.
Didsbury East Labour representative Andrew Simcock has promised to cycle from Land's End to John O'Groats to raise funds for the statue, as the motion was passed by Manchester councillors morning.
The final decision on which female figure will be honoured with Manchester's 17th statue – 15 of the 16 existing monuments are men – is set to be decided by a public vote based on a Manchester City Council shortlist.
Mr Simcock confirmed that the public will not be footing the £500,000 bill and said: "The majority were erected in the late 19th century and reflect the male-dominated ethos of the time.
"Not one penny of this money will come from the public purse in Manchester. Although that still gives scope for some work from city council officers, contributions from the national lottery, English heritage or similar."
Many prolific figures such as Emmeline Pankhurst, the celebrated British Moss Side suffragette and Dame Kathleen Ollerenshaw the 25-year conservative councillor for Rushholme who celebrated her 101st birthday in October, were put forward at the meeting.
There was even talk of fictional characters such as Coronation Street's matriarch Ena Sharples, played by Violet Carson OBE of Ancoats, taking the spot.
Initial plans intend to see the figure ascend in 2019 to celebrate 100 years since women were permitted to vote and the contribution Mancunian women played in securing that freedom.
Following Mr Simcock's speech, Councillor Josie Teubler, of Didsbury West, also called for Manchester to' empower women of all ages'.
She said: "Growing up I often wondered historically where the women were. I was surrounded by amazingly talented and strong female role models in my own life.
"Then I walked through the art galleries, scanned books on shelves in libraries and wondered 'where were the women?'
"We are a city that is proud to stand up and do the right thing, even when many would have us remain silent.
"We need to empower women of all ages showing them role models of real women that have achieved great things in our city and country.
"I want young people to walk around Manchester and see statues of amazing women, walk streets named after amazing women, cross parks named after amazing women and for this to be normal."
Bringing the series of heartfelt monologues to conclusion and quoting the slogan of the lead organisers of the Suffragettes movement the 'Women's Social and Political Union', Councillor Emily Rowles of Moss Side, said: "Time for deeds, not words."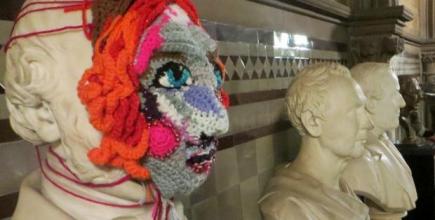 RETURN: The Warp & Weft exhibition returned to the town hall for one day only
The campaign to erect the statue was given attention by Artist Helen Davies and historian Jenny White, who as arts, crafts and heritage initiative Warp & Weft created and hosted the Stature project back in February this year.
There was a final chance to view the exhibition in the town hall today to allow councillors who didn't get a chance to see the original show gain a better understanding of the concept.
Big guns! @Andrew4Didsbury pledges to raise £50k towards new female statue by cycling from Landsend to John o Groats next summer…

— Kate Chappell (@ChappellKate) July 30, 2014
In @ManCityCouncil chambers ready for vote on @Andrew4Didsbury's female statue proposal http://t.co/QoYkiFLjN3 pic.twitter.com/uTrpdDPXpp

— Warp & Weft (@warp_weft) July 30, 2014
With @Andrew4Didsbury whose proposal for a statue of a woman in Manchester is voted on today! http://t.co/QoYkiFLjN3 pic.twitter.com/pD3JeaXMsZ

— Warp & Weft (@warp_weft) July 30, 2014
Peek-a-boo y'all! Man busts in Manchester Town Hall being transformed for council statue vote http://t.co/QoYkiFLjN3 pic.twitter.com/UwnmtjYUtl

— Warp & Weft (@warp_weft) July 30, 2014
the girls are back in town! @warp_weft #stature going up in Mcr Town Hall again for ONE DAY ONLY pic.twitter.com/kwXKtxEq1j

— Helen Makes (@helenmakes) July 30, 2014
Today submitted my resolution for the next City Council mtg calling for a statue of a woman to be erected in central Manchester. @warp_weft

— Andrew Simcock (@Andrew4Didsbury) June 11, 2014
Mr Simcock has been a passionate supporter of the plans to add to the Queen Victoria statue – the city's only female monument – since the campaign began.
Already a keen cyclist and runner, Mr Simcock has climbed into the saddle for a number of causes over the last twenty years, including St Ann's Hospice, Wood Street Mission and Crossroads.
In 2009, he cycled the 518 miles from Manchester to Paris and, a year later, led a 1,000-mile cycle ride across Britain raising £170,000 for Alzheimer's Society.
And Rusholme councillor Kate Chappell tweeted from the meeting to reveal that her fellow representative would be hitting the streets once more to raise funds for the statue.
Good motion at #Manchester City Council by @Andrew4Didsbury on importance of erecting a statue of a woman in Manchester City Centre

— Kate Chappell (@ChappellKate) July 30, 2014
Great speech by @josieteubler on gender inequality and women's fight to join public life. #mcc

— Kate Chappell (@ChappellKate) July 30, 2014
Image courtesy of Duncan, with thanks.