An Oldham trucker has been jailed for life for the murder of a motorist by deliberately driving his 17 tonne lorry over him in a road rage attack.
Today, Mark Slater, 46, from Oldham, was ordered to serve a minimum of fifteen years in prison for the murder of 56-year old Trevor Allen.
Around 8am on February 15, Mr Allen was heading to work along the A57 Manchester Road in Warrington when he got into a driving related dispute with Slater, who was travelling along the same road.
Slater moved his vehicle into gear and drove over Mr Allen as the older man got out of his Citroen Berlingo to remonstrate with him in the street.
He was then dragged under the wheels of the vehicle, causing devastating injuries. He died instantly.
Horrified eye witnesses saw Mr Allen's head 'explode' and could hear his bones breaking as the grandfather was dragged under the wheels of Slater's DAF articulated lorry, the jury were earlier told.
As the motorist lay dead in the road, Slater calmly told a 999 operator: "Hiya love – there's a man seriously injured." 
Slater was arrested at the scene and charged with murder the following day.
In a police interview he maintained that Mr Allen had been throwing coins at him and then told police that as the car had overtaken him and stopped he shouted at Mr Allen.
He said his reply was 'I'm going to fucking have you'.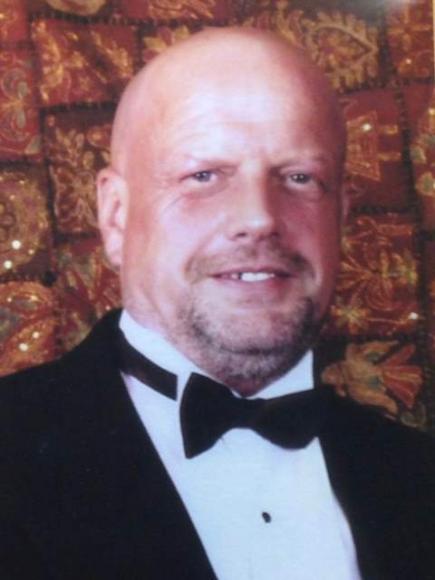 HORRIFIC: Mr Allen's injuries were so catastrophic they he died instantly
 
Speaking after the sentencing Mr Allen's family said they hoped Slater would 'rot in hell'.
Mr Allen, a widower, was a father of three and a grandfather of four.
His sister  Muriel Farrell, 62, said: "They should make an example of road rage drivers – especially those driving wagons. It is still a lethal weapon.
"We were on a high yesterday because we got what we wanted but now that's out the window because he's only got 15 years.
"He can be out in his early 60s but Trevor is never going to come back."
Mandy Power, 41, Mr Allen's niece said: "Life should mean life. This system is a joke. Trevor was a man who lit up the room when he walked in.
"To blatantly run over somebody is scary. No-one gets that angry for that split second and does that. He hasn't even said sorry or anything. There's been no emotion from him whatsoever."
Sentencing Slater the Judge, Mr Justice Robert Jay said: "You drove forward knowing full-well he was still out of the vehicle.
"As you were driving forward he waved his arms in front of him or upwards for you to stop but you did not or even after it occurred, driving forward some distance.
"You said if he was in front of you, you would have seen him. Well he was and you did see him.
"Although the intention was formed suddenly, the fact remains you were behind the wheel of a 17 tonne vehicle which was familiar to you. Once the red mist descended all reason and restraint was lost.
"I accept you are a hard-working man devoted to your family. The human level is relevant but it does not impact on your sentence."
As well as being jailed for a minimum of 15 years, minus 166 days on remand, he was ordered to be banned from driving for five years on release and must take a re-test if he ever wants to get behind the wheel again.
During the murder trial Slater claimed not to have seen Mr Allen at the time and said the whole affair was a tragic accident – but was branded a 'liar, a coward and a bully' by the prosecution as he gave evidence from the witness box.
Earlier, the jury were shown damning evidence of Slater's history of road rage when he was caught on a 'dash-cam' furiously kicking and punching the car of another motorist just two months before the February 15 death of Mr Allen. 
The victim on that occasion, 24-year-old Jordan Ogden, told the jury 'he looked like he wanted me dead'.
In another incident, a motorist described Slater as behaving like a 'raging bull' after an incident on the M62 in January last year when he threatened him from his cab with a Stanley knife.
Slater maintained his innocence throughout the trial and remained motionless as he was jailed for life and told he must serve a minimum of 15 years behind bars after a six-day murder trial at Chester Crown Court 
Michael Taylor, an eyewitness, was travelling on the opposite side of the road when he saw Mr Allen's red Citroen Berlingo van and the lorry stationary – with its hazard lights on.
Ian Unsworth QC, prosecuting, said: "Just after seeing the defendant get into his cabin Mr Taylor saw Trevor Allen's vehicle slowly pulling out from behind the defendant's lorry and then come to a rest a short distance in front of the lorry.
"He then saw Trevor Allen walk towards the lorry. He noticed that he was walking at a normal pace and that he was wearing a high-visibility top – it stood out to him.
"As he neared the lorry, Mr Taylor saw that it now had its hazard lights off and began to move forwards. Trevor Allen held his hands up. The lorry did not stop. It simply hit Trevor Allen.
"He was dragged under the lorry with his head to the area of the front driver's side wheel.
"Mr Taylor saw Mr Allen's body being thrown out from under the wheels. He told police that he did not see his body move again. It was in his words 'mangled'. He could not see a head."
Kamil Miskiewicz, another witness at the scene, was driving a refuse van and described seeing the lorry overtake Mr Allen's car before coming to a stop.
Mr Allen's Berlingo then overtook the lorry and stopped in front of it.
He said both men got out of their vehicles and spoke for a few seconds, and then described Mr Allen standing in front of the lorry with his arms out wide.
Mr Unsworth said: "Kamil Miskiewicz saw the driver, who appeared to be angry, gripping the wheel and he then saw the lorry move forwards.
"He also saw Trevor Allen's head explode and seeing his body twist as it got dragged beneath the vehicle. He could hear his bones being broken. The lorry continued to move forward."
Summing up the case to the jury, Mr Unsworth added: "Anyone who would run over another human being must have had at least some intention to cause very serious harm.
"Mr Allen was plainly in front of his wagon and he simply put his foot down. It would have been obvious he had just run over someone.
"As his lorry fractured the skull and his bones were broken he says he didn't hear it or feel it.
"If there was a cat on the road you may have expected more compassion than was given for this man lying motionless just a few feet away."