Thirty million tonnes of litter is picked up from Britain's streets each year — enough to fill four Wembley Stadiums. And the pandemic seems to have only made the problem worse with crumpled facemasks a familiar sight on most streets. In Manchester, one group is doing something about it.
Every other Saturday the Hong Kong Volunteer Group are somewhere in Manchester armed with gloves, bin bags, and litter-picking sticks. But they don't just want a cleaner city, they want to give back to their new home. Most of the group moved to Manchester in the last 12 months, leaving Hong Kong due to the worsening political situation, and settling in the UK under a new visa scheme.
Hong Kong was handed over to China in 1997 after 156 years as a British colony. As part of the handover agreement, Hong Kong would have its own 'mini-constitution' with a democratically elected government, freedoms of speech and assembly, and an independent judiciary. Now, critics say the agreement is steadily being eroded by China.
In June 2020, a National Security Law giving police new powers to punish protestors was introduced — some critics called it 'the end of Hong Kong'. In response, the UK government made an extraordinary offer: from January 2021 three million Hongkongers with British National Overseas BN(O) passports, and their two million dependents, would be allowed to live, work and study in the UK for five years, after which time they can apply for settled status.
The government predicts up to 322,400 people will come in the first five years, with between 123,000 and 153,700 arriving in 2021. Recent figures show between January and March this year, 34,000 had applied. In July, Savills reported Hongkongers were buying three to five properties a week in the UK.
Andrea, 27, arrived in Manchester in November 2020. Initially intending to study, she instead decided to take a year off to help other Hongkongers. Four months ago, she set up the Hong Kong Volunteers Group. "In the beginning it was just me and my partner," she says. "Because of the fear of prosecution, a lot of social groups in the UK and in Hong Kong are still very anonymous and don't actually meet in person. I wanted to do something that, first, could contribute to the UK, and second, could bring Hong Kong people face to face."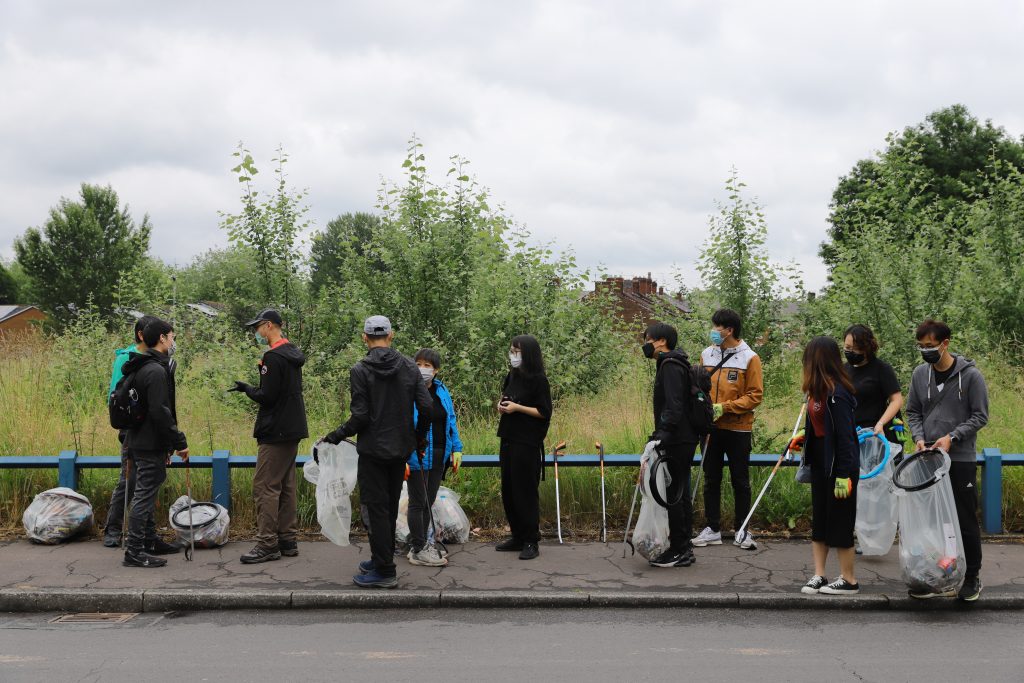 The group have litter picked across Manchester, including in Salford, Trafford, Hulme, and Monsall. "Usually a week or two weeks before an event, we will drive around and go to see which areas are really filled with litter and then we will find a place to go," says Andrea. Today, more than a hundred people have volunteered with the group.
Taylor, 22 is one of them. She moved to Manchester in January 2021 with her family. She can't really say why they chose Manchester over other places in Britain. "Affordability was one reason," she says. "People here are nicer," she adds. "At least that's what I've heard."
She met Andrea at a Hong Kong Volunteers Group picnic three months ago and now helps organise the group. "Litter picking is a very small thing, but it's the most direct way to make an impact," she says. "I'm taking care of this neighbourhood not just for myself, but for my neighbours."
To have a BN(O) passport a Hongkonger must be born before 1997. Dependents like Taylor cannot move to the UK alone under the scheme. Other routes do exist: young people looking to leave Hong Kong can apply for asylum, come to study, or be given leave to remain at the Home Office's discretion.
Tom*, 21, left his family in Hong Kong to come to Manchester in May 2021. "I was arrested during the protests," he says. "I was afraid I would be arrested again by the Hong Kong police so I came here alone." Ineligible for the BN(O) scheme, he applied for asylum. A backlogged system means he faces a year waiting for the outcome of his case, and is unable to work in the meantime.
Hong Kong groups say the government's estimates of the number who'll come are conservative, and a House of Commons report says predictions could be worthless if the situation in Hong Kong deteriorates. Tom doesn't imagine lots of young Hongkongers will come though. "Maybe more will go to Taiwan or Japan to study," he says. "The asylum process is really long and it's really hard to get asylum status in the UK."
For those with BN(O) status, the process is easier, but it's no less difficult leaving behind their home. Angela*, 60, first began making plans to leave Hong Kong with her family in 2019. They considered Taiwan – a popular destination for those leaving – but decided to move to the UK when the scheme was announced. They bought a house in Sale mostly because of her husband's love of Manchester United. Retired, Angela spends most of her time gardening.
Helped with translation by her daughter's boyfriend – a litter picker with the Hong Kong Volunteers Group – she comes with a written list of complaints about what's happening in Hong Kong. "Hong Kong is not a fair society," she says. "The police are arresting all the young people."
She is visibly upset when she talks about what is happening in Hong Kong, and the prospect of one day returning. "I was born in Hong Kong," she says. "All my friends are in Hong Kong. So when I decided to leave it was really sad. I will not go back."
*Names have been changed