A Manchester drag performer has gone to the greatest of lengths to dodge Facebook's latest policy which demands all users must now use their 'real names' on the social media site.
Christian James D'Arcy, has ditched his original name to become Misty Chance full-time, enabling him to keep his online profile from which he gets most of his work.
Misty, 34, is a favourite on the Manchester drag scene with her bold look and larger-than-life character, and has been performing for 14 years.
Misty told MM: "I'm a full-time drag queen, its 100% of my income and it's not a hobby.  Around 80% of my bookings come through Facebook because people can look at all my pictures and videos to have a nosey beforehand.
"When I got the message saying I needed to change to my real name or they would delete my account I did change it straight away as I didn't want to lose eight years of history. 
"People know me as Misty, and I realised very quickly it was going effect my job. I looked at many options but the only way of doing it was to change my name. 
"When you can get poked on Facebook by somebody's pet cat but I can't have my stage name on there something isn't quite right!"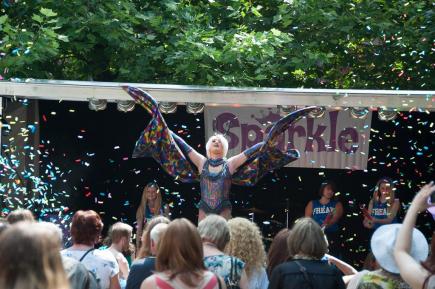 THAT'S NOT MY NAME: Misty and other drag acts are unhappy with Facebook's 'real name' policy
Misty is just one of thousands of drag queens who have been damaged by Facebook's latest policy and many have already seen their profiles deleted.
Those against the changes have questioned Facebook's authority to dictate identity, as they believe the latest ruling threatens individuality and leaves vulnerable groups more open to abuse.
A petition asking the social media site to revoke the policy has received 32,000 signatures.
Misty revealed: "It's difficult for me because I've always fought to keep my personal and work life separate. I look very different in and out of drag and I've always liked to keep that distinction.
"I've never liked people calling me Misty when I'm not at work.  Most people respect that, and usually the only people who do are other drag queens, which is fine as that's how they know me. 
"But when it comes down to my livelihood, my apartment and keeping Misty going as a business, it wasn't a very difficult decision at all, I knew I had no choice but to become Misty full-time."
When Christian did revert back to his old name on Facebook, there was an outcry from Misty's fans concerned he would not be returning. 
Misty describes his drag act as a 'bit of a matriarch' and regularly gives advice and support to people who to go to her. 
Although he admits his choice would not be suitable for everyone, until Facebook changes its policy he will be known as Misty. 
"I've got to admit I was a bit nervous when the solicitor gave me the option to change my mind. I was just thinking think oh god, what's my mum going to say? What's it going to be like when they shout out Misty at the doctors? Going through passport control might be a nightmare," he said.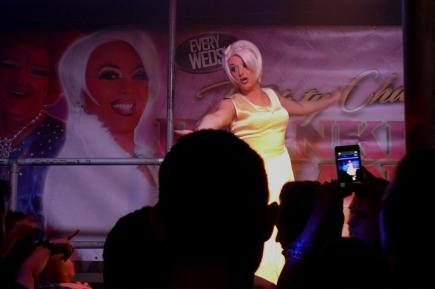 CRYSTAL CLEAR: Misty was determined to maintain her business which runs mostly through social media
Misty originally started drag in Australia where he worked as a backing dancer for another drag queen. 
When he returned on the millennium he decided he wanted to 'go solo' and hasn't looked back since. 
Misty is now an ambassador for George House Trust, works at four separate venues and is a regular on the drag circuit. 
"As I recall choosing the name was a bit of a drunken think tank sat around my mother's kitchen table," Misty said.
"We'd had a few bottles of wine and Misty came up, Chance came afterwards when we were hung over the next day. 
"I never would of imagined that it would ever be my legal name, before I was a drag queen I was actually scared of them, so to think now that it's my official name is bizarre."
He added: "But I am still Christian, that's what I've been for 34 years, that's what my friends and family know me as, and that's something Facebook can't change."
Images courtesy of Misty Chance, with thanks