Hundreds of campaigners gathered outside Manchester Central Library to protest the government's proposal to make junior NHS doctors work longer hours for less pay.
The demonstration was organised after NHS Employers cancelled all scheduled meetings, at which junior doctors were hoping to voice their concerns about new contracts, one day before the meeting was due to take place at the Midland Hotel.
Large protests against the proposed reforms to doctors' contracts stormed ahead with campaigners chanting 'where are you Jeremy?' to the absent health secretary.
The meeting was cancelled on Monday afternoon but hundreds of doctors and their supporters still protested with placards reading, 'fight the junior contract' and 'oppose unsafe working'.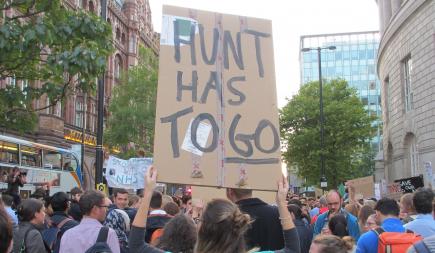 HUNTED: The health secretary was the source of much antagonism
Zoë Brunswick, a 21-year-old medical student who organized the protest, said: "I think it is really cowardly of them.
"It is actually a good thing because it shows they had to change their tactics, they actually may be a bit frightened by what a bad reaction they have had."
NHS Employers said the meetings had been postponed because Jeremy Hunt had invited the new chair of the BMA junior doctors' committee, Dr Johann Malawana, to discuss the proposed reforms.
NHS Employers spokesperson said: "Our ideal situation is to negotiate directly with the BMA who represents junior doctor views."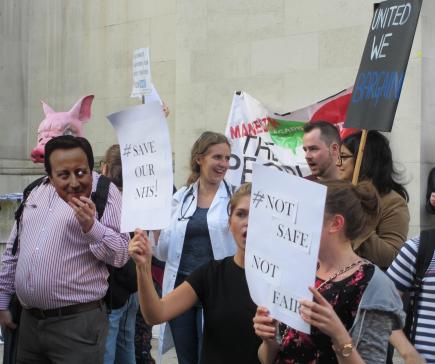 NOT SAFE, NOT FAIR: The reforms are seen by many as 'unacceptable'
Talks between the BMA and the Department for Health broke down in August, after more than 99% of doctors asked by the BMA said that the changes were unacceptable.
Miss Brunswick said: "I think the new chair elected [Dr Malawana] is really good and he will not bend to what Jeremy Hunt says, I think he will keep fighting."
The new contracts would take effect in August 2016 and it is not only young medical students who would see dramatic changes to their salaries and working hours.
Dr Bernadette Lomas, 34, is a trainee anaesthetist with two young children, and would be hit by the contract reforms.
Dr Lomas had a ticket to attend the meeting last night and said: "I am disappointed that we have not had a chance to talk with the NHS Employers and make our concerns known.
"We fully support the BMA in their interactions with them."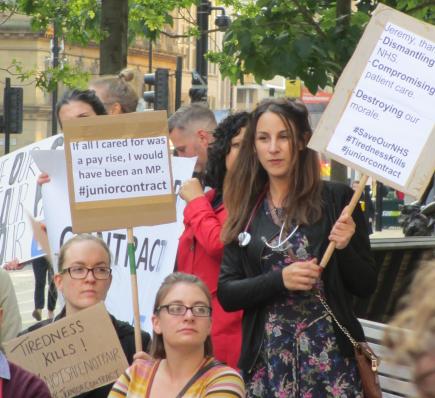 TIREDNESS KILLS: Long hours and smaller pay packets may be in store for junior doctors
Other trainees were not so optimistic and one junior doctor who asked not to be named said she did not have 'particularly high hopes' for future negotiations between the BMA and Jeremy Hunt.
Most doctors' primary concern was with patient safety, as the new contract could allow hospitals to make junior doctors work much longer hours and protestors said that this will put all patients at risk.
Many of the protestors felt that support for doctors from the people of Manchester had been overwhelming and believed that the press and public is on their side.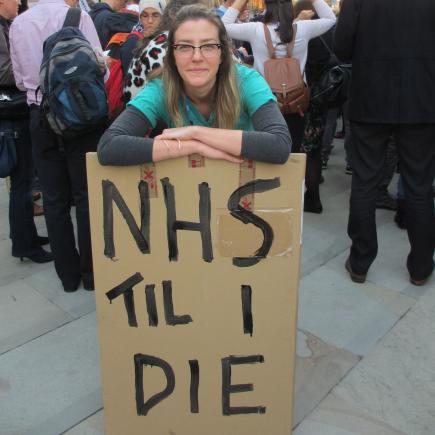 NHS TILL I DIE: Many are worried that the NHS will continue to struggle under the Conservative government
Dr David Wrigley is a BMA council member who spoke to junior doctors at the protest.
"Every doctor is backing you," he said.
"We are with you shoulder to shoulder. Jeremy Hunt doesn't care.
"Please – join the BMA, get angry, get active, use social media."