A Manchester man's COVID-19 Facebook group is spreading its wings worldwide in a bid to help his community.
Covid-19. Help The Vulnerable, a Facebook group created to help those affected by the corona-crisis, was created on March 15 by Chris Wood of Astley in Manchester.
After offering to run errands for his mum – who is 73, which places her in the vulnerable category during the epidemic – Covid-19. Help The Vulnerable was created.
"My mum is 73 and I told her to stay indoors and I would run around for her, this got me thinking that there will be people out there who don't have family to help out or don't have vehicles etc.
"I started the group to get word around not to panic and that there is help out there, people just need to not be afraid to ask for it."
The group has surpassed 1,800 members from all over the world, including America, Australia and Italy, Chris told MM.
"The group has gone way beyond America, I didn't expect it at all, to be honest I had no expectations as I started the group to offer help locally.
"It started off really strong with 800 members in less than 48 hours."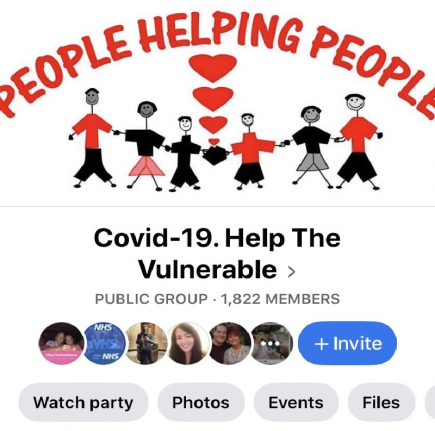 Since the group was created the response so far has been overwhelming.
"There have been a lot of generous people donating things to people and offering services. I myself, just the morning after starting the group, went to Aldi and did a shop for an elderly couple in their 80s who shouldn't leave the house.
"She asked for help on the group and I reacted. It is just luck that I logged on when I did and saw the post, I'm sure somebody else would have offered if I didn't."
Facebook groups like Chris' have been popping up up and down the country, but there are still many people and communities that could use some help.
Do you think more people should follow in your footsteps and offer to help others?
"Absolutely, everybody needs help at some point in their lives. I'm sure I will need someone's help in future, I'd like to think that when I need help someone will be there to offer it. It costs nothing to be nice."
In such a scary time, it is truly wonderful to see how people and communities are pulling together to help the vulnerable.
However, many people believe the word 'vulnerable' only covers the elderly and sick, when in reality it spreads much further.
Anyone who deems it unsafe to leave their house during this time is to be considered vulnerable, whether it be because of their physical health or their mental health.
It is important to remember that constant exposure to scary statistics and warnings about the coronavirus can take a huge toll on someone's mental health, leaving them too scared to leave the house out of fear of contracting the virus.
So please reach out to those you know who might be struggling or branch out even wider and join a Facebook group and help a stranger!
If you want to join Covid-19. Help The Vulnerable, or need help, visit:
https://www.facebook.com/groups/510705496542366/
For NHS advice on Covid-19: