Any anti-Semetic behaviour in pro-Palestine protests over the Gaza conflict must be 'condemned' by all, claims North West MEP Afzal Khan.
Supporters from both sides of the ongoing Gaza conflict clashed after an initial congregation by pro-Palestinian supporters outside Kedem Cosmetics on King Street eleven days ago.
The protests led to police intervention after pro-Israeli supporters turned out in a counter-protest and raised tensions to boiling point sparking fears for shoppers and shop workers' safety.
Former Lord Mayor of Manchester Khan condemned the clashes and told MM: "I deplore all anti-Semitism. The Israel-Palestine conflict is not an issue of Jews versus Muslims – but an issue of human rights.
"Christians, Muslims, people of no faith and many others are involved and anybody that takes it in the wrong direction needs to be condemned."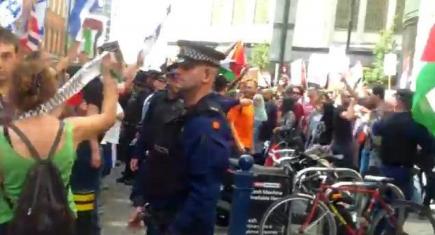 DIVIDED: Pro-Palestine and Israel supporters clash with only police separating them (©Steve Spy via Youtube with thanks)
Khan's comments follow a tweet from MP Lucy Powell that branded the behaviour as 'deplorable' after Mancunians urged her to speak out and engage with the authorities over the incident.
Protests have been recurring outside the store – this led to a backlash from pro-Israel and Jewish members of the public.
"Thank you all so much to our Jewish and Israeli friends for all your support yesterday outside our shop on King Street," shop owners posted on Facebook last week.
One tweet shows a combination of Palestinian, Israeli and even British flags outside the store with police keeping a watchful eye.
Scene at King Street protest outside Kedem Cosmetics https://t.co/mhTqz2UfMr

— Emma Flanagan (@EmmaJFl) July 28, 2014
Online support for both sides continues in relation to the conflict with a death toll that has now surpassed 1,000 – most of those being civilians on the Palestinian side.
Israel mounted an offensive on July 8 in a bid to halt rocket fire from Palestinian militants.
Despite short-lived truces and attempts by the international community to reach a ceasefire, the conflict has escalated and the UN claim that at least 15 Palestinians sheltering at a school in a Gaza refugee camp were killed by tank fire overnight.
Image courtesy of sn ahmed via Youtube with thanks