Litter louts in Manchester can expect to be slapped with an £80 fine if they're caught dropping rubbish in the city centre.   
The move is part of a huge crackdown on littering organised by Manchester City Council in response to concerns from residents about the growing problem.
The dedicated team of officers will work seven days a week looking out for people who ignore rubbish bins in a bid to clean up the city. 
Cllr Bernard Priest, deputy leader of the council, said: "We've communicated with the vast majority of decent people who want to enjoy the city centre and don't want to see it being used as a rubbish dump – now we've got to get tough.
"This crack team have had special training and will get to work looking for those individuals who still think it's acceptable to drop litter.
"These litter louts are in the minority but there's enough of them to have an impact on the city centre, which is very distressing for our residents and the millions of people which visit Manchester every year.
"From now on, anyone who drops litter can expect a tap on the shoulder and an on the spot fine."
City Council bosses have warned that those who refuse to pay the £80 bill will face being taken before the courts however, council officials promise the fine will be reduced to £50 if paid within ten days.
The team will concentrate on well-used parts of the city centre where there have been problems with littering, while larger numbers of the officers will be on duty at busier times, such as around the children's play area on Piccadilly Gardens.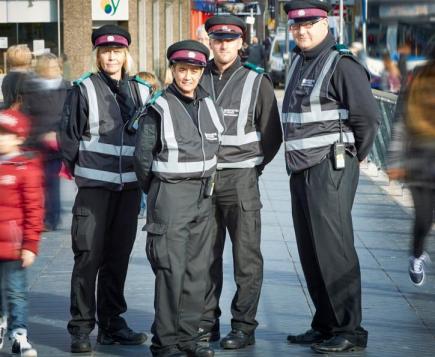 THE CLEAN TEAM: The officers will be issuing fines to litter bugs in the city center
Meanwhile, around 20 PCSOs have now received additional training and will begin handing out litter enforcement notices in the city centre.
Other City Council officers and traffic wardens also hand out notices, but this is the first time a dedicated team has been responsible for looking out for people dropping litter.
The City Council has invested in more than 600 new litter bins which were installed in the city centre earlier this year – funded by the £14.5m clean city fund used to create long term improvements to Manchester's environment.
A major campaign has also been launched urging residents and visitors to take responsibility for the issue by using the bins provided and not dropping litter.
Advertising slogans have been placed on paving slabs – thought to be a first for a British city – while grants have been provided to community groups who want to organise their own clean-up operations.