People can get the wrong idea about heroin addicts, just ask former England rugby international and 2003 World Cup winner Jason Robinson.
The ex-Sale Sharks speedster's brother was a user for 15 years and Robinson understandably had a difficult upbringing, yet he overcame his issues to become the country's most successful cross-code star.
Now plying his trade away from rugby union and rugby league pitches, the 40-year-old works closely with Sale Sharks Community Trust's HITZ programme that seeks to give disadvantaged youngsters a leg up in life.
"When I sit down with the young people straight away I drop that barrier, because of my upbringing they get me and I get them," said Robinson at HITZ's first business breakfast event in Manchester's Escalator Club on Deansgate.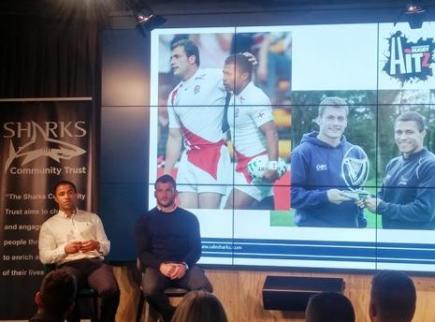 DOUBLE ACT: Jason Robinson (left) had old teammate Mark Cueto, the English Premiership's record try scorer who retires this month, for company at the HITZ event
"While I've done many wonderful things in rugby I've also shared a lot of experiences that the young people share.
"No matter where or what moment you're brought up in, that shouldn't be a barrier to where you go down the line."
Sale use rugby as a means to get youths off the streets and into a more relaxed educational environment than a bustling college, where they then train them in basic maths, English, IT and other core subjects.
The aim is to turn them from youngsters sitting idly on streets, often abusing alcohol or drugs and causing trouble, to adults making their way into further education, employment or an apprenticeship.
Last year bore fruit as 86% made a positive progression into one of the three destinations above, prompting Sale to hopefully expand from four current programmes as they aim to help 100 young people this year.
"The last thing you want is a lot of 16-18 year olds feeling disillusioned and that they're not engaged within society, the likelihood then is that they'll be causing trouble," added Robinson.
"It's great to engage with local businesses and see what they can do to help because if we can get the young people off the streets, into some training and learning new experiences then it will certainly help the local businesses.
"Today we saw four examples (of youngsters helped by the programme) and to stand up on a stage in front of 80-100 people is not an easy thing, so little things like confidence gained there will make a massive difference.
"The programme is changing lives."
One such example is Josh Hardy, a "streetwise" Salford lad in the words of HITZ project manager Tom Leader, who didn't like college but now works as a nightclub promoter.
Then there's Jacob Walker, a 17-year-old self-labelled rugby "veteran" who was kicked out of college for not going to his placement but whose HITZ coach inspired him.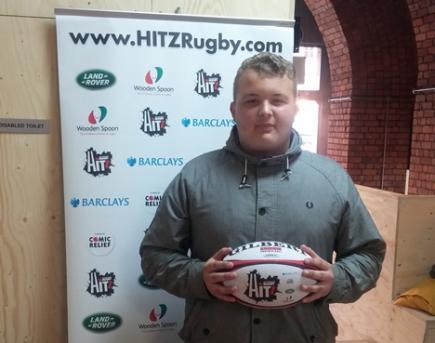 FINDING YOURSELF: 17-year-old Jacob Walker said he didn't know what to do when he was kicked out of college but now he's full of confidence
"It's given me a purpose," said Walker, whose Dad played semi-pro rugby league for Barrow Raiders and late Granddad represented the Army at inside centre against the Australian Army.
"The programme has helped a lot with going and talking to people in shops, which you're pushed into but it's not uncomfortable," added Walker, who works in retail but come Sunday will be appearing in the Lancashire Cup final.
"We'll win, I wouldn't expect anything less," came his confident reply.
Leader was quick to point out there are no coercive measures at HITZ and, with their youngsters engaged and buzzing, they too could one day be like their hero Jason Robinson.
"We're not here to say 'You shouldn't do this, can't do that' because young people will go and do it anyway if you said that," said Leader.
"It's about making them aware of the risks and what will happen if they continue to do what they're doing, so we use the example of Jason, who sorted himself out and look where he is now."
Main image courtesy of Beyond Content via YouTube, with thanks.