"This is our club, belongs to you and me. We're United! United FC! We may never go home, but we'll never feel down. When we build our own ground, when we build our own ground."
This chant has echoed out from the terraces at Bury's Gigg Lane and Curzon Ashton's Tameside Stadium over the last few years.
But now it has a home.
Last Friday Broadhurst Park was officially opened, and the fans and owners of FC United were able to see their new stadium in all its unquestionable glory.
If last month's promotion to the Conference North was the end of the first glorious ten-year period of this remarkable club's short history, welcoming Portuguese giants Benfica to Moston was a scarcely believable opening to the next.
When a group of fans met for a pint and a curry to discuss their disgust with the Glazer family's purchase of Manchester United in 2005, surely a stadium with the humble grandeur of Broadhurst Park could not have been mentioned?
Everything about the stadium is impressive, from its sleek wooden exterior, to the £2.40 pints of ale they serve in the large, tastefully furnished bar.
The pitch is immaculate, and the stands are full of heritage, especially the St Mary's Road Stand, which was built by re-engineering a stand from Northwich Victoria's old stadium, Drill Field.
That stand, which serves as FC United's Kop, was packed to the rafters with the fans who have earned themselves the deserved reputation of being amongst the loudest in non-league football.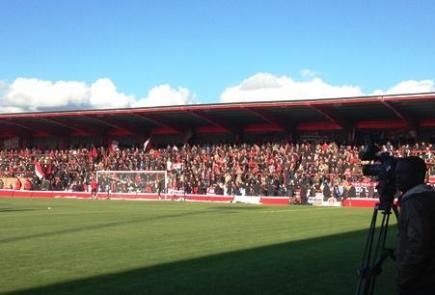 RAISE THE ROOF! FCUM's general manager Andy Walsh's plea pre Benfica curtain raiser
Speaking pre-match, general manager Andy Walsh told them 'if you don't raise the roof off this place, then you don't deserve it'.
They certainly didn't disappoint, producing a level of volume second only in this journalist's experiences to Liverpool's famous rendition of 'You'll Never Walk Alone'.
4232 was the official attendance, a new club record for FC.
One club source revealed to MM that the stadium has been built with expansion in mind, and could comfortably be developed to hold twice that amount.
If a doubling of the stadium's capacity equates to a doubling of the decibel level it produces, then visiting Conference sides are in for a treat the likes of which they are unlikely to find anywhere else outside of the FA Cup.
But for now, and for many fans forever, further expansion, promotions and development will prove to be a spanner in the works for the club's ethics and philosophy.
Others, however, believe that the sky is the limit, and see clubs such as this as the perfect antidote to the poison that is currently consolidating its infection in Switzerland.
It is hard to disagree with them.
On the night, Tom Greaves came closest for FC in the first half, rounding the goalkeeper before a last ditch tackle prevented him from sliding it into the open net.
Benfica's youngsters looked sharp, with plenty of flair up top and a muscular defence, but the Rebels more than matched them throughout.
A Benfica winner in the 81st minute did little to dampen the spirits of the FC faithful, for whom the joy of hosting a world-renowned football club in their own stadium far outweighed trivial matters such as scorelines.
The task that comes next with the Conference North is a considerable step up in competition that will surely test both the players' ability and the fans' patience.
But they are FC United, they have built their own ground, and you feel that they will have no reasons to feel down anytime in the near future.