'No Fear' is an outdoor sports brand but more an unofficial motto of athletes who brave the elements each winter in pursuit of immortality on the slopes around the globe.
Sometimes the daredevil tricks don't go according to plan however.
Sports fans worldwide held their breath in horror in February when Team GB's 19-year-old freestyle skier Rowan Cheshire crashed in halfpipe practice at the Rosa Khutor Extreme Park in Sochi.
The Stoke teenager, who started freestyle skiing aged 12 winning bronze in the 2013 Junior World Championships in Italy and clinching her first FIS World Cup event in Calgary last season to qualify for the Winter Olympics, emerged bruised but undeterred.
Wasn't the best day yesterday, still don't remember much! Thanks everyone for the lovely messages pic.twitter.com/qVG8eET3BV

— Rowan Cheshire (@Rowan_C_) February 17, 2014
Speaking to MM at the Telegraph Ski and Snowboard Show North – Manchester, Cheshire made it clear she had a point to prove after Sochi.
"I didn't really get to show people what I could do," she said.
"That season I definitely improved a lot from myself. I'm now definitely trying to get my head back into the game and get over the fear of doing it again. And show people what I can do.
"I just want to get my head right again, do the competitions and try not to be scared to do my tricks at that high level again, especially like in the big comps like Dew Tour and World Cups."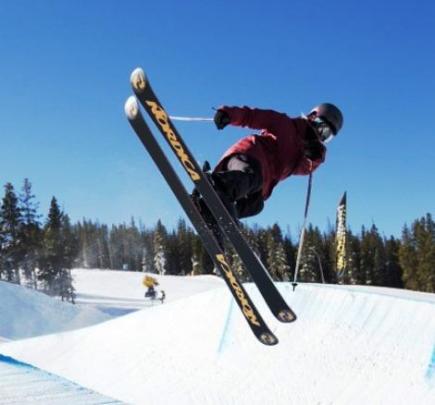 AIRBORNE: Cheshire performs another gravity-defying trick (image courtesy of Nick Atkins, with thanks)
The Olympics are the pinnacle for athletes and Cheshire says not having to qualify and perform on the biggest stage is welcome in her growth post-Sochi.
"I suppose the season is quite easy for us, it's a little bit more warming up into it. You don't have a massive competition like the Olympics to kind of work your way up to.
"So it's kind of just chilling and getting back into the competition scene again and seeing how the feel of it is."
Beneath the increasing attention freestyle skiing receives from teens lies a steely, competitive spirit that Cheshire thrives on.
"I kind of miss the competition pressure, when you've got all the adrenaline."
Keeping Cheshire on her toes is sister of Team GB's Katie Summerhayes, who placed seventh in the Olympic's inaugural slopestyle skiing.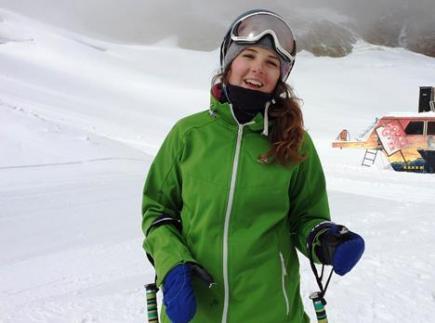 GIANT STEPS: Molly's improving all the time (image courtesy of Euan Robertson, with thanks)
Molly, 17, from Sheffield, recently joined her sibling in Team GB having been skiing since the age of four, competing in her first international events last season including the Junior World Championships.
"I know what to expect now, with all the things that get thrown at you and how difficult it can be," she said.
"Obviously it's a really tough schedule the closer you get to the Olympics. (My aims) are just to start competing and gradually get into all the World Cups, get better and finally get my tricks ready."
The pair both cited the late Sarah Burke as their inspiration, the Canadian freestyle skiing pioneer who died following a tragic training accident in January 2012 and successfully campaigned for freestyle skiing to be accepted into the Winter Olympics.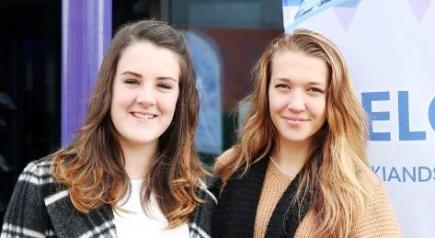 BEST OF MATES: Summerhayes and Cheshire say Team GB spirit is a real buzz (image courtesy of Euan Robertson, with thanks) 
"I look up to Sarah Burke, she was one my idols when I was coming up through the sport," said Cheshire.
Burke's impact on the sport has seen the athletes grow closer, a feature of the adrenaline-fuelled events that could propel a tight-knit Team GB to new horizons at the 2018 Olympics – Pyeongchang, South Korea.
"We're all really close, we're one big family," said Cheshire.
"We travel together all the time and when we ski we kind of just buzz off each other. We all help each other, like when we do new tricks.
"It's a lot more motivating when you have someone to buzz off."
Molly added: "It's good to have that support, all the time. Even when you're just training, like in the gym, you still get the support. You just push each other to do better."
With under 1200 days until 2018, had either of the girls started living around the next games?
"This year is more about getting back into it, but you do look over at the tricks that people are  doing and you plan out what you need to do and how I need to do that," said Cheshire.
"You watch the types of skiing, the style, the tricks and the grabs and stuff like that.
"Everyone says 'it's only four years', but it all kicks off in another two years, so it's quite soon. Though at the minute not many of the girls are grabbing in the biggest spins."
A little snap from today pic.twitter.com/cTOFtey4FA

— Rowan Cheshire (@Rowan_C_) August 16, 2014
Summerhayes, whose spins are her strength compared to Cheshire's extreme height, could benefit.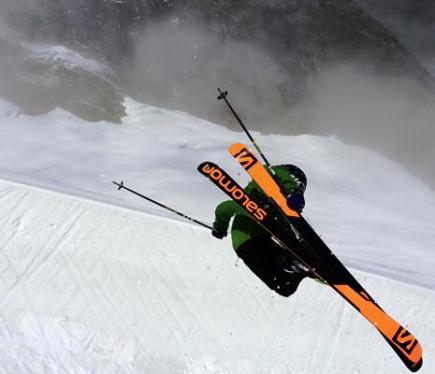 TWIST AND SHOUT: Molly loves spinning through the air (image courtesy of Euan Robertson, with thanks)
"I think mine are my spins, but I still need to work on it quite a lot because I've just started getting into it."
Before 2018, both Cheshire and Summerhayes will hope to epitomise the Olympic motto and be faster, higher and stronger.
Main image courtesy of Nick Atkins, with thanks.