Wheelchair basketball star Laurie Williams hopes success in Tokyo can help to inspire a new generation of females to get involved in her sport. 
The Manchester-born playmaker has been playing basketball for the last 15 years and was part of the squad that finished seventh at London 2012 and then fourth in Rio last time around. 
Despite a semi-final defeat to the USA and missing out on a podium finish, the 27-year-old saw the result in 2016 as progress and firmly believes the British team can go one step further and claim a medal next year in Japan.  
But what Williams wants to see more than anything is enough female athletes playing the sport in this country so that the National League set-up can move away from mixed-gender competition. 
"Some people will say it is great to play against men because you get challenged in a different way – they are stronger and faster than us so that is true to some extent," said Williams, speaking at a Sainsbury's branch in Hazel Grove. 
"But I can't compete in the way I'd like to, it also means that we use a bigger ball and my position on court changes meaning I handle the ball less.
"I think there just aren't enough women across the country playing wheelchair basketball to be able to build the basis for a strong league.
"I enjoy playing with the guys, they are my friends, but sometimes I just find it difficult because of course in able-bodied basketball that would just never happen. 
"The information about playing these sports should be readily available for people in a wheelchair who are sporty and want to be active but I don't think it is out there.
"It is up to us to find it which I find frustrating as well."
After being spotted at a wheelchair racing event aged 12, Williams quickly developed a love and aptitude for the sport and began playing internationally in 2008. 
She has gone on to earn four European bronze medals as well as a silver at the World Championships in Hamburg last year and even taken her sport across the Atlantic while studying at the University of Alabama for two years.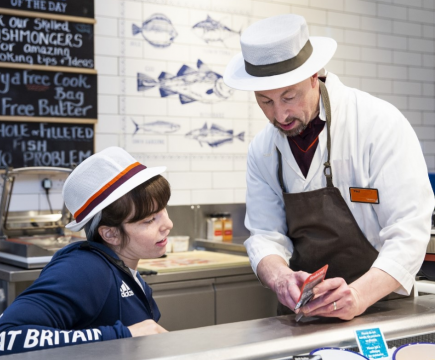 And it was in the USA that some of her fondest memories were born out of playing all-female competition while her confidence benefited greatly from an increased sense of independence during her stay. 
"In America it is a lot different because there a few colleges that have the facilities to play wheelchair basketball which was amazing because I got to travel and play in some awesome places," said Williams, who was helping to promote Sainsbury's role as longest-standing supporter of ParalympicsGB and a champion of inclusive sport for all.
"It was also a great experience for me to go somewhere else and meet new people and do it all independently. 
"Sometimes when you grow up in disability sport you can get trapped in a bubble, spending time with people who are like you and doing the same things, so to go to a different country on my own was incredible. 
"The programme attracted elite women players from all over the world too and that was the best thing about it because I was just playing in a women's team rather than with the men over here."
Now with her third Paralympics on the horizon, Williams has been pondering Britain's chances of picking up a medal and is willing to dream big ahead of next summer in Japan. 
"After London, the idea of winning a Paralympic medal was just so far away and I never thought we'd win one during my career," she added. 
"But we have made so much progress from there – fourth in Rio felt like success for us because we'd never got to a semi-final and now I think we are more ready because we know what it is going to take to win the gold. 
"We have made history in the sport over the last few years but everyone brings their A-game to the Paralympics and so we know it will be much tougher in Tokyo."
Sainsbury's is the longest-standing supporter of ParalympicsGB and a champion of inclusive sport for all. Sainsbury's commitment to helping customers live well for less has been at the heart of what we do since 1869. For more information on Sainsbury's commitment to inclusive sport visit https://www.about.sainsburys.co.uk/