Freestyle skier Rowan Cheshire insists her talent will take her to much higher heights at the next Winter Olympics after a harrowing injury forced her early exit from the 2014 Sochi Games.
Last February the 19-year-old was knocked unconscious after falling heavily on her face during a training session and subsequently withdrew from competition.
However, the half-pipe star from Stoke-on-Trent, who has been skiing from the age of 10, isn't letting the spinal whiplash and concussion she suffered in Russia deter her from success in South Korean host city Pyeongchang.
"It didn't put me off for life, if anything it made me more motivated once I got over the fear," Cheshire told MM.
"I didn't really get to prove to people and show what I could do so it definitely made me more motivated for the next Olympics to show what I can do and just improve in myself."
As part of Sport England's £10million campaign, This Girl Can, the former junior world champion freestyle skiing contender took to the slopes at the Chill Factore to front a women's skiing master class.
Chatting to MM after the class, the half pipe skier explained that she understood why some women would think twice before attempting extreme sports.
"I think it's great to broadcast girls getting into sports and more extreme sports like skiing and I think girls may by intimidated by it, I guess the injury aspect of it all.
"The majority of the sport is quite male orientated so it would be good to get more girls into it".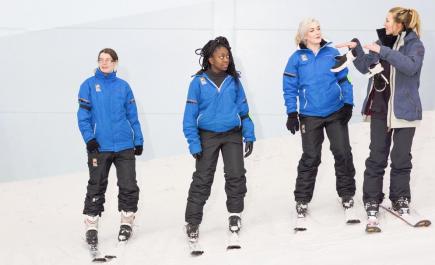 LEARNING FROM THE BEST: MM's Nsofwa Kangwa (centre) caught up with Olympic skier Rowan Cheshire (right)
Cheshire has spent most of her teenage years splitting her time between America, Canada and the UK as she trains with Team GB.
However, the hardy Brit revealed that there was more to freestyle skiing than just snow, speed and skill.
"I'm in the gym all the time, I have to keep my strength up and strengthen my knees and core for when I do hard landings", she explained.
"We actually have an athlete's Facebook page that's dedicated to diet and nutrition but everyone just takes the piss out of it anyway.
"People are always posting pictures of McDonald's saying that it's athletes' food."
When quizzed about the last time she had eaten junk food, it took a good 10 seconds before Cheshire remembered her trip to American fast food chain Wendy's.
"I had a Wendy's about four weeks ago when I was in America.
"I always feel rubbish afterwards so I might as well eat healthily."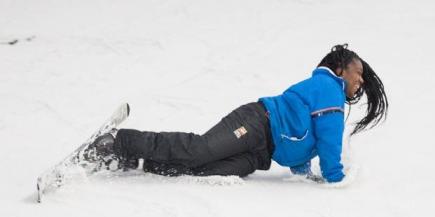 SNOW BALANCE: A smiling Nsofwa comes a cropper on the slippery slopes
Cheshire's junk food eating habits may be tamed, but the sportswoman admitted that once her skiing helmet is off and her hair is let down, she loves nothing more than whipping on a pair of heels and socialising with friends.
"When we go away with the team we have the odd night out or I'll just chill in my jeans and hoodie," she said.
"I think I'm the girliest girl on my team. I'll always be with my make-up bag.
"I dress a lot differently when I'm home. When we do go out, it's all about the heels, the hair.
"I definitely dress a lot differently when I'm at home because you can't really get away with it when you're traveling especially with the people I'm with.
"There's only two other girls on my team and we travel all the time and the rest are guys."
The This Girl Can campaign aims to encourage girls across the country to leave their inhibitions, enjoy taking part in sports and reinforce positive social attitudes around women and girls being physically active.
Jennie Price, Sport England chief executive, said: "We found out by talking to women of all ages up and down the country that what's stopping them is fear – fear of judgement.
"Whether that's about how they look, whether they're any good at it or feeling guilty about spending time on themselves, it can outweigh womens' confidence to exercise.
"This Girl Can is a celebration of all the women who are finding their confidence to exercise: it's an attitude, and a call to action for all women to do the same."
Budding skiers can take to the snowy slopes at the Chill Factore every first Tuesday of the month to take part in a range of all female sessions.