Nearly 100 athletes with learning disabilities from across the UK descended on Manchester's Sportcity over the weekend to take part in the Open National Athletics Championships.
The event, organised by Mencap Sport, saw competitors take part in a number of different disciplines such as the 100 metres sprint, 400 metres, 5000 metres, javelin, discus, long jump and high jump.
Athletes who took part also got to meet Paralympic gold medal-winning athlete Jessica-Jane Applegate MBE as well as the Mayor of Manchester Susan Cooley.
"I am proud that Manchester has hosted the Open Athletics Championships and that we have been able to work closely with Mencap to make the day a real success," she said.
"It was a true privilege to present the prizes and meet the athletes, who displayed amazing sporting prowess.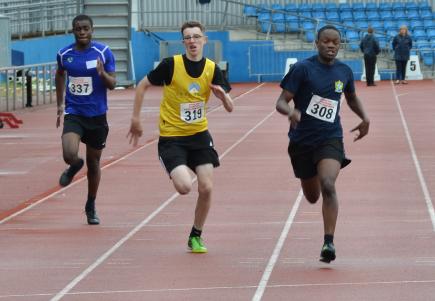 SPRINT STARS: Over 100 athletes took part in the championships
"I'm sure the example set by the competitors will inspire people to be more active and is a reminder that there should be no barriers for participating in sport at the highest level."
Mencap Sport, which was running the event for the seventeenth time, aims to provide opportunities for all people suffering with learning disabilities to compete in sport.
Mencap's National Sport Manager Ian Carpenter said: "The Open Athletics Championships are a highlight on Mencap's sporting calendar. 
"It is a celebration of the achievements of elite athletes and reminds us all, that people with a learning disability should have the opportunity to take part in elite sport."
As well as the championships, the event also hosted the Festival of Athletics for those with severe learning disabilities.
One of the athletes who competed at the event, who wished  said: "I've been looking forward to these championships for months, and my training has all been focussed to this event.
"Competing alongside so many other top athletes seems to bring out the best in me and I even managed to break my personal best in one event."
For more information on the Open Learning Disability National Athletics Championships, visit Mencap's website.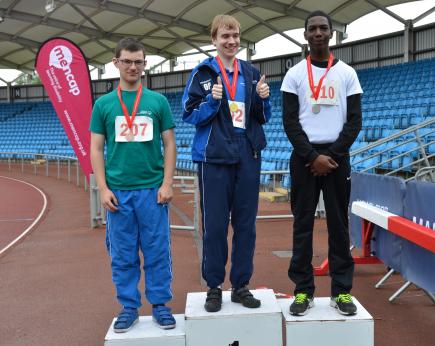 STEPS OF SUCCESS: Mencap gets people with learning disabilities taking part in sport