Around 2,000 swimmers are expected to descend on the waterways of Salford Quays to undertake the one mile, dock-to-dock open water swim tomorrow.
The Great Manchester Swim is the third event in the Great Swim Series, which sees more than 20,000 swimmers compete in five events in rivers, lakes and urban docks across the UK.
Many inspiring swimmers will be taking the plunge tomorrow for charity, inviting supporters remaining on dry land to splash the cash for worthy causes instead.
One such swimmer is 58-year-old Brian Whiteside, one of The Christie's 60-strong team hoping to raise £20,000 in the water.
The swim marks exactly three years to the day since Brian first had chemotherapy treatment for an aggressive form of prostate cancer at The Christie.
He told MM: "I am proudly doing the Great Swim this year for The Christie.
"Completing this swim is my way of saying a huge thank you to all the staff who have looked after me throughout my treatment.
"My wife, my family and myself cannot thank The Christie enough and I think this small gesture is the least that I can do."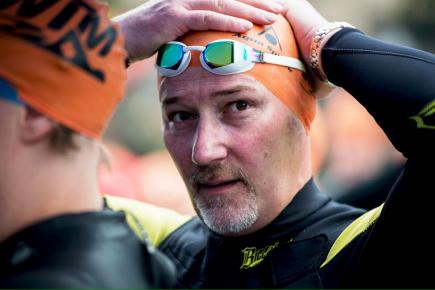 GRATITUDE: Brian is doing the swim as a gesture of his thanks to The Christie for looking after him so well
Sinead Kennedy-Peers from the Christie Charity said: "We are delighted that so many of our supporters will be swimming for us in the Great Manchester Swim in Salford Quays.
"We wish them all the very best of luck and hope they have an amazing day.  
"We are so grateful that they are supporting our charity and helping to support cancer patients throughout the North West."
Rachel Willett, 29, a staff nurse from the Wirrall, shall be taking part for Neurosupport, a charity offering support to people affected by neurological conditions.
It is her first ever open water swim, and she has been in training three or four times a week in order to hopefully beat her 35 minute personal best.
She said: "I learnt about Neurosupport through the charity's connection with my motorbike group, Merseyside Open Air Riders.
"My grandmother had Alzheimer's for 25 years, and my Auntie had MS so it just made sense to bring all of the aspects of my life together.
"It makes me feel good, and very proud to do something like that both for my family and for Neurosupport.
"It is my way of giving something back to them after all the support I received in that time."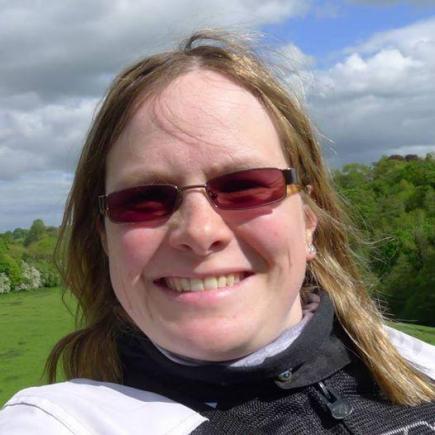 GIVING SOMETHING BACK: Rachel wants to return the support she got when dealing with he grandma's Autism and aunty's MS
Nanette Mellor, Chief Executive Officer of Neurosupport, said: "As a charity which supports people with neurological conditions such as stroke, Alzheimer's disease and Korsakoff's syndrome, all of which can been prevented or greatly improved by good diet and exercise, what Rachel is doing here serves as a fantastic example of how you can help yourself and others at the same time. She is a real superstar."
Dan Corbridge, 38, from Leeds, is swimming to raise money for swimming disability charity, Level Water.
He said: "It is the second time I'll be doing the swim for Level Water – they're a really great charity helping to get disabled kids swimming.
"I have been training for it and it is good fun so I'm feeling fine, I'm just hoping that the weather is better by tomorrow!"
The inspirational Jeanette Parks, a retired special needs teacher from Accrington, will be swimming to raise money for Macmillan Cancer Support after sadly losing two of her sisters to the disease.
In order to raise money for the cause that is so close to her heart, Jeanette and her husband asked for donations to the charity in favour of receiving presents for their Pearl wedding anniversary, or for Jeanette's 60th birthday.
She said: "I think setting yourself a 'challenge' in life as the years creep on is a good way to stay motivated and a different way to raise money.
"My family are all so supportive and never tire of all the events I ask them to support."
Two recognisable faces that will be swimming for charity include cricketing legend, Matthew 'Hoggy' Hoggard, and TV presenter Andy Akinwolere.
2,000 swimmers will take on the #GreatManchesterSwim tomorrow. @MediaCityUK is just a stunning location! #Manchester pic.twitter.com/E3KlmOzyv5

— Raquel Gómez Frías (@qeli_nda) July 3, 2015
'Hoggy' is taking on four of the five Great Swim events this year for the charity Cricket Without Boundaries (CWB), the charity which takes the game to Africa, using it as a vehicle to provide vital health massages.
He said: "Cricket has given me so much over the years and it is great to be able to give something back.
"I would urge all cricket fans to support CWB – either by joining me on the swims and raising money themselves or by sponsoring me."
Andy, who only learnt to swim a few years ago, will be swimming to support a new initiative – the 'Swim Den' Swim Challenge, aimed at inspiring youngsters – particularly those from inner city and ethnic minority groups to learn how to swim.
Spectators will also be able to spot swim teams from Stroke Association, CLIC Sargent, Ronald McDonald House.
Olivia Pumphrey, Fundraising Manager at CLIC Sargent, said: "We have two swimmers taking part tomorrow, hoping to raise £10,000. We want to be there for everyone who needs us, and for as long as they need us, and alongside the fantastic support of our swimmers were working to make this a reality."
Laura McMullin, Events Officer for Stroke Association, said: "We're so grateful to our team of swimmers taking part in the Great Manchester Swim.
"With around 152,000 strokes a year in the UK – that's around one every three and a half minutes – it is vital that we have people like our amazing swimmers to raise funds.
"The money they raise will fund vital research and support services, as well as help to prevent people from having a stroke."
So todays the day we travel up to manchester to comepete in tomorrows @Great_Swim what a journey its been pic.twitter.com/UAwuIr0u8l

— Harley Hicks (@SwimWithHarley) July 3, 2015
Ronald McDonald House provides 'home away from home' accommodation to families who have children being treated at Royal Manchester Children's Hospital and St Mary's Neonatal Unit.
Jo Wilkinson, Senior Fundraiser for Ronald McDonald House Manchester said: "We have two swimmers taking part in the swim tomorrow.
"We rely on the generosity of members of the public and the local community and it is in no small part thanks to them that we are able to provide a place to stay for nearly 800 families a year.
"It costs £25 to accommodate just one family of four for one night. We are so grateful for people who swim, run, walk – and much more besides – to raise money for us."
The Great Manchester Swim will start close to the Lowry, and traverse Mariners Canal before finishing outside the Helly Hansen Watersports Centre.
A team of safety kayakers and lifeguards will support swimmers of all abilities taking part, and spectators can cheer their friends and family every stroke of the way from waterside access points all along the course.
Alex Jackson, Great Swim Series event director said: "We are extremely excited to be back in Manchester again this year – Salford Quays, with the impressive backdrop of MediaCityUK, is an incredibly iconic location."
For more information about tomorrow's Great Manchester Swim, click here. 
Please support our team @Great_Swim Manchester @LankyGiraffe http://t.co/PEsdcFArmB #InspiringCommunities pic.twitter.com/slegiZQj8s

— LCCC Foundation (@LCCCFoundation) June 30, 2015
Main image courtesy of Clem Rutter, via Wikimedia, with thanks.