West Yorkshire may not be the first place you think of when asked where a snowboarder with serious medal hopes had been training in the build-up to the Olympics, but that was the reality for Team GB's Katie Ormerod.
Originally from the small town of Brighouse, a far cry from her usual training destination in the Swiss Alps, the first female athlete to land the double cork 1080 has had to improvise, adapt and overcome some immense challenges in the wake of the Covid-19 pandemic.
Thankfully, with restrictions lifting and a return to normality bringing with it a return to competitions, the 24-year-old has been able to get back to the snow and begin her preparations in earnest, just in time for the run in towards Beijing in February.
This was in stark contrast to the makeshift methods Katie had to devise during the strictest period of lockdowns in 2020, with her garage transformed into a rudimentary home gym in order to maintain her strength and conditioning.
Katie also used the back garden for practicing gymnastics, however that wasn't the most unusual setup she implemented during the first lockdown, as she explained.
She said: "The most unusual training method I had to improvise during lockdowns were my rail tricks. I wanted to continue working on my skills, so used a static garden rail and strapped into a foam snowboard to practice my tricks."
Despite the difficult circumstances, the eleven-time World Cup medallist is far from a stranger to adversity, and was no less determined to make it to Beijing.
Speaking from her training location in the Swiss resort of Saas-Fee, Katie said: "It feels amazing to be back training and competing after the lockdowns. I'm very grateful that I was able to travel to compete in the Olympic qualifications and continue my training in the mountains."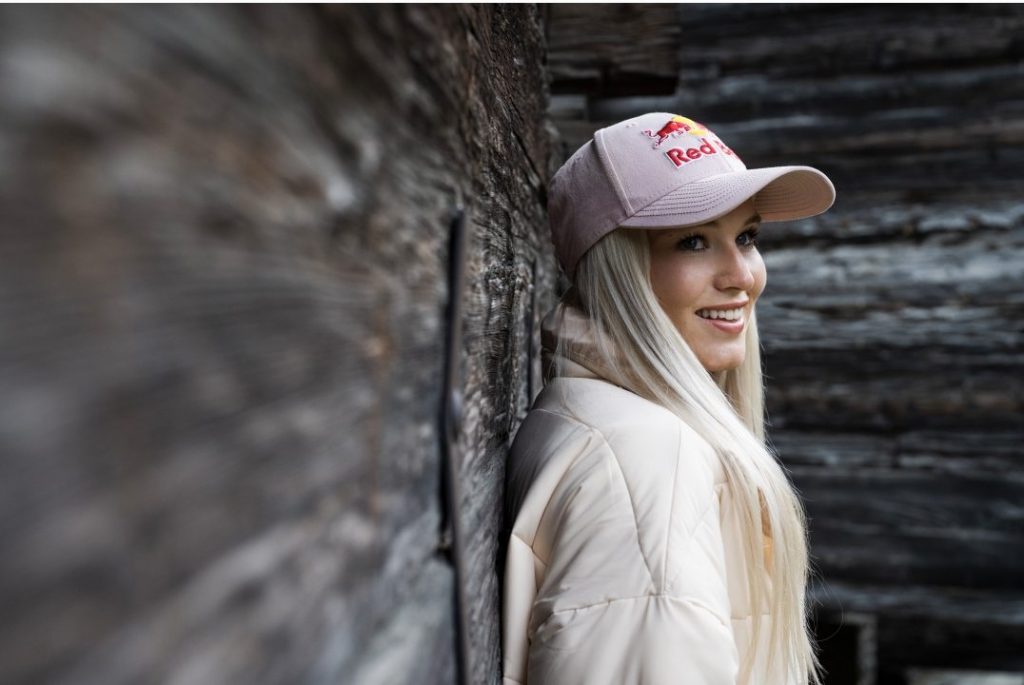 Having narrowly missed qualifying for the 2014 Winter Olympics, aged just 16, Katie was forced to withdraw from the PyeongChang games in 2018 after a training injury left her heel broken in two places.
It was the experience of these past setbacks, and the knowledge that such hurdles can be overcome, that has helped Katie take everything in her stride throughout the pandemic.
She said: "After returning from injury and having the most successful season of my career so far in my comeback season, I know that I can achieve anything I put my mind to with hard work and determination."
This hard work and determination paid off in 2020, when after seven operations, Katie returned to elite competition in style, becoming the first British snowboarder to win gold in the FIS World Cup Slopestyle, putting herself in excellent shape for Olympic qualification.
Katie said: "I am very proud of myself for putting in the hard work during my rehab after injury and when I was back training on snow, which has now put me in a very good Olympic qualifying position, as I am currently ranked third.
"Since I had to unfortunately miss out on competing in PyeongChang, I am feeling very excited and confident to compete in Beijing and have the opportunity to show the world what I can do on a snowboard."
With the agony of missing out on the past two Olympics, Katie's main priority for Beijing is simply to qualify and perform as well as she possibly can.
She added: "I'm very excited to have the opportunity to compete in Beijing and I would absolutely love to land my runs in both Big Air and Slopestyle and do the best that I can do on the competition day."
Although of course she will be going for gold, success for Katie in Beijing will not just be defined by medals and points, but by knowing how hard she has worked to get there, and making sure she gives it absolutely everything.
She said: "Success for me would be to qualify for another Olympic Games and compete in both Big Air and Slopestyle, as I didn't have the opportunity in PyeongChang due to injury.
"Regardless of the result, the Beijing Olympics will also be a success if I land the best runs that I can do."
Katie also had a simple but strong message to any young snowboarders hoping to follow in her footsteps and one day emulate the 2017 X-Games medallist.
Katie said: "My advice would be to have fun, work hard and follow your dreams. With passion and determination, you can achieve anything you put your mind to."
It was that passion and determination that most strongly came across from speaking to Katie, and she will no doubt be aiming to do the nation proud in Beijing.
Although few athletes will tell you they are aiming for a medal, there is every chance that Katie may repeat her World Cup Slopestyle triumph on the biggest stage of them all.
Regardless of the results in Beijing, one guarantee is that Katie will be giving her all for Team GB across both events, and doing it with a big smile on her face.
Feature Image: Katie Ormerod at Red Bull Performance Camp, Saas Fee, Switzerland, September 30 2021 (Credit: Lorenz Richard/ Red Bull Content Pool)