Manchester is unique in the Elite Ice Hockey League (EIHL) as the only town or city to have been represented by two ice hockey teams.
From 2003 to 2009, Manchester Phoenix represented the city in the top tier of British ice hockey. Since 2015, Manchester Storm have taken on that responsibility.
It's not simply a name change like when Braehead Clan became Glasgow Clan in 2018. It's two distinct franchises with two different identities. But which one takes the crown as Manchester's best EIHL team? Mancunian Matters investigates.
A brief history: 1995-2020
In 1996, 86 years after the first recorded ice hockey match in the city, newly formed club Manchester Storm came out of nowhere to win the British Hockey League Division One title.
The following season (1996-97) Storm were invited to join the inaugural British Ice Hockey Superleague (BISL), competing against the likes of Nottingham Panthers and Sheffield Steelers at the top of domestic hockey.
On February 23rd, 1997 – a mere 18 months after the club's formation – 17,245 fans attended Storm's league fixture against the Steelers, setting a UK attendance record that stands today.
Storm enjoyed six successful seasons in the BISL, collecting two pieces of silverware (league champions 1998-99 and Benson & Hedges Cup champions 1999-00) and reaching the 2001-02 playoff finals, but in 2002 the unexpected happened.
Barely 10 matches into the new season, Manchester Storm went into liquidation. Once touted as the best supported ice hockey club in Europe, high running costs and poor attendances left the club financially ruined.
However, the city wasn't going to wait another 80+ years for pro hockey to return. Instead, supporters formed the Friends of Manchester Ice Hockey group and from the ashes of Manchester Storm rose the Manchester Phoenix.
A founding member of the EIHL, Phoenix spent four seasons in the new top division between 2003 and 2009 – briefly suspending operations in the mid-2000s to accommodate the club's relocation to Altrincham Ice Dome – before dropping down a level to the English Premier League (EPIHL) for the 2009-10 season.
During the six year wait for elite hockey to return to Manchester, Phoenix enjoyed a fertile period in the EPIHL, collecting multiple league and playoff honours. Then, in 2015 – 13 years after collapsing and two decades after their initial formation – Manchester Storm re-formed.
Parachuted into the EIHL for the 2015-16 season to replace Hull Stingrays, Manchester Storm 2.0 took up residence in Altrincham and re-established themselves as Manchester's premier ice hockey team – a position they continue to occupy. Phoenix, meanwhile, struggled to find a permanent home and, after spells in Blackpool and Widnes, eventually folded midway through the 2016-17 season.
Let battle commence
Glancing at the all-time EIHL points chart, it's advantage Storm. Although only one position above Phoenix, who lie 13th, Storm's 263 points puts them a huge 45 points ahead of their predecessors.
FAB FIVE: The original teams streak ahead whilst Storm and Phoenix finish 12th and 13th, respectively.
However, it's easy to be blinded a fancy graphic. Upon closer examination of the all-time table it becomes apparent that Storm's superior points haul is the result of having played an 51 additional matches – symptomatic of using total points as a metric when league membership is so fluid. Take Guildford Flames, for example, who find themselves languishing in 15th place despite never having finished lower than 7th.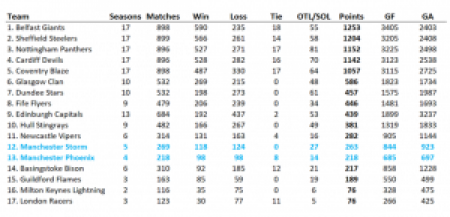 STORMING AHEAD? Manchester Storm lie one place above Manchester Phoenix in the all-time EIHL table but how misleading is this graphic?
If instead teams are ranked by average points per season, whilst both Manchester sides climb the table it's the Phoenix who rise the highest and leapfrog Storm into 8th place.
Assemble the league by win percentage and it's the same result – very little separates the two sides, but Phoenix have the edge.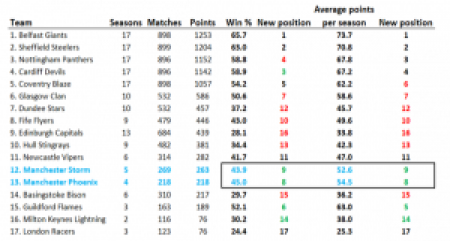 RESHUFFLE: Ordering the teams by win percentage or average points per season produces a very different table. Note: green denotes an improved position, red a lower position and black stays the same.
Season by season record
In four seasons in the EIHL, consistency was the key for Manchester Phoenix. Though unable to break the stranglehold of the top five (Belfast, Cardiff, Coventry, Nottingham and Sheffield), they firmly established themselves as the best of the rest – finishing 6th on three occasions and 7th once. Never failing to reach the playoffs, Phoenix made the semi-finals in 2003-04, losing 6-1 to Nottingham Panthers, and also reached the Challenge Cup final in their last EIHL season.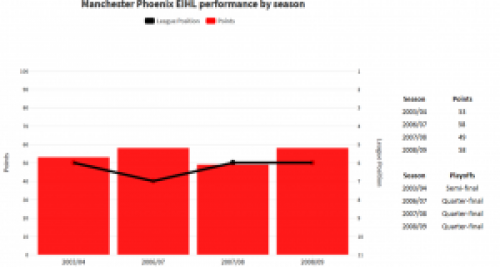 COMFORTABLY MID-TABLE: Phoenix's consistency was rewarded with a 100% playoff qualification record.
Manchester Storm, by contrast, have something of a rollercoaster record. After finishing 9th and 8th in their first two seasons, Storm surprised everyone to finish second in 2017-18, bested only by the Cardiff Devils. In topping the Patton Conference (Guildford Flames, Coventry Blaze and Milton Keynes Lightning) they own Manchester's only piece of EIHL silverware to date and secured the city's highest ever playoff seed. Unfortunately, the following season was a reality check – finishing in 9th place and failing to qualify for the playoffs – and when the 2019-20 season was cancelled Storm sat 8th, occupying the last playoff berth but mathematically capable of finishing anywhere from 7th to 10th. In two playoff appearances (2017 and 2018), Storm have never progressed beyond the quarter-finals.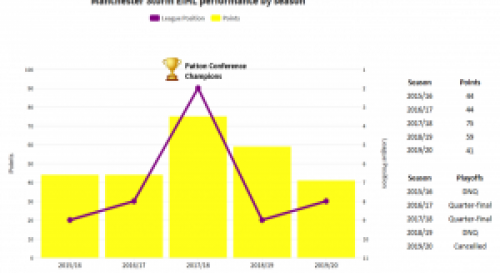 PATTERN CONFERENCE: Storm have finished 9th, 8th, 2nd, 9th, 8th… could 2020/21 be their year?
Is it harder to reach the playoffs now?
Manchester Storm's playoff record is poor, no doubt about it, but how much of this is to do with the standard of the EIHL improving?
Over the last few seasons, the points threshold to qualify for the playoffs has increased. Take the 2018-19 season for example. Manchester Storm amassed 59 points – a higher total than Phoenix ever achieved – and still missed out on playoff qualification by three points. The previous season, Coventry Blaze occupied the final playoff berth with 55 points. By contrast, the highest points total required to qualify for Phoenix-era playoffs was 53 points; the lowest 41 points in 2007-08.
POINT TO PROVE: The points total required to reach the playoffs shows an upward trajectory.
Of course, the abnormally high threshold in 2018-19 could be attributed to the high number of matches played (60). However, when looking at points per game (PPG) required to reach the playoffs, three of the top four seasons are from the Storm era.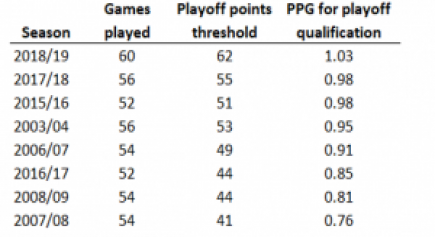 POINTS WIN PRIZES: With two points on offer per game, teams now need to  take every match into overtime, at least.
So, the all-important question is how would Phoenix fair today? Well, unfortunately for Storm fans, the answer is better than Storm. Averaging 55 points per season, Manchester Phoenix would have qualified for the playoffs every season except 2018-19. That's one more appearance Storm (who, for those who are interested, would have qualified for the playoffs every time during the Phoenix era).
Conclusion
Manchester Phoenix and Manchester Storm are perhaps two of the closest matched teams in history. In Storm's favour they have the 2018 Patton Conference title (Manchester's first piece of top division silverware since 2000), the highest points total (75) and league finish (2nd) of either franchise, and a longer stay in the top division. With the right personnel, Storm proved in 2017-18 that they are capable of beating anyone.
However, edging it on statistical evidence, Mancunian Matters can conclude that Manchester Phoenix are the more successful franchise. With a higher points average (55) and win percentage (45%), a 100% playoff qualification record and a playoff semi-final appearance in their arsenal, it's hard to argue against the value of consistency. As a mid-table side they achieved exactly what was expected of them and would likely have been as solid in today's league.
It may be over a decade since they last skated onto EIHL ice, but Manchester Phoenix are flying high over the city once again.
All data from hockeydb.com, correct as of 04/06/2020.