This week sees the resumption of what's left of the Champions League and Europa League campaigns for the 2019-20 season.
For City, they have one of their best chances ever to claim a second European title in the former competition with a quarter-final meeting planned against either Lyon or Juventus – if they avoid a loss to Real Madrid at the Etihad Stadium this coming Friday.
Meanwhile, Man United have to formalise their place in the last eight of the latter tournament. And that shouldn't be too difficult after they thrashed LASK of Austria 5-0 in the first leg back in March. The second leg is at Old Trafford tonight.
While the two have some work ahead to reach their rearranged finals in Portugal and Germany respectively, you would think that a Manchester derby for the Super Cup Final is not as remote a possibility as one would expect.
But I suspect there's more to this than meets the eye…
Over to the Iberian peninsula
Appropriately for Manchester City this year marks the fiftieth anniversary of their maiden international crown came in the now-defunct European Cup Winners' Cup competition when they beat Poland's Gornik Zbrze 1-0 in the Final in Vienna.
Given their relative riches at their disposal it has to be something of a surprise that they they haven't added another major honour from the continent in the years that have followed that 2008 takeover by the Abu Dhabi United Group.
You could call it disappointing that they have only one semi-final appearance to their name and that was in the 2015-16 term when they lost 1-0 on aggregate to… Real Madrid!
It's worth pointing out that they beat Los Blancos 2-1 at the Bernabeu in February, when Gabriel Jesus and Kevin De Bruyne struck for Pep Guardiola's men after Isco had put Madrid in front on the hour mark. To make matters worse for the hosts, captain Sergio Ramos was sent off, meaning he'll miss the return fixture.
With that in mind reaching the quarter-finals sounds simple enough on paper.
But football isn't played on paper, it's played on grass.
In the time since that first contest in the Spanish capital, the Citizen Blues have lost their league title and also surrendered the FA Cup. As for Zinedine Zidane's side, they have become La Liga champions again after regaining the title from eternal rivals Barcelona.
With that spring in their step, they may fancy their chances in east Manchester.
I would say; write City off at your own peril.
As mentioned earlier, the winner will face either Lyon or Juventus in Lisbon, where all the remaining matches will take place from the last eight onwards.
Should they make it to the semi-finals, they will face one of Napoli, Barcelona, Bayern Munich or Chelsea.
And the Final could see a clash with fellow rich boys Paris Saint-Germain, who like City know they have the best chance there is of finally getting their hands on the famous trophy.
Failing that, Atalanta, Red Bull Leipzig or Atlético Madrid may end up in the final on Sunday 23rd August.
Springtime for Manchester in Germany
While there are no domestic honours to put in the cabinet, this season's Europa League represents an excellent chance for Ole Gunnar Solskjaer to claim his first trophy as Manchester United manager.
Getting into the last eight should be simple enough after a 5-0 victory away to LASK in an empty stadium courtesy of five different goalscorers in Odion Ighalo, Daniel James, Juan Mata, Mason Greenwood and Andreas Pereira.
It might be the same situation at Old Trafford this evening, but you surely can't see Man United throwing this one away.
After that is sorted out, they travel to Germany where the cities of Cologne, Duisburg, Düsseldorf and Gelsenkirchen will see the last matches occur for the quarter-finals, semi-finals and Final.
In the last eight, the Red Devils will take on either FC Copenhagen or recently crowned Turkish champions Istanbul Basaksehir and then could meet up with Wolves in the last four.
For that to happen, the Old Gold need to get past Olympiakos at Molineux following a 1-all draw in Greece and will have to then advance past Sevilla or Roma, the former five times winners of this competition.
On the other side of the tournament, Rangers have a lot to do if they hope to overturn a 3-1 deficit versus Bayer Leverkusen in the last 16.
If they're successful, they will challenge Inter Milan or Getafe in the quarter-finals and could potentially face former winners Shakhtar Donetsk or Eintracht Frankfurt in the semi-final stages, although Swiss club Basel and German side VFB Wolfsburg may yet lie in wait.
The final will be held in Cologne on Friday 21st August and a second Europa League title will add more smiles to United fans following a third place finish in the Premier League to guarantee a place in next season's Champions League.
What the fans say…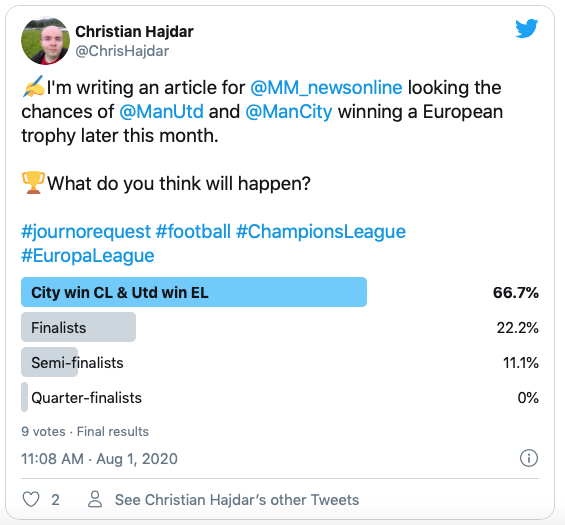 The chances of both Manchester clubs ending this month with a trophy abroad is very strong, but we thought we'd ask the fans for their opinion on their side's chances of winning their respective competitions.
A clear majority predict that City will win the Champions League whilst United will triumph in the Europa League, leaving the prospect of the two facing each other in the Super Cup a tantalising expectation for next season.
There is some support that one (or both) will make their finals, albeit without a trophy to show for it.
It can't be discounted that maybe the semi-finals will be as good as it gets for both clubs, however it seems likely that neither will fall in the last eight.
Whatever happens between now and the 23rd August, fans of City and United will be fixated on the two major European competitions restarting, especially with both in an excellent position to bring a trophy (or two) back to Manchester.
After all, there'd be something to cheer about to take the attention away from Liverpool if nothing else!