It's been long since known that Manchester United's defensive frailty this season stems from problems just slightly higher up the pitch.
Ole Gunnar Solskjaer has an impossible task in fielding two well-balanced, competent central midfielders to shield the defence and progress the ball forward in equal measure.
In the preferred 'McFred' pairing of Scott McTominay and Fred, Solskjaer has two hard-working midfielders, but two midfielders who lack the technical and tactical nous to run a Champions League level midfield.
In Paul Pogba, he has a potentially world-class playmaker whose inconsistent performances have led to a lack of trust in central midfield – often leading to the French international being shoe-horned into the front four at the cost of pace.
At 33-years-old, Nemanja Matic is long past his best and has no place in a dynamic and energetic midfield, while Solskjaer's apparent distrust in Donny van de Beek has seen him rack up just 55 minutes in all competitions this season.
Manchester United should have signed a defensive midfielder in the summer, and if they have any hope of becoming the Champions League and Premier League contenders that their financial backing demands, they will need to sign one in January.
But who fits the bill? Well, we've taken a look at five of the best options from all over Europe…
Declan Rice
The West Ham midfielder has often been linked with a move away from the Hammers and Manchester United are one of many potential suitors.
The 22-year-old's profile meets every need in this current Manchester United team: defensively strong with good ball progression ability and strong tactical awareness.
When comparing Rice to all other midfielders in the top-five European leagues, the England international ranks in the top 10% for interceptions per 90 (2.55), progressive ball carrying distance per 90 (157.25 yards) and ball carries into the final third per 90 (2.29).
His recent development into a more progressive midfielder, however, has led to comparisons with Scott McTominay – who is also in the top 10% in Europe for the above metrics.
And with West Ham likely to slap a huge price tag – over £100million – on their talismanic midfielder, it could be argued that Manchester united would be silly to fork out just to replace the best of their two midfielders.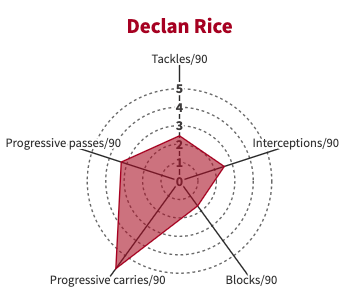 Wilfred Ndidi
Another Premier League option in the form of Leicester City's Wilfred Ndidi.
The Nigerian international is the archetypal midfield destroyer, ranking in the top 5% in Europe for tackles per 90 (4.28), successful pressures per 90 (7.73), blocks per 90 (2.37) and interceptions per 90 (2.65) while ranking in the bottom third for key passes, progressive passes and progressive ball carries.
The above numbers paint a picture of a player whose game is solely based around protecting the defence and winning back possession before passing onto more creative teammates – of which Manchester united have plenty.
Ndidi would fit seamlessly into the Manchester united midfield alongside McTominay and could well be good enough to liberate the ill-disciplined Pogba as his midfield partner.
Leicester are unlikely to be willing to sell their star asset to a Champions League rival midway through the season, however, and would need an eye-watering offer to even consider – It could take up to £80/90million.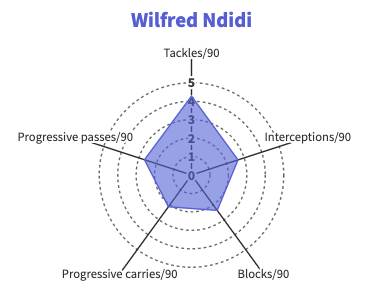 Aurélien Tchouaméni
Moving away from the Premier League, Monaco's breakout star of the 2020/2021 season, Aurélien Tchouaméni, looks set to be one of the most promising all-round central midfielders in the world.
At just 21-years-old, and already boasting defensive numbers in the top 5% of midfielders across Europe for tackles per 90 (4.06), successful pressures per 90 (7.11) and interceptions per 90 (2.48), it's clear to see why Tchouaméni has been touted as one of the best young players in Europe.
Last season he ranked second in Ligue 1 for successful tackles and fourth for interceptions, leading to praise from Cesc Fabregas who said he has the potential to be the complete midfielder.
The French international has a similar playing profile to Ndidi and will come at a considerably lower price (£40-50million), but a lack of experience could be problematic for Manchester united who desperately need a leader in the heart of the team.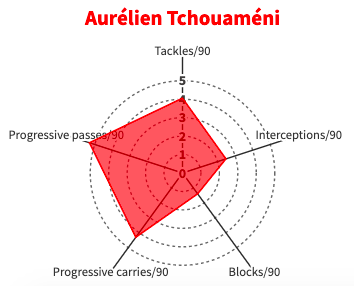 Ibrahim Sangare
Another lower-cost option – this time from the Eredivisie – is PSV Eindhoven's midfield lynchpin, Ibrahim Sangare.
Slightly older that Tchouaméni at 23-years-old, the Ivorian international already has over 100 club appearances to his name at PSV and Toulouse beforehand.
His numbers this season speak for themselves: top 1% in Europe's major leagues for tackles per 90 (4.07), blocks per 90 (3.10) and interceptions per 90 (2.91).
What separates Sangare from the likes of Ndidi and Tchouaméni, however, is that many of his attacking stats also rank amongst the best midfielders in Europe, including goals per 90 (0.19), assists per 90 (0.19), progressive passing distance per 90 (305.11 yards) and ball carries per 90 (55.67) – all of which are in the top 20%.
A true all-round midfield powerhouse, dominant in both defensive and attacking phases of play, but at a much cheaper price than the likes of Declan Rice – Manchester United could land a deal for as little as £30million.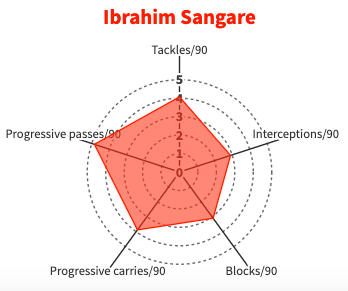 Wilmar Barrios
And finally, a slightly left-field option: Zenit St Petersburg and Colombia midfielder Wilmar Barrios.
Somewhat underappreciated across Europe and inexplicably never considered for moves to some of the elite clubs, Barrios is the ultimate midfield destroyer and a key to liberating the flair in front of him.
As with all of the aforementioned options, Barrios ranks amongst the best in Europe for all major defensive stats, but what highlights his dedication to the craft of defensive discipline are his attacking numbers.
In 72 appearances for Zenit, the 28-year-old has just two goals, and in 48 caps for Colombia he has none.
This season, Barrios ranks in the bottom 5% of midfielders for shots per 90 (0.13), shot-creating actions per 90 (0.78) and touches in the attacking third per 90 (5.63).
What Manchester United would get in Barrios though is an experienced professional with a winning mentality – since joining Boca Juniors in 2016, Barrios has won five titles (two with Boca and three with Zenit) in five seasons.
And at 28-years-old he is likely to be considerably cheaper than the rest, potentially as low as just £20million.