Former Olympic coach Vicente Modahl has called for cheaper healthy food and an improvement in the guidance of grassroots athletes.
Wednesday April 6 marks the UN's third annual International Day of Sport for Development and Peace, which promotes achievement and a healthy lifestyle for young people around the world.
The 56-year-old believes that Britain's most vulnerable families struggle to afford fresh food, leaving them unable to enjoy the active lifestyle the UN wants to champion.
And Vicente, who has been based in Manchester since 1990, insists that the sugar tax announced in last month's budget does not go far enough in tackling childhood obesity.
He told MM: "You have a lot less deprivation in Norway, so you see people choosing healthy food.
"It's very easy to buy fizzy drinks because they're so cheap, and to have fish and chips or McDonalds for dinner. You see that in a deprived area.
"Even if you're educated in nutrition, some families don't have money to buy healthy food. It's good that there's now a tax on fizzy drinks, but I think they have to lower the prices for healthy food."
Vicente has fathered three children of his own – 20-year-old Manchester Met student Imani, nine-year-old Gisella, and six-year-old Giorgia – with his wife Diane.
Since 2010, the pair have worked together in the Diane Modahl Sports Foundation.
The programme brings elite-level sportspeople to schools across Greater Manchester, paving a way for underprivileged children to succeed in athletics and the wider world.
Vicente's experience at the top of athletics – having worked with 23 Olympians – gives those coached in the foundation an advantage over athletes at most sports clubs.
"Clubs are failing. They are looking at the instant shouts for league matches and everything else, but they don't understand how to let the athletes grow as a person," he said.
"There is no structure because it's a volunteer coach coming down to help the athletes.
"If that person has a very good talent, that's what the coach has been dreaming of. But it becomes so personal that they don't take advice."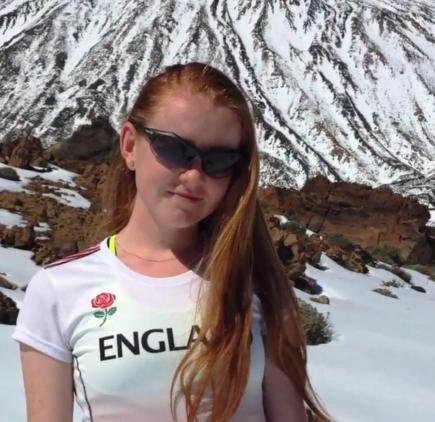 MOVING ON UP: Stockport's Aimee Pratt is focused on Tokyo 2020, having worked with Vicente in the Diane Modahl Sports Foundation
One such talent Vicente currently works with is 18-year-old Aimee Pratt, who was given her first experience in athletics with the foundation five years ago.
The Stockport runner has already won three English Championship titles, and Vicente believes that she is well on her way to competing at the Tokyo Olympics in 2020.
The Diane Modahl Sports Foundation has a three-tier pathway to ensure that young people of all sporting ability can flourish on the programme.
For Vicente, this pathway is crucial for supporting young athletes and ensuring their talent does not go to waste.
"Coaches [in clubs] are extremely protective of their own little clique of athletes, and if they have a talent they push that talent at 11, 12, 13, 14, for as much as they can get out because they have no experience of athletes at international level," he said.
"So you see that talent disappears at 15, 16, 17, 18 – and in the last five years there have been three or four major talents here in Manchester, none of them are progressing into seniors because coaches have taught them wrong and exposed them too much."
Vicente was an emerging athletics talent himself, winning a couple of titles in his home country, until his career was cut short by injury.
A chance meeting with an emerging superstar would provide the platform for a new role in sport.
"On one of my trips when I tried to make a comeback, in Mexico City at the Olympics centre, I met a guy who at the time was unknown and hadn't done very much," Vicente said.
"He went on to be Olympic champion and five-time world record holder, Saïd Aouita from Morocco.
"We became best friends in 1982, so I ended up starting to train more to be his pacemaker and pacesetter in training, and be part of his team.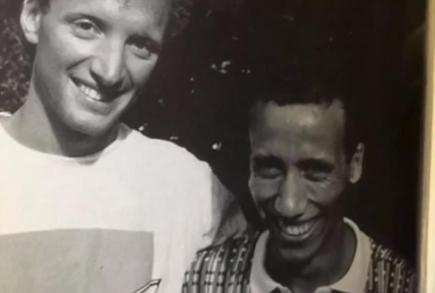 MAKING A CHAMPION: Vicente coached Olympic champion and five-times world record holder, Morocco's Saïd Aouita
"I started doing light coaching work with him just to be his eyes, and he turned out to win the Olympic 5000m title in 1984, and held a world record over 1500m, 3000m, 5000m, 2000m and two miles at the same time. He only lost twice over seven years."
Norwegian-born Vicente previously coached his wife Diane, a four-time Olympic runner who won gold in the 800m at the 1990 Commonwealth Games in Auckland.
Diane's career came to a shuddering halt in 1994 when she was wrongly accused of doping, an allegation which led to a two-year battle to prove her innocence at considerable cost.
The affair took its toll on Vicente, who quit the sport in 2003, before being asked to return by Diane for her foundation.
"I'm very much against drugs and I'm very much against cheats. The federation were cheats and the doping authorities in this country were cheats. We proved that, and we can say it," he said.
"Diane was innocent. She didn't fail a drugs test, it was a false positive reading they took because of bacterial degradation. They didn't protect her, and because they didn't protect her they went into a conspiracy to try and protect the system.
"So for me the authorities are cheats. They don't protect athletes, and there was no reason for me to stay in the sport."
The issue of doping is never far away from the news, with the recent athletics scandal being followed up by the fresh claims of London doctor Mark Bonar.
Sporting authorities, including the IAAF, are under increasing pressure to deal with those who flout the law.
For Vicente, Diane's story is proof that care must be taken to ensure that innocent athletes are protected.
"It's completely ludicrous by athletes and authorities to think that a lifetime ban is something that is viable, because it's not," he said.
"They don't understand that if one innocent person like Diane is caught in the net by a mistake, there's no way back into the sport.
"If there is one innocent athlete out there we need to protect that athlete, because we know the consequence of that. We lost our home, we lost our savings, we lost our jobs and that was because of other people's mistakes."
Images courtesy of Vicente Modahl, via YouTube, with thanks.