A Stockport teenager is steeplechasing her dreams after participating in her first international competition.
Aimee Pratt, 17, was recently crowned the top athlete in England in her age group, and leapt onto the global scene at the Loughborough International Athletics meeting on May 17. 
Despite nearly pulling out of the competition due to nerves, she went on to register a personal best of 10.52.31 to finish fourth in the 3000m steeplechase.
Aimee trains at the Diane Modahl Sports Foundation, a charity set up by Manchester-born former Commonwealth gold medallist Diane Modahl to give young people across Greater Manchester access to world class coaching and coaches.
She is mentored by internationally acclaimed coach Vicente Modahl, who said: "It was a big step, both physically and mentally, for Aimee to compete at such a high level so early on in her career."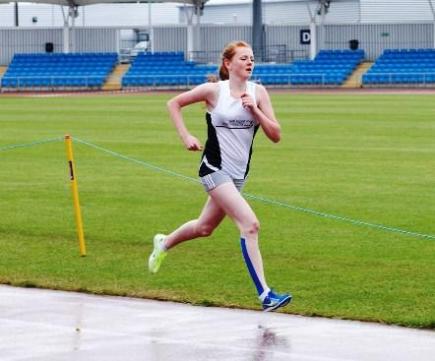 BRAIN POWER: Aimee's coach Vicente Modahl says by using her intellect the Stockport star can soar
Aimee finished a mere two seconds off third place, and her performance brought her three seconds under the European Junior Championship selection standard, making her the sixth-ranked junior in Europe.
Vicente added: "All I can say is keep an eye out for our Aimee – using her brain and focusing on her own strength, she's a genuine star in the making and I'm very proud of her indeed."
Aimee, a student at the Knutsford Academy Studio College in Knutsford, said: "I genuinely felt I couldn't compete at International level, but with the help of Vicente and all at the DMSF, I found my inner strength and proved myself wrong – which I'm very happy about!
"I now understand that mental preparation is just as important as my training on the track and I can't wait for my next competition. Bring it on!"