Olympic taekwondo stars Bianca Walkden and Aaron Cook are hoping that community events might uncover a future gold-medal winner as the city of Manchester bids for the 2019 world championships.
The pair were at the Legoland Discovery Centre at the intu Trafford Centre last month to help promote a new range of ninja-themed Lego, and Cook hoped that the event would inspire more youngsters to get involved in the sport.
Manchester recently launched bids to host a series of international taekwondo events in the city, with the 2019 world championships the biggest goal.
Walkden says that the aim in the build-up to these events is to raise the profile of taekwondo and to attract new athletes.
"It would be amazing to win the world championships in your home town so hopefully we do get all of the events," she told MM.
"It will give the kids some more acknowledgement of taekwondo and really show them how enjoyable it is."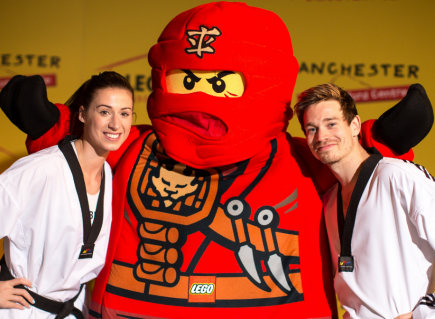 LET'S GO: A world championships in Manchester in 2019 would be invaluable for the sport's growth, say Bianca Walkden and Aaron Cook
At the Beijing Olympics in 2008, Sarah Stevenson won Great Britan's first medal in taekwondo, a bronze in the heavyweight competition.
Since then Team GB has won five more medals, including two golds for Jade Jones, and Bianca Walkden's bronze medal at Rio 2016. She says that it has definitely grown as a sport since she first started.
"With the medals from London and Rio it's grown every Olympic cycle. It's a fantastic sport and I don't think enough people know about it.
"It's growing its profile all the time and fingers crossed it keeps getting bigger and better!"
And Cook – who started the sport aged five because he wanted to be a power ranger – says that with the right mix of passion and competitiveness, you can quickly reap the rewards.
"It starts with passion. It wasn't about winning at first, it was just me being passionate about the sport.
"Then when I began to go to competitions, and taekwondo became an Olympic sport, my competitive side came out. It quickly turned into my dream to go to the Olympics and win a gold medal.
"Events like today are all about kids getting involved in taekwondo. Maybe they will find a new sport and want to become a ninja. That's what I did and that's how I fell in love with the sport."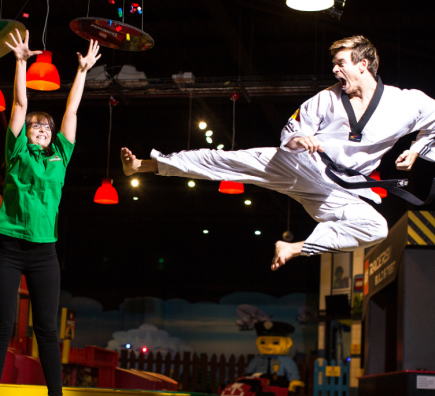 STARTS WITH PASSION: Aaron Cook says wanting to be a ninja was what led to him becoming a professional taekwondo player
Walkden agrees and says that taekwondo made her more determined and dedicated growing up and that community events are vital to grow the sport.
"Today with Lego and the ninja theme is really good for us because it's do with taekwondo, and brings in children that don't necessarily know about taekwondo but they know about Lego!
"We might get someone who doesn't know about the sport before today, and they could become the next Olympic champion!"